Make a batch of your own sweet, tart ketchup at home.
By Lail Hossain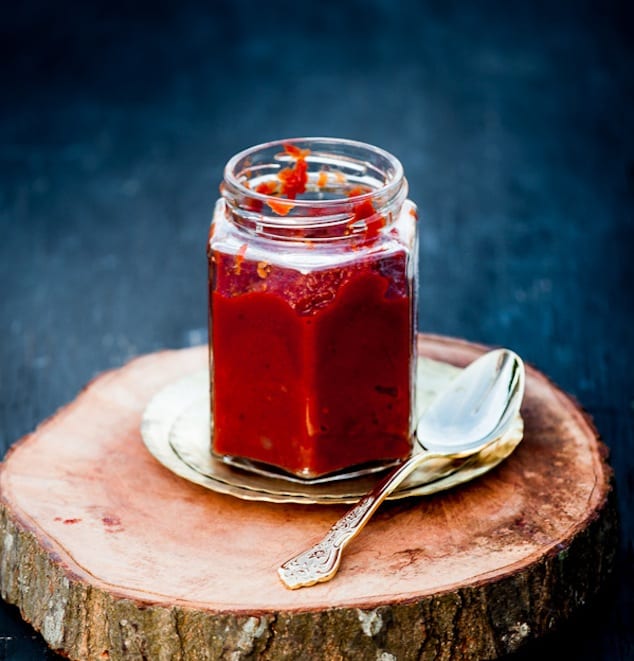 Making ketchup at home is extremely easy. I saw my mom make it many times when we were in Bangladesh. This artisan ketchup recipe is what my mom used to follow. No canned tomato paste, no high fructose corn syrup. Made from the freshest tomatoes only. I wish I could say the tomatoes were freshly picked from my garden, but they were not. The store bought fresh organic tomatoes was just fine. Easy steps with ingredients you already have in the pantry, so there is no reason not to make a batch of sweet, tart, flavorful tomato ketchup at home.
Depending on how sweet your tomato is, you may need to adjust the sugar, salt, and chili quantity.

How to Make Ketchup
Make a batch of your own sweet, tart ketchup at home. It's so easy and satisfying.
Ingredients
6 lbs tomato
½ cup onion, chopped
4-6 dry red chilies
8-10 cloves
4 pieces of cinnamon, about 1" each
½ cup brown sugar
3 teaspoon salt
⅔ cup vinegar
Instructions
Wash and cut the tomatoes in half.
Cook tomato, onion, chilies, clove and cinnamon in low heat. Stir time to time to prevent burning. Sprinkle some water if needed to prevent burning.
Turn off stove when tomatoes are soft and tender.
When tomato is cold enough to handle, peel the tomato skin off of the flesh. Mash/puree the tomato and strain through a strainer. Discard the seeds.
Add sugar, salt and vinegar to the puree and cook till ketchup thickens.
Store in airtight glass jars.
Notes
If you are not going to puree the tomatoes in a blender, you can skip peeling the tomatoes the skin will not go through the strainer. Peeling is necessary when you are using a blender as the blender may puree the skin in a way that the strainer may not. The ketchup can be stored in refrigerator for 4+ months. If your jar lid is metallic, the ketchup may turn blackish. I prefer to use brown sugar for ketchup. You can substitute brown sugar with regular sugar if you want.
Lail Hossain
Lail Hossain finds cooking to be an explosion of creativity. She is enthusiastic about modifying a laborious step of an old recipe, and experimenting with different ethnic recipes by adding her own spin to it yet keeping the recipes simple, healthy, and delicious. Originally from Bangladesh, Lail shares her journey of food, creativity and family in her blog "With A Spin". She is also very passionate about highlighting Bangladeshi cooking to the international culinary space.