This super easy, delicious and healthy recipe can be on your plate in under 30 minutes.
By Nancy Lopez-McHugh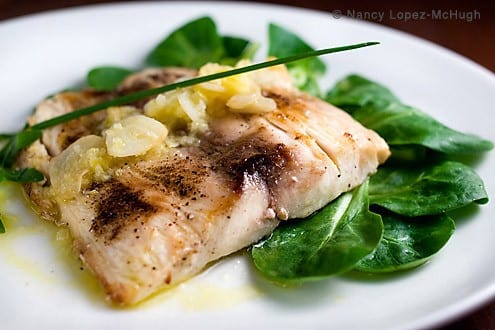 It's another sunny summer day. With the heat we don't want to spend too much time over a hot stove. This super easy and healthy recipe can be on your plate in under 30 minutes. Which is perfect so you can go outside and enjoy the weather.
See Also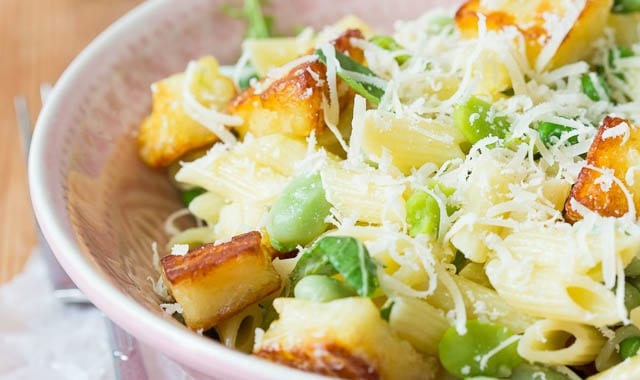 Mahi Mahi Fillets with Preserved Lemon Sauce
Light, healthy and ready in under 30 minutes.
Author:
Nancy Lopez-McHugh
Recipe Type:
Fish, Entree, Main, Summer
Ingredients
Fish
2 Mahi Mahi/ Dorado fillets
4 large garlic cloves, thinly sliced
2 tbsp. extra virgin olive oil, good quality
salt, to taste
ground black pepper, to taste
Sauce
6 wedges preserved lemons
2 tbsp. extra virgin olive oil, good quality
1 tbsp water
Salad
Mache greens, arugula sprinkle with a little salt and ground black pepper. Then toss with a little olive oil.
Instructions
Make the sauce:
Preserved lemons should be soaked at least 15 minutes before using. Drain and separate lemon skin away from pith and pulp . Place the lemon skins in a blender with the olive oil and water, blend until lemon skins have completely broken down. Set aside.
Cook Fish:
Pat dry the Mahi Mahi fillets and set aside. Heat the olive oil and once hot saute the thinly sliced garlic cloves for 3 minutes. Do not burn the garlic, it should be cooked just until it begins to darken in to a light golden color. Remove the sauteed garlic slices but leave all of the oil in the pan. Add the garlic to the lemon sauce and mix to well combine then set aside again.
Using the same oil bring the heat up to medium high. Season the top of the Mahi Mahi steaks with salt and pepper, place seasoned side down into hot pan. Season the top layer of the fish with salt and pepper. Fry the fish for 5 minutes on one side then flip and dry another 3 minutes on opposite side.
Place the fish ontop of salad greens.
Notes
Recipe for homemade preserved lemons can be found here, http://www.spiciefoodie.com/2011/02/23/feeling-sad-and-preserved-meyer-lemons-with-a-twist-2/
Nancy Lopez-McHugh
Nancy Lopez-McHugh is a food blogger, photographer and published author. Most recently she has published "Yummy Pics: A Food Blogger's Guide To Better Photos".