Mystified by French macaroons? Maybe people are scared of making meringue, or perhaps the beautifully shiny shell appears elusive to the home baker, but macaroons are quite manageable to make at home.
By Marissa Sertich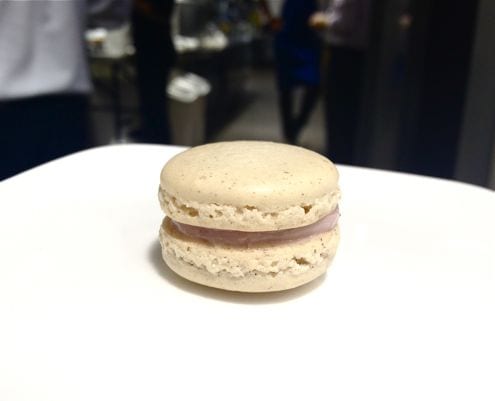 Cute, dainty, and delicious – a macaroon should have a soft and moist filling and a delicately crisp exterior. To achieve this result, understanding a few simple tricks will help you achieve your macaroon success.
The "macoronnage" is key. The term "macoronnage" refers to the mixing of the flour and meringue to make the batter. With insufficient macaronnage the final macaroon will look course and dull, while over-mixing will lead to an oily, flat macaroon. The batter should be somewhat firm and drip slowly.
Sift! Before you mix your dry ingredients into the meringue, sift your almond flour and powdered sugar. This pre-mixing of the dry ingredients ensures that there are no undesirable, larger particles.
Before baking, let the piped macaroons sit out for at least thirty minutes (depending on the humidity and temperature) to achieve a dry crust on top. This helps macaroons achieve their iconic shape and "pied," or foot.
Bake the macaroons on two trays. When the macaroons get too hot on the bottom, they will crack, so stacking two cookie sheets help protect the little guys from too much bottom heat.
Print
Macaroon Mysteries Solved
Author:

Marissa Sertich

Yield:

4

doz

1

x
Category:

Dessert
240g

almond flour

240g

powdered sugar

240g

granulated sugar
pinch salt

200g

egg white

1/4 tsp

lemon juice

50g

granulated sugar
Instructions
Sift together almond flour, powdered sugar and first quantity of granulated sugar. Whisk in salt.
In a standing mixer, begin beating your egg whites until frothy. Continue whipping, add lemon juice, and gradually incorporate 50g sugar, until you form shiny, glossy, stiff peaks.
Using a rubber spatula, fold in one half of the dry ingredient mixture into the meringue at a time. Continue mixing until the batter is smooth, yet firm.
Fill a piping bag with the batter and pipe nickel-size rounds onto a parchment lined baking sheet, about 1 inch apart.
Firmly rap the baking sheet onto a flat surface to release trapped air. This may seem aggressive, but it will help the macaroons achieve the desired shape.
Preheat the oven to 375F and allow the piped macaroons to sit in a dry space for a least thirty minutes, or until they are dry to the touch.
Place the macaroons in the oven, using two baking trays, one inside the other.
Bake for about 15 minutes, or until slightly crisp on top.
Allow the macaroons to cool on the sheet for 2-3 minutes. Allow the cookies to completely cool before sandwiching them with a desired filling.
Marissa Sertich
Marissa Sertich Velie is a New York based pastry chef and graduate of the Culinary Institute of America. She passionately documents her adventures of baking and eating her way through the fascinating (and sometimes nutty) underbelly of the American pie. Velie has a Master's degree in Food Studies from NYU.