Wine and chocolate are a perfect pair and in this cake the addition of wine also brings great texture to the recipe. Top with a smooth ganache spiked with rum for a rich combo.
By Oana Olguta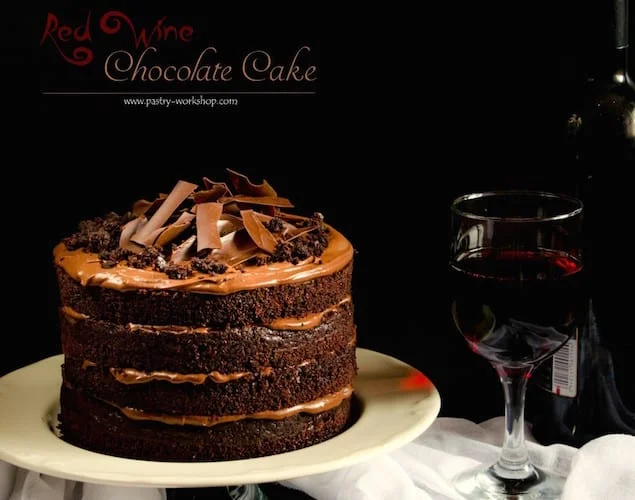 Chocolate and red wine is a combination that always tingles my taste buds. The dark, bittersweet chocolate and the ruby red wine make up the perfect picture in my mind. That being said, a sweeter wine pairs better with chocolate and the two tastes will engage powerfully on your palate, both looking to draw your attention. If you ever had red wine and chocolate, you know what I'm talking about – that intense flavor of wine and chocolate, lingering on your palate, tingling your taste buds. The better the wine and the chocolate used for this red wine chocolate cake, the better the result. I used a sweet red wine, a no name brand which I quite like drinking once in a while and a dark chocolate of 60+% cocoa content for the sponge. A mix of dark chocolate and milk chocolate was used for the frosting because I thought a bit more sweetness was needed to balance the final taste.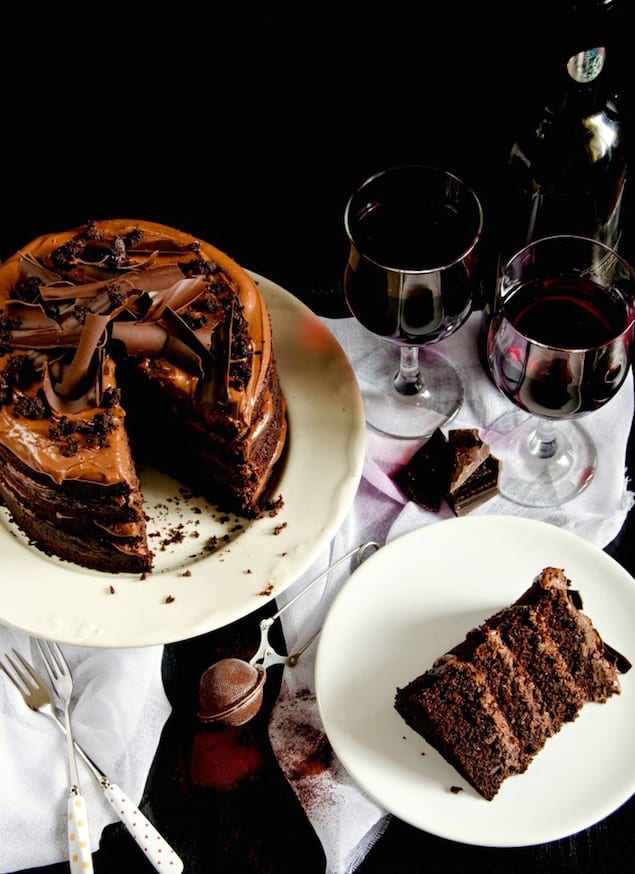 It truly is the perfect chocolate cake, but you do need to enjoy an occasional glass of red wine to fully taste and understand its bold aroma. The red wine gives the cake a fudgy texture and a rich flavor that you will definitely notice. Do keep in mind that the alcohol doesn't fully bake out so it's not a cake recommended for kids. In addition to this, the ganache also includes quite a lot of rum-based homemade vanilla extract. But you can replace the wine with water and vanilla extract with one that doesn't have any alcohol, thus making a child-friendly version.
Print
Luxurious Chocolate Cake with Red Wine and Ganache
Wine and chocolate are a perfect pair and the addition of wine brings great texture to the cake, too. Top with ganache spiked with rum for a rich combo.
Author:

Oana Olguta

Yield:

1

, three-layer cake

1

x
Category:

Baking, Chocolate
Cake:
250g

(

8.8 ounces

) all-purpose flour

300g

(

10.5 ounces

) sugar

75g

(

2.6 ounces

) Dutch processed cocoa powder

1 teaspoon

baking soda

1 teaspoon

baking powder

½ teaspoon

salt

2

eggs

1 teaspoon

vanilla extract

250

ml (8.4 fl. ounces) buttermilk*

125

ml (4.2 fl. ounces) neutral vegetable oil

250

ml (8.4 fl. ounces) sweet red wine**

100g

(

3.5 ounce

) dark chocolate, chopped
Ganache frosting:
300

ml (10 fl. ounces) heavy cream

250g

(

8.8 ounces

) dark chocolate, chopped

100g

(

3.5 ounce

) milk chocolate, chopped

30g

(

1 ounce

) butter

¼ teaspoon

salt

2 tablespoons

rum-based vanilla extract***
Chocolate decorations:
50g

(

1.7 ounces

) dark chocolate, chopped
Instructions
Preheat your oven to 350F and line two round cake pans – 18cm diameter – with baking paper. Place aside until needed.
Bring the red wine to a boil in a saucepan then remove from heat and stir in the chopped chocolate. Mix until melted and let the mixture cool down slightly.
Mix the flour, sugar, cocoa powder, baking soda, baking powder and salt in a bowl.
In a different bowl, combine the eggs, buttermilk, vanilla and oil and mix well. Stir in the wine and chocolate mixture.
Pour the wet ingredients over the dry ones and give it a quick mix, just until the flour is incorporated. Don't over mix or it will form tunnels while baking. A quick mix with a whisk is enough, the batter is not supposed to be smooth as a butter-based one, but not lumpy either. If using an electric mixer, set it on the lowest speed and don't mix too much.
Evenly divide the batter between the two pans and bake in the oven to 35 minutes or until well risen and the top springs back when touched. The toothpick test may not be the best in this case as the cake is slightly fudgy.
Remove the pans from the oven and let them cool completely.
When chilled, cut the cakes in half to obtain 4 layers.
Ganache frosting:
Bring the cream to the boiling point in a saucepan.
Remove from heat and add the chocolate and butter. Let it stand for 5 minutes then mix until melted and smooth.
Stir in the salt and vanilla then cover the ganache with plastic wrap on the surface and place the bowl in the fridge until set, at least 2 hours.
To assemble the cake:
Divide the ganache into four equal parts.
Layer the cakes and ganache on a platter and place the cake in the fridge until serving.
Chocolate decorations:
Melt the chocolate in the microwave or over a hot water bath.
Very thinly spread the chocolate over a sheet of baking paper. Roll the paper to form a tube and place in the freezer for 10 minutes to set.
Remove the roll from the freezer and unwrap it. The set chocolate will break into these delicate, thin shards.
Pile them on top of the cake just before serving.
Notes
* Make your own buttermilk by combining 250ml milk (1 cup) with 1 tablespoon lemon juice or white vinegar. Let it sit for 5 minutes to curdle and that's it – your own buttermilk to use in cakes.
** Replace the wine with water or freshly brewed coffee for a non-alcoholic version of this cake.
*** Replace the homemade rum-based vanilla extract with 1 teaspoon store-bought extract or vanilla paste which is stronger and has a more intense aroma. Or use dark rum if you prefer.
If you use coffee instead of wine, add 1 teaspoon instant coffee powder into the ganache.
Oana Olguta
I am a self-taught baker and pastry-school graduate and I have an affinity for food. But I especially love baking, taking pictures, exploring dessert cookbooks, entremets and writing. I focus on creative desserts and baking techniques that are aimed to both novices and experts in the kitchen and I truly believe that being a pastry chef is not about looking for innovative ways of making desserts, but about learning the basic techniques and then combining them into new, original desserts, relying on textures and flavors.