Likened by one food critic to "dining inside a Fabergé egg", Russian-owned Bob Bob Ricard is a Soho restaurant choice for when you want to make a statement.
By Nina Fitton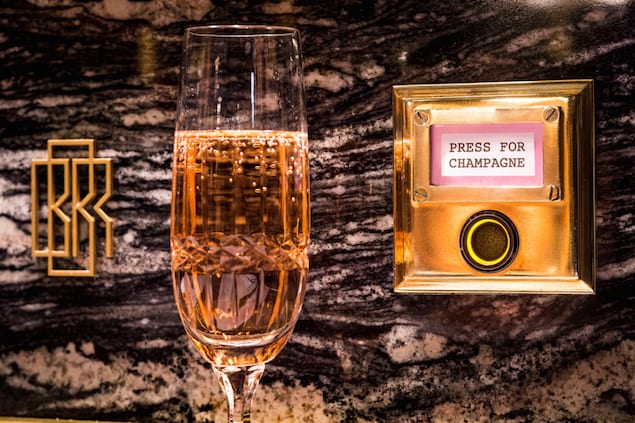 Press For Champagne Button, by Paul Winch-Furness, courtesy of Bob Bob Ricard London
The interior (designed by the late and great David Collins, of The Ivy and The Wolseley fame) is gilded and brightly-hued but is subtly lit so as not to go OTT on the glitz, as you cozy up with your companion in one of the dining booths.
Pink waistcoat-clad staff have a knack of appearing just before you realize you need them – though there's always the PRESS FOR CHAMPAGNE button if you need anything extra.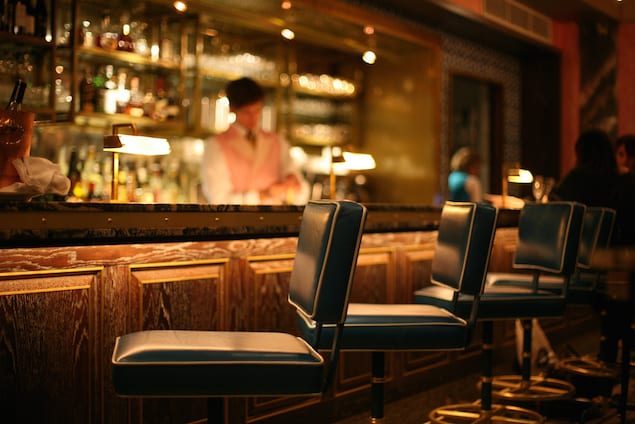 The Bar at Bob Bob Ricard – Photo: By Laura Kiora
At first glance, the menu could come across as pretentious, with frozen vodka and caviar on page one. But a continued perusal reveals traditional Russian fare (my starter of Truffled Potato & Mushroom Vareniki dumplings were fantastic) peppered amongst top notch versions of old favourites: Macaroni cheese generously studded with chunks of lobster; a beautiful Mariner's Fish Pie, the pastry top sculpted like fish scales; and the house dish of Beef Wellington, for two to share.
Dessert comes last but certainly not least. Chocoholics simply must order the Signature Chocolate Glory – an indulgent show-stealer served with theatrical flair; the pink orb of Eton Mess comes in a close second.
Bob Bob Ricard's luxe service, decadent décor, eccentric personality and impressive food make it a seriously memorable choice, though one best saved for special occasions (a three-course meal for two, with wine and service, costs upwards of £150).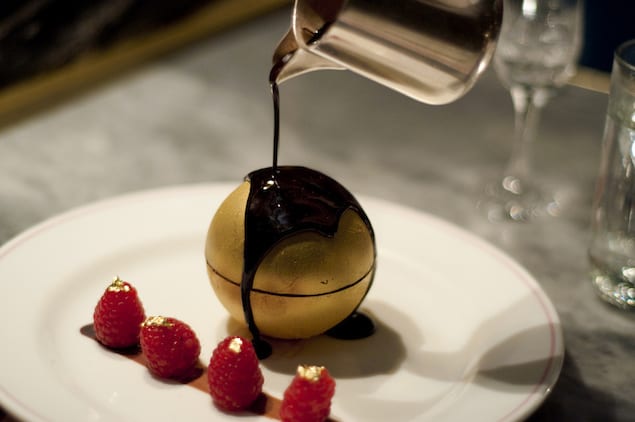 The signature chocolate glory at Bob Bob Ricard – Photo: Ernest Opoku
Check out more unique dining destinations here.
http://www.bobbobricard.com/
Bob Bob Ricard London
1 Upper James Street, London W1F 9DF, United Kingdom
+44 20 3145 1000
Jenny Nguyen-Barron
Founding editor of Melting Butter, the online destination for curated hotspots in NYC & around the world. Freelance travel, food and fashion writer published in ForbesLife, National Geographic Traveler Magazine, Gotham Magazine, JBF Taste among others.