Simple soba noodles can quickly be combined for this perfect lunch creation, served warm or cold. Even though warm meals are usually craved at this time of the year, it's sort of a nice change in pace to have a cold salad every now and then. Especially if this is used as a base for a more substantial meal and it's topped with marinated salmon, shrimp, or grilled tofu.
By Laura Davidson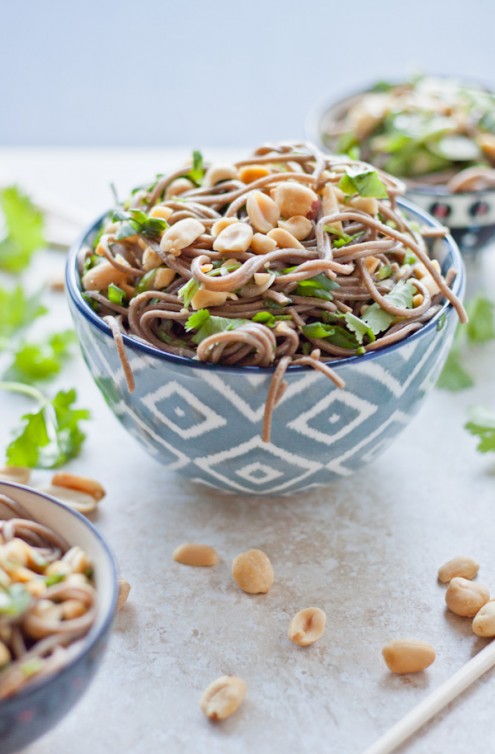 Lunchbox-Ready Asian Noodle Salad
Salad can be prepared up to a day in advance, but can be served immediately (it does taste better after sitting for 30 minutes or longer)
Ingredients
½ lb dried soba (Japanese buckwheat) noodles
2 tablespoons toasted sesame oil
2 tablespoons soy sauce
1 tablespoon sugar
2½ teaspoons red wine vinegar
½ teaspoon salt
½ cup coarsely chopped fresh cilantro leaves
4 large spring onions, sliced thinly on a diagonal
½ jalapeno pepper, seeded, veins removed and finely minced
¾ cup toasted, unsalted (or lightly salted) peanuts, coarsely chopped
2 tablespoons toasted sesame seeds (optional)
Instructions
Bring a large pot of water to a boil. Season generously with salt.
Add the soba noodles and cook until al dente (just firm to bite). Drain and rinse noodles under cold water. Allow to drain and set aside in a large bowl.
In a separate bowl, whisk together the sesame oil, soy sauce, sugar, vinegar, and salt, until sugar has dissolved completely.
Pour sauce over noodles and toss to coat evenly.
Add the cilantro, jalapeno, peanuts, and sesame seeds and toss gently. Season to taste with additional salt and pepper if necessary.
Garnish with additional peanuts, cilantro, and spring onions if desired.
Best served cold.