Joan Nova serves a deliciously healthy and creative low carb take on the classic Paella Marinera.
Text And Photos By Joan Nova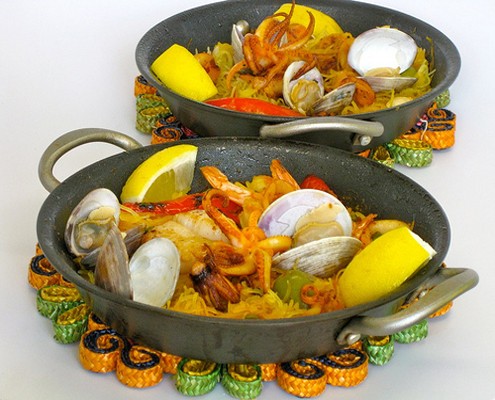 I'm going to start out by just saying…this is delicious! Like many of you, I'm always trying to find healthy alternatives to some traditional meals. I've done a lot of dishes replacing rice and pasta with the more nutritional spaghetti squash. It has less calories and less carbs and it works well because it takes on the flavors of the rest of the dish, just as rice and pasta do. I treat it as a "starch", substituting it as a base for the dish rather than as a side vegetable.
There are a few steps to this recipe. Like any good paella, it tastes better if the components are treated separately to preserve their individual flavors and then combined towards the end to marry it all.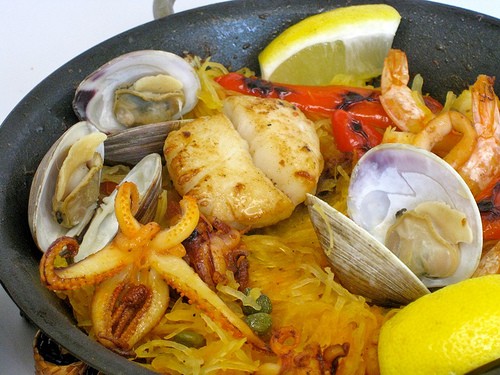 The squash. I find the squash too hard to halve without some cooking so I pierce it with a fork and put it in the microwave. After 5 minutes, it begins to soften and then I halve it and remove as many of the seeds as I can (there's always more when you start forking it later). It then gets baked face down with a little water in the pan at 350 for about a half-hour until it is tender.
Seafood. Separately, I seared the scallops and shrimp in a hot pan with olive oil. Removed and set them aside. In the same pan, I sauted the calamari. All had been seasoned with salt, pepper and paprika.
The clams. I steamed the clams with a little broth, a clove of garlic and a squeezed lemon wedge until they opened.
Building the paella:
Saute the garlic clove that cooked with the clams (it is already soft, just smash it down) with a little minced onion and finely diced tomatoes in olive oil.
Next add saffron or Sazón mixed with a little of the liquid from the clams.
Add shredded spaghetti squash and all the seafood, olives, capers and pimentos.
Go once-around-the-pan with a pour of white wine.
Cook it off for about another 10 minutes till it dries up a little and sets. This can be done stove top or in the oven.
Finishing Touch. For me (always!) the finishing touch for paella is a squeeze of fresh lemon. Sometimes a splash of hot sauce.
Olé!
Joan Nova
Joan Nova is the publisher of FOODalogue: Meandering Meals, Musings + Travel which melds her lifelong passions for food, travel, photography and publishing. Her culinary style is bold and colorful with finishing touches that take each dish to the next level. She is an active participant in many online food organizations.