You can use your broth of choice (veggie, mushroom, meat, etc.), or plain old water if you plan on using the rice for sweet dishes instead of savory.
By Kelly Morisson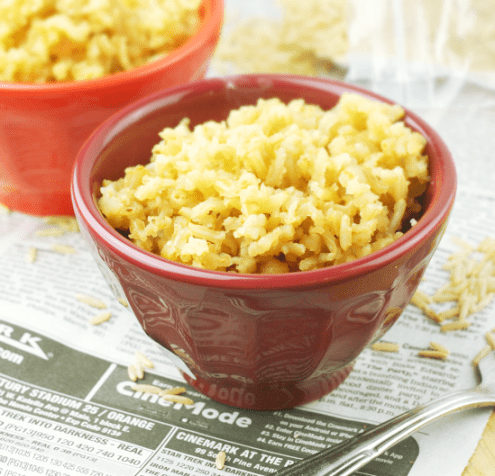 Low Calorie Brown Rice
You can use your broth of choice (veggie, mushroom, meat, etc.), or plain old water if you plan on using the rice for sweet dishes instead of savory.
Ingredients
1 cup raw brown rice
4 cups vegetable broth, warm
Instructions
Add the raw brown rice to a large greased pot. Toast the rice over medium high heat, stirring often, until golden, about five minutes. Once toasted, add the warm veggie broth and bring to a boil Boil for about a minute and reduce heat to medium low. Cover and cook for 45 minutes, taking care NOT to lift the lid to check on the rice beforehand. Fluff with a fork and (ta-da!) behold your beautiful rice. Devour.
Notes
You may substitute any other broth for the vegetable broth, or, for a less flavorful option, water.
Kelly Morrison
At the age of thirteen, Kelly Morrison founded Foodie Fiasco, a popular healthy recipe website that provides the ultimate guide to having it all: happiness, decadence, and loose pants. Five years later, she currently resides in West Hollywood, CA, where she spends her days developing recipes, photographing food and her cats, and writing bios in the third person.