Michael's Market Meet-Ups are monthly tours of the  Santa Monica Farmer's Market led by Chef McCarty followed by a lunch prepared from items purchased at the market.
Text And Photo By Charles G. Thompson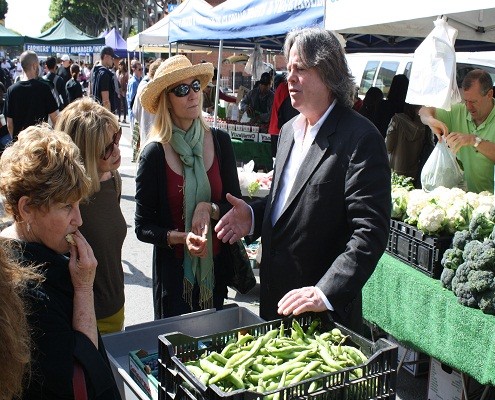 A shopping and eating adventure with a world-renowned chef and restaurateur: Michael's Market Meet-Ups — where friends, food and flavor come together.
Chef Michael McCarty is hailed as a pioneer of the California Cuisine movement that began in the early 1980s.  He and a group of California chefs started sourcing and cooking only local ingredients; those grown or raised in California.  And a movement was born.  Chef McCarty is the owner of Michael's Santa Monica, a restaurant that has been at the same location on 3rd Street for thirty-two years.  Chef McCarty prides himself in only serving the best seasonal ingredients and is known for his personal connections to local growers.
Michael's is two city blocks away from the world-famous Santa Monica Farmers' Market.  He and his chefs make weekly visits to the market to see what is in season, to decide on menus, and to buy produce for the restaurant.  Considering his knowledge of ingredients and his familiarity with the purveyors it comes as no surprise that he can easily lead a tour of the market, and that he knows virtually every vendor.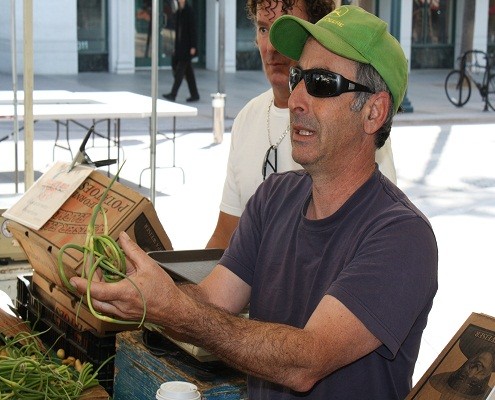 Michael's Market Meet-Ups are monthly tours of the market led by Chef McCarty followed by a lunch prepared from items purchased at the market.  On the most recent meet-up seven of us met Chef McCarty at Michael's at 8:30 in the morning for coffee and house-made cinnamon buns.  Shortly thereafter we set out for the market where he introduced us to his favorite vendors while also grabbing items for that day's lunch.  Since it's spring in California it was all about spring ingredients: English peas, fava beans, ramps and morel mushrooms.  As we toured the market Chef McCarty offered lessons on produce of the season, as well as tips for navigating the market and selecting the best ingredients.  We met Alex Weiser of Weiser Family Farms, a McCarty favorite.  We stopped by Pudwill Berry Farms, another McCarty recommendation, where he bought berries for the restaurant.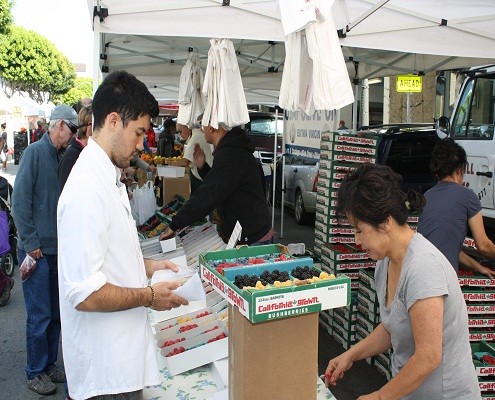 When we returned to Michael's for lunch we were served Morel Mushroom Wonton Soup (English peas, fava bean wontons, ramps, tempura morel in a morel mushroom broth), followed by Warm Spring Salad (ramps, pickled English peas, morel lardons, and a poached egg in a mustard and fava bean dressing).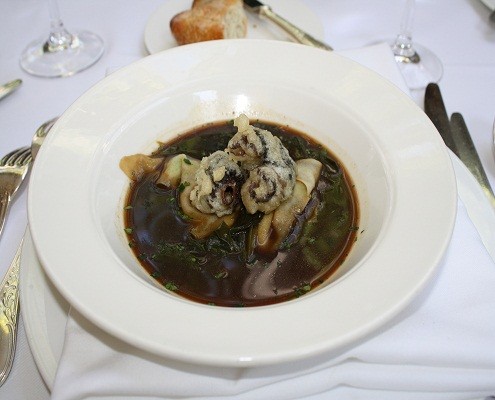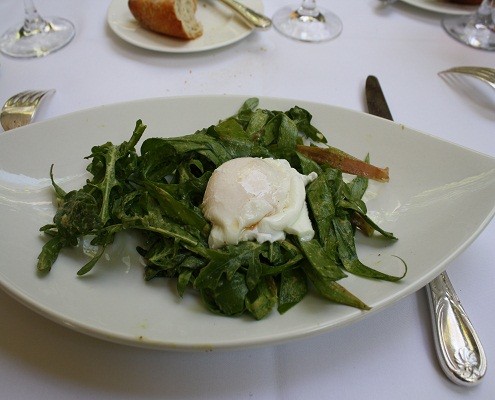 For more information on Michael's Market Meet-Ups, and to find out when the next one is scheduled, check the Michael's Santa Monica website ~ http://www.michaelssantamonica.com/
Charles G. Thompson
Charles G. Thompson is a freelance writer. After a 20 year stint in the restaurant and retail food industries he is now recounting his food oriented tales and experiences on his food blog, 100 Miles. He first learned to cook while working for a French family in France using Julia Child's "Mastering the Art of French Cooking" as his teacher. He has contributed to such sites as One for the Table, and is published in "Foodista Best of Food Blogs Cookbook: 100 Great Recipes, Photographs, and Voices".