This delicious concoction is flowery, earthy, and will help you fend off the dreaded colds that haunt us throughout the year.
By Ariel Rebel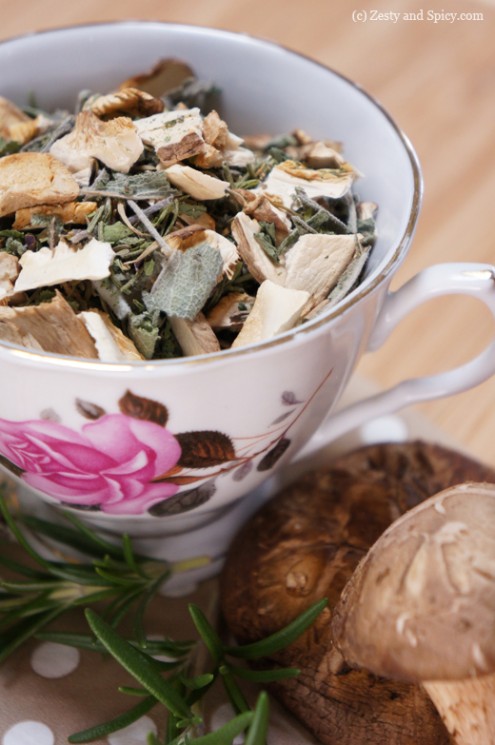 If you can make this tea with fresh top quality herbs, it will be a lot better, but not everyone can have a garden full of fresh herbs all year long, so the dried version will do the trick.
LongeviTEA Blend Recipe
Ingredients
4 Tablespoons Shiitake mushrooms, dried and crushed
2 Tablespoons Sage, dried and crushed
2-3 teaspoons Rosemary, dried
3 teaspoons Thyme, dried
3 teaspoons Spearmint, dried
Instructions
Gently combine all ingredients and store in air-tight container until use.
Like any other spices you have in the kitchen, make sure to keep your tea in an air tight container, in a cool, dry and dark place to preserve the freshness of the blend.
Ariel Rebel
Canadian food blogger, model and web designer Ariel Rebel was born in Montreal in 1985. Her love for food started at a young age by looking at her grand mother cooking pie after pie while she was trying to steal some uncooked dough from the counter. Ariel inspiration for recipes comes from her French Canadian roots mix with all her traveling memories and the countless hours she spent running around Montreal to taste all the different culinary cultures. Her passion for cooking big dinners for her friends and family never ceases to increase every year and that's what motivate her to keep learning new skills while experimenting in her kitchen at much as she can. On her blog (ZestyandSpicy.com) Ariel shares with the world her passion for flavorful and healthy recipes while blogging small pieces of her life as a model and a web entrepreneur.