London – Brasserie Zédel, Paris on a Budget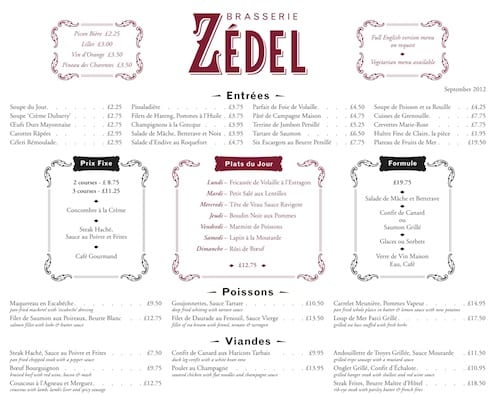 Brasserie Zédel is probably one of the most reviewed and praised new restaurants in London this Summer, and with good reason.
By Jess Lacey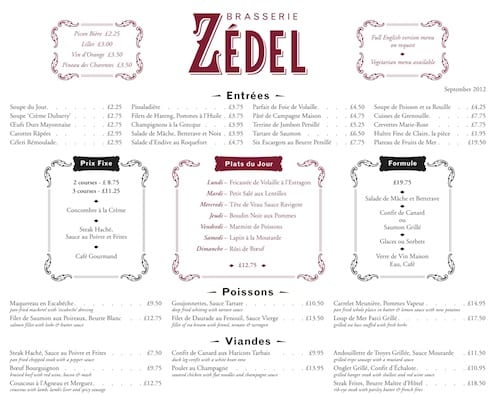 Brasserie Zédel is probably one of the most reviewed and praised new restaurants in London this Summer, and with good reason. Corbin and King have managed to perfectly recreate a Parisian brasserie in the heart of London's touristy West End, for a fraction of the price of a meal at their best known venture – The Wolseley.
Entering Brasserie Zédel is like stepping into a Toulouse-Lautrec painting. The room is a riot of marble and gilt, polished red leather banquettes, and waistcoated waiters dashing around with steaming plates of choucroute. The beautiful zinc bar provides a wonderful surprise – the first kir I have seen on a menu in London and one that costs less than a pint. It serves perfectly to wash down a bowl of gougeres, rich cheesy pastry puffs. Without a reservation you can spend a fair amount of time here, but with drinks and prices like these it is not much of a hardship.
The menu at Zédel borrows heavily from Chartier in Paris, in style, content and pricing and features all the Brasserie classics from bouef bourgignon to choucroute to creme brulee. The menu is available in both French and English, but our waiter appears to only understand the French. The starters begin at just over £2 for vichysoisse, and go up to £8 for foie gras (still an amazing bargain). I select the celeriac remoulade and my friend the pissaladiere, and they arrive swiftly. The remoulade is exactly like Chartier, a small mound of finely julienned celeriac dressed in a punchy but undeniably commercially manufactured mayonnaise, while the pissaladiere is a tasty round of puff pastry with perfectly caramelised onions and tangy anchovies and olives.
We follow this with a confit of duck and steak hache au poivre. The confit has a beautifully crisp skin, but the meat inside is slightly more tough and flakey rather than melting as confit can be. The mustardy sauce is a nice accompaniment, as are the garlic potatoes. The steak hache is actually chopped (which despite being in the name is sometimes overlooked and the meat minced instead), somewhere between a steak tartare and a burger, but I am bowled over by the quality of the meat, considering the price (£8.95). This is followed up with a slice of Comte and a piece of St. Maure. Beside us, our two neighbours have come in and simply ordered desserts, which look wonderful.
On a subsequent trip, however, I discover at least part of how Zédel has been recouping the money from such a reasonably priced restaurant. At its accompanying Bar Americain, a kir costs more than twice what it does in the bar in the restaurant, and a request for a standard house digestif (no list was available) ends with what is clearly the most expensive Armagnac on the menu being given, which seems a tad disengenuous. The décor is impressive, but the atmosphere does not make up for the cost, and I would advise going for cocktails elsewhere.
Brasserie Zédel will not be the absolute best French meal you will ever have, but much like Chartier, it makes up for that in atmosphere, and certainly in value, and for anyone on a budget it is probably one of the best picks in London right now.
Jess Lacey
Jess Lacey is an Irish food blogger and soon to be lawyer. She has found a home in London, Dublin, Leiden, Melbourne and Aarhus. After a brief foray into the world of Michelin starred cooking, she decided to keep cooking and food as relationships based purely on passion rather than income. She travels frequently, and justifies this by writing about it. More of her musings and recipes are available on her blog, Canal Cook.