Lobia Masaledar – Curried Cow Peas or Black Eyed Peas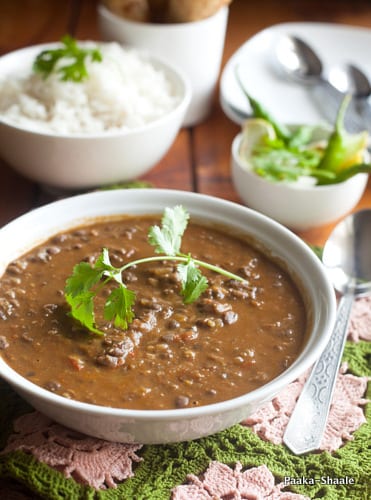 Lobia masala is a healthy variation to the regular dal fry or dal makhani. The cow peas are pressure cooked and simmered in onion and tomato gravy that is flavoured with spices.
By Nandita Nataraj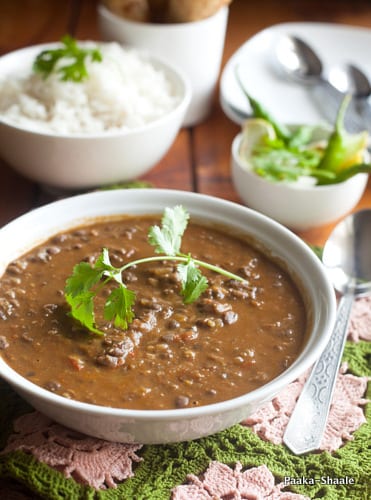 The best part about living in Tanzania is that one gets to eat fruits and vegetables that are free from pesticides. Legumes like kidney beans and cow peas or black eyed peas are often available fresh at my door step. All through my six year stay in Tanzania, never once have I purchased dried legumes. So when my vegetable vendor got these fresh and shelled cow peas at my door step, I could not help but buy some. I normally use cow peas in sambar, but this time I decided to use this legume in the onion and tomato gravy instead.
Lobia Masaledar - Curried Cow Peas or Black Eyed Peas
Lobia masala is a healthy variation to the regular dal fry or dal makhani. The cow peas are pressure cooked and simmered in onion and tomato gravy that is flavoured with spices.
Ingredients
Fresh Lobia or cowpeas- 250 gms
Onion- 1 med, finely chopped
Tomatoes- two large, finely chopped
Ginger garlic paste- 1tsp
Green chili- 1, slit
Oil- 2tbsp
Cumin seeds- 1 tsp
Bay leaf- 1
Cinnamon- 1"piece
Cloves- 3
Turmeric- ½tsp
Red chili powder- ½tsp
Cumin seed powder- ½tsp
Coriander seed powder- ½ tsp
Garam masala- A pinch
Salt to taste
Sugar- ½tsp
Butter- 1tbsp (optional)
Coriander leaves to garnish
Instructions
Pressure cook the cow peas with 1-1/2 cups of water for 4-5 whistles or till tender and keep aside.
Heat oil in thick bottmed pan and add the cumin seeds. Once they sputter, add the bay leaf, cinnamon stick, cloves and fry for a min.
Add the chopped onion, and green chili and fry till the onion turns pink. Stir in the ginger-garlic paste and fry for two more mins so that the raw smell is removed.
Add the chopped tomatoes and fry for a min. Add the turmeric, salt, sugar, red chili powder, coriander, cumin seed powders and fry for 5min till the mixture is mushy and the oil separates.
Stir in the cooked cow peas and garam masala and mix well. Allow the mixture to simmer for five more min. If using butter, then add at this stage and mix.
Take off the heat and garnish with coriander leaves and serve hot with rice or rotis.
Notes
If using dry cow peas, then it would have to be soaked for 5-6 hrs or overnight before proceeding to make the curry. The use of butter is optional. You can omit using butter if you want to make this dish vegan.
Nandita Nataraj
Nandita was born, bred and spread in India, but right now lives in Tanzania where her quest for simple and exotic pleasures of food led to the creation of the blog Paaka-Shaale. She believes that food is not just a means to feed a body. But it is also meant to appeal the mind and satiate the soul.