Crispy baked sweet potato fries are served up with all the fixings. Spices, feta, and tzatziki makes this appetizer above average.
By Emily Stoffel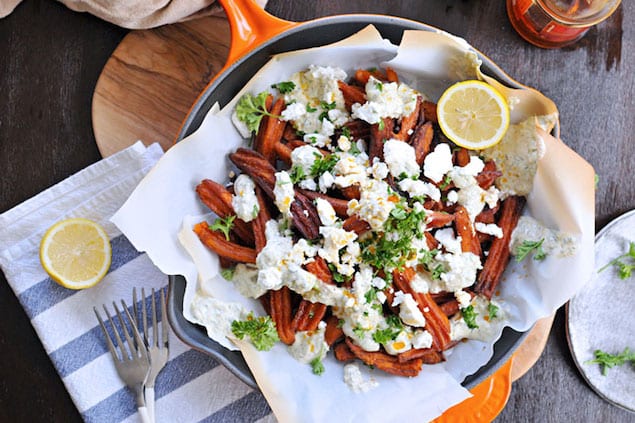 This recipe was inspired by awesome pub fries that left the bar in a takeout box. The next day they were just asking to be rewarmed and crisped, but with a whole new set of toppings.
If your cup doesn't happen to runneth over with 19 takeout boxes from the local bar, not to fear. This recipe (which is more about the toppings, after all — ummm, hello curried tzatziki!!!) works just as well with a batch of homemade sweet potato fries or a bag of your favorite frozen variety.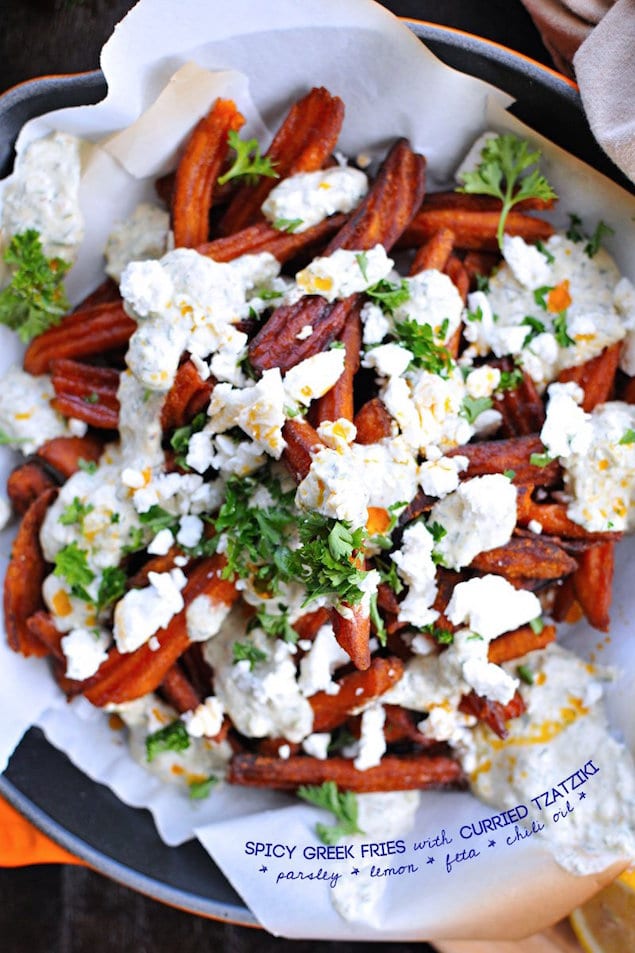 Loaded Sweet Potato Fries with Curried Tzatziki
Crispy baked sweet potato fries are served up with all the fixings. Spices, feta, and tzatziki makes this appetizer above average.
Recipe Type:
Side, Appetizer
Ingredients
1 tsp hot curry powder
1 cup Greek yogurt (I used 0%)
½ English cucumber, seeded and very finely shredded
1 large clove garlic, very finely minced or microplaned
1 T lemon juice (or more, to taste -- plus extra for serving)
1 tsp dried dill (or 2 T fresh, chopped)
½ tsp sea salt
freshly ground black pepper
1 lb freshly prepared sweet potato fries (see note)
crumbled feta cheese
chopped parsley
hot chili oil
Instructions
To make the tzatziki sauce, toast the curry powder in a small, dry skillet over medium heat until nutty and fragrant, about 1-2 mins. Do not let spices burn. Combine spices with yogurt, cucumber, garlic, lemon juice, dill and salt. Season with pepper to taste. Adjust for more lemon juice, if needed.
Serve fries topped generously with sauce, feta, chopped parsley, lemon juice and a drizzle of chili oil.
Notes
There are too many good recipes for sweet potato fries out there, so I'll leave it up to you to find your favorite -- I happen to like Sherrie's use of cornstarch to create a crisp, seasoned-fry crust that is oh-so tasty! Store-bought, frozen sweet potato fries are a lovely option, too. Either way, the toppings are really what takes them over the top!

The cook time for this recipe assumes your fries are ready to go. If you're making the fries from scratch (or heating a frozen batch), you'll want to account for another 20-45 mins cooking time.
Emily Stoffel
Emily Stoffel (Em) is the voice behind The Pig & Quill, a food blog featuring original, (mostly) mindful & real food-based recipes -- plus salty scribblings about life, love and all the miscellany that falls into that goofy little crack between the fridge and the cabinetry. When she's not in the kitchen, you can find Em (pretending to enjoy) running, nerding out over marketing, chatting with Momma and planning elaborate vacations that sometimes work out. She lives in the San Francisco Bay Area with her husband, Chris, and their three bicycles.