Lobster is the seafood of choice today and makes for a zesty meal that is bound to leave your mouth en fuego.
By Kara and Marni Powers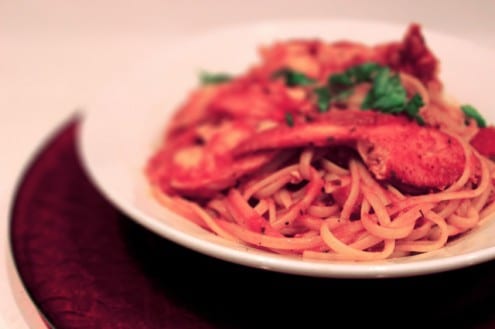 Pasta with Lobster Fra Diavolo
Lobster is the seafood of choice today and makes for a zesty meal that is bound to leave your mouth en fuego.
Author:
Kara and Marni Powers
Ingredients
4 T EVOO
2 shallots, finely chopped
1 T red pepper flakes
3 cloves minced garlic
¼ c red wine (whatever you're drinking!)
1 28 oz can plum tomatoes, chopped (we love Pastene)
2 T tomato paste
1 t dried oregano
½ c fish stock (you could use vegetable stock too)
salt and pepper throughout
1 lb cooked lobster meat from claws and tails
1 lb linguini
2 T fresh basil, julienned
Parmigiano Reggiano cheese
Instructions
Heat 2 T EVOO in a large saucepan over medium heat. Add the shallot and cook until slightly golden and translucent, 6-8 minutes. Add the garlic and red pepper flakes and cook for an additional minute. Add the wine and allow to reduce a bit for 2-3 minutes. Add the tomatoes, tomato paste, oregano, fish stock, salt and pepper. Simmer over medium low heat until thick and bubbling, about 30 minutes.
In a large pot, boil the water for the linguine. While the water boils, tuck the lobster meat into the tomato sauce. Add the linguine to the boiling water and cool until al dente. Add the pasta to the saucepan and cook in the sauce for an additional minute. Stir in 1 T basil and plate. Garnish with extra basil and Parmigiano Reggiano cheese.