It makes a difference to understand what sauces are best served with each durum based dish. Discover new pasta shapes and the sauces to serve with them.
Pasta machines have been in use dating back to the 1600's. While we are all familiar with traditional pasta shapes, it makes a huge difference to understand what sauces are best served with each durum based dish. Discover pasta shapes you've never used and the sauces they were created to be served with.
http://newfinmysoup.blogspot.com
Corzetti & Croxetti
Originating in Northern Italy, this shape and was created to display a crest, cross, or delicate pattern. The pasta is commonly served with a walnut or mushroom sauce. Try this mushroom sauce with white wine.
Shutterstock: Tamara Kulikova
Gigli
The name of this pasta means "lilies" and is mirrored in its ruffled edges. This cone-shape is ideal for holding your favorite thick sauce, especially ones with meat or cheese, around the pasta.
Shutterstock: Steve Cukrov
Radiatore
Invented by an industrial engineer, this pasta was designed to emulate industrial radiators of the 1960's. Because of their short, ribbed shape, it is made for trapping broth or dressings in soups and salads. Try this spicy chicken soup with the little radiators.
http://www.sfogliadorosnc.com
Foglie D'ulivo
This pasta is familiar to only a few areas of Italy, especially Puglia. Shaped like a leaf found on an olive tree, the pasta is best served with your favorite simple pesto and an excellent olive oil.
Shutterstock: An Nguyen
Lumaconi, Lumache, or Pipe Rigate
Shaped like a snail's shell, this pasta comes in a variety of sizes all revolving around the mollusks. Because of it's unique shape with two different sized openings and curved ridges, the snail pasta is very versatile. The larger shells can be used in baked pasta dishes and the smaller assortments may be included in oil, meat, or cream based sauces. Make the baked category using this recipe with spinach and ricotta.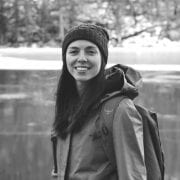 Annelise McAuliffe
Mandatory family outings to the Detroit farmers' market and nightly home-cooked meals cultivated Annelise's respect and curiosity for food. A graduate of The Culinary Institute of America, she spends her free time in New York City recipe testing, eating breakfast all day, and dreaming up international culinary adventures.