This beautiful salad is the perfect side dish for your next dinner party. It's loaded with lentils, delicata squash, kale, apple and more. Plus, the leftovers make for a perfect lunch.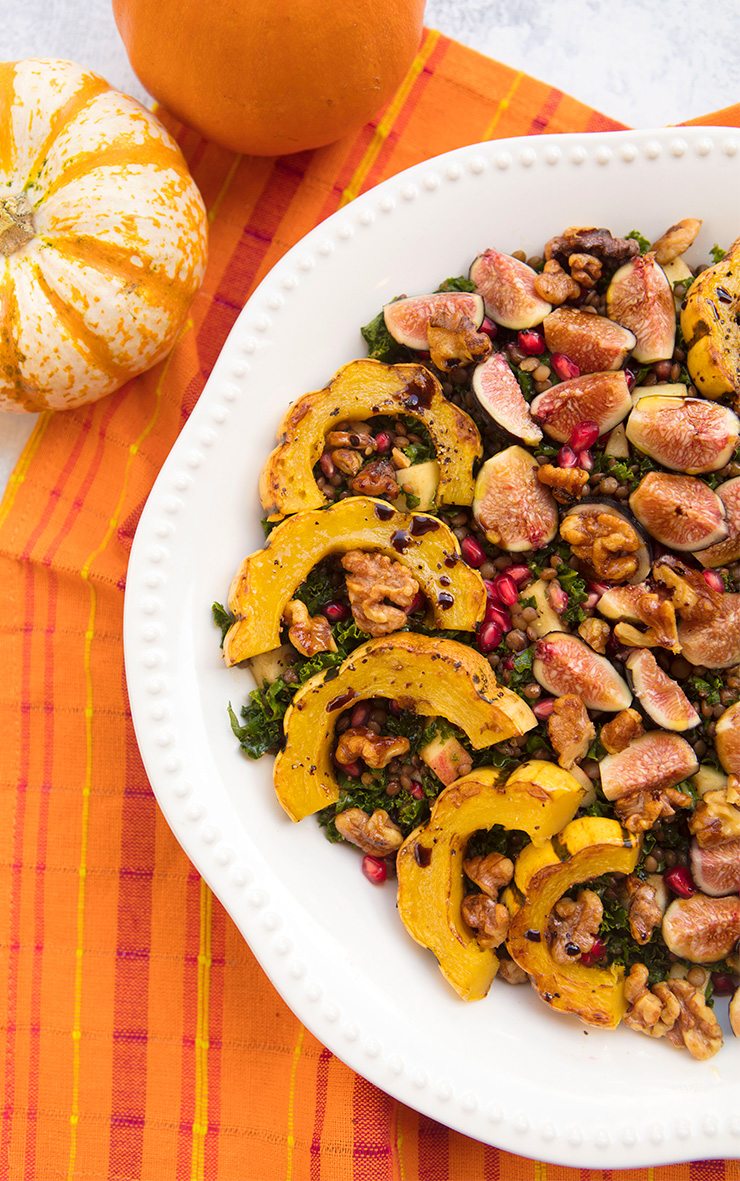 As each new season passes into the next, I find myself thinking that each new season must be my favorite. Being an avid home cook, I look forward to working with the new seasonal fruits and vegetables that appear in my local farmer's markets or green grocers each season, and although I love spring for its artichokes, peas, and fava beans, fall certainly has a lot to offer as well. I recently returned from Italy to the States and was thrilled to see the variety of winter squash and hearty greens available. I went a little crazy my first food shopping day, as I bought four types of squash. They are so versatile to use though, and so delicious that I just couldn't help myself!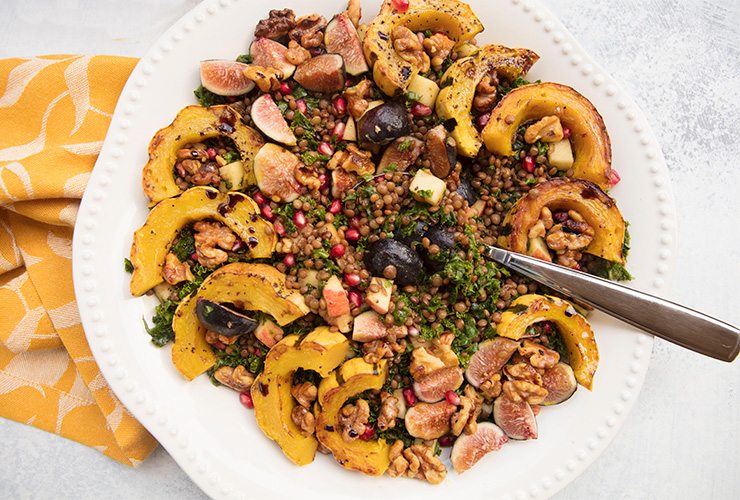 I will only be here in Florida for just over a week before I head back to Canada, so I had to restrain myself from buying too many perishables, and forced myself to create a menu with a shopping list for the week so that I wouldn't go too crazy. After my squash extravagance, I decided to use my delicate squash in a hearty lentil salad that we could enjoy as a meatless entree. As I always say, I like my salads to have lots of color, texture, and most of all flavor so I added kale as my green of choice, apples and walnuts for crunch, pomegranate arils for color, and fresh mission figs and roasted delicata squash for flavor. A salad this special needs a great dressing, so I made a vinaigrette out of fig infused balsamic vinegar and olive oil. The dish was delicious and very filling so that we were able to enjoy it again for lunch the next day.
I use Umbrian lentils that I bring back from Italy with me every year from Castelluccio. These are the small beige lentils, and they retain their shape well after cooking making them perfect for salads. Use the little beige or green French lentils for this salad, not the larger red lentils which can get mushy when cooked. I stumbled upon fresh black mission figs, so I added them to my mixture. If fresh figs are not available, you could use chopped dried figs as well. I wanted the kale to be in the background, so I cut it quite fine and massaged it with my fingertips to tenderize it. Delicata squash is an excellent choice for salads like this one as it does not need to be peeled, but any roasted squash will work. If using butternut squash, just peel it and cut into pieces before roasting it. If you cannot find fig infused balsamic vinegar, you could add a spoonful of fig jam to the vinaigrette, or even a spoonful of chestnut honey. This salad would be an excellent choice to serve over the upcoming holidays when entertaining, and it packs well making it an ideal option to bring to a pot-luck dinner with friends.
See Also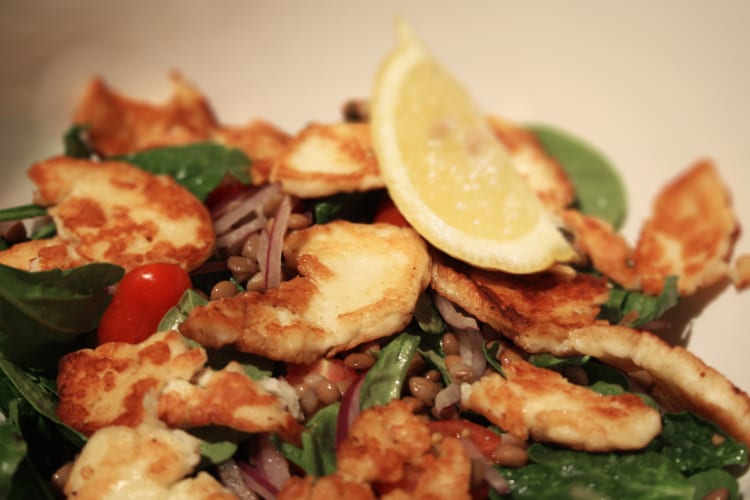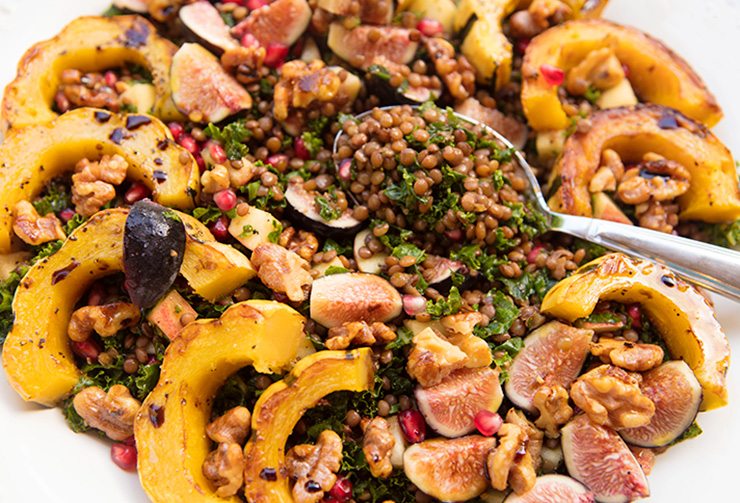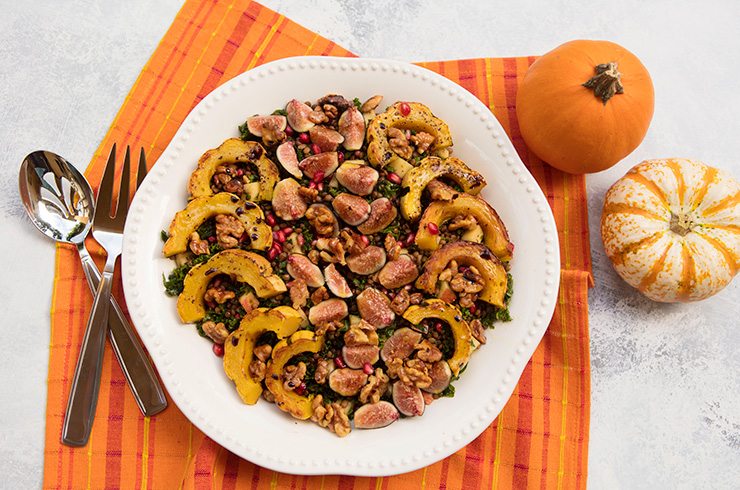 Click here for the dressing recipe for this salad.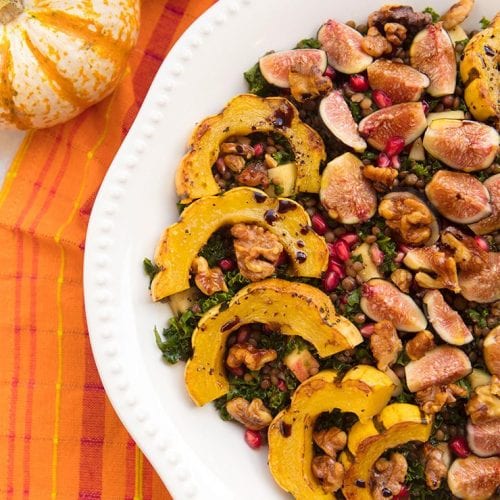 Lentil and Squash Harvest Salad
Deborah Mele
This beautiful salad is the perfect side dish for your next dinner party. It's loaded with lentils, delicata squash, kale, apple and more. Plus, the leftovers make for a perfect lunch.
Ingredients
1

Medium Delicata Squash

3

Tablespoons

Olive Oil

Salt & Pepper to Taste

2

Cups

Dried Beige or Green Lentils

See Notes Above

1

Bunch Curly Kale

Washed & Dried

1

Large Apple

Cored & Chopped Into 1/2 Inch Pieces

1

Cup

Pomegranate Arils

With Another 1/4 Reserved As Garnish

1

Cup

Lightly Toasted Walnuts

6-8

Fresh Mission Figs

Stems Removed & Quartered
DRESSING:
Click the link above for the recipe.
Instructions
Preheat oven to 375 degrees F. Line a baking sheet with aluminum foil, and lightly oil. Cut the squash crosswise into 1-inch rings, and using a small spoon, scoop out all seeds. Brush the squash with olive oil and season with salt and pepper on both sides. Roast the squash for 10 minutes, turn over, and then roast until fork tender. Remove from the oven and cool to room temperature.

While the squash is roasting, place the lentils in a pot and cover with water by three inches. Bring to a boil, then reduce the heat to a simmer and cook until the lentils are "al dente", about 20 to 25 minutes. Drain, and cool the lentils to room temperature.

Cut the stems off the kale and discard. Remove large veins and finely chop the leaves. Measure out 3 cups of chopped kale and reserve the rest for another use.

In a large bowl, mix together the 1 cup of pomegranate arils, cooled lentils, kale and chopped apple.

In a small bowl, whisk together the dressing ingredients and pour it over the lentil mixture. Toss to mix well.

Pour the lentil mixture into a bowl or a platter. Cut the squash rings in half and arrange on top of the salad. Sprinkle with the chopped walnuts and reserved arils. Arrange the figs on top of the salad, then serve and enjoy!
Deborah Mele
Deborah Mele is a self-taught cook whose passion for Italian cuisine began after living in Milan, Italy for 8 years. Although not Italian by birth, she became a true Italian by heart and palate. Deborah created her Italian recipe blog ItalianFoodForever.com 12 years ago to share her passion for Italian food. During her various travels throughout Italy, Deborah fell in love with the central Italian region of Umbria so when they retired, Deborah and her husband bought two farmhouses there where they now reside for six months a year and run a farmhouse rental for guests and give cooking classes.