Pesarattu is very similar to the Dosa (Indian pancakes), the only difference being the ingredients. This one is largely lentil based, with some housewives adding a little quantity of rice to bring in the crisp.
By Preethi Vemu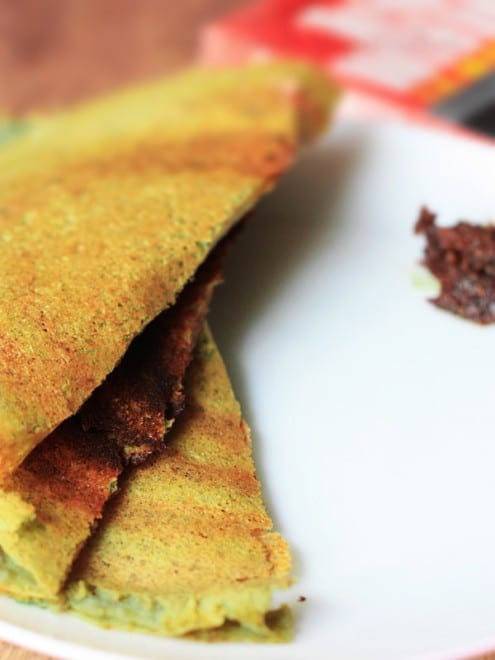 Print
Pesarattu – Lentil Pancakes
Pesarattu is very similar to the Dosa (Indian pancakes), the only difference being the ingredients. This one is largely lentil based, with some housewives adding a little quantity of rice to bring in the crisp.
Author:

Preethi Vemu

Prep Time:

10 mins

Cook Time:

20 mins

Total Time:

30 minutes

Yield:

10 pancakes
Green gram dal / green moong dal/ Pesarlu – 1 C
Ginger, cleaned and peeled – 1 inch piece
Green chillies – 2-3
Cumin seeds – 1 Tbsp
Salt – To taste
Onions, chopped – 2, medium [Optional]
Ghee/Oil, to smear on the Dosa pan – Optional
Instructions
Soak the green gram dal for 4-6 hours, preferably overnight.
The next morning, grind this with the ginger and chillies.
Add salt to taste, and sprinkle the cumin seeds on the batter.
Mix well, and ensure that the batter is in the pouring consistency, like the dosa/pancake batter.
Heat the pan on which you plan to pour the batter till its hot. Smear oil on this if you doubt the Dosa/Pancake would not come out. This is an optional step and can be omitted if you are using a non-stick teflon-coated pan.
Now take a ladle full of the batter and apply on the pan by spreading it evenly.
Sprinkle the chopped onions, if using, on the dosa and cover the pan with a lid.
Let this stay on medium flame for 2-3 min. Once you see that the batter is cooked and is slightly browning, gently lift the dosa with the help of a flat spatula.
If you are stuffing the pesarattu with upma, apply a thin coat of upma on the pesarattu and fold this.
Serve hot with allam pachadi (Ginger pickle) and filter coffee for a typical Telugu breakfast.
Preethi Vemu
Preethi loves tea, animals, food and her Kindle. When she is not busy being a geek, she dreams about seeing her name in print media some day . An avid reader and an amateur food photographer, Preethi lives in Hyderabad, India with her husband who is subjected to all her culinary experiments.