Lemony and Garlicky Shrimp with Cherry Tomatoes and Fresh Herbs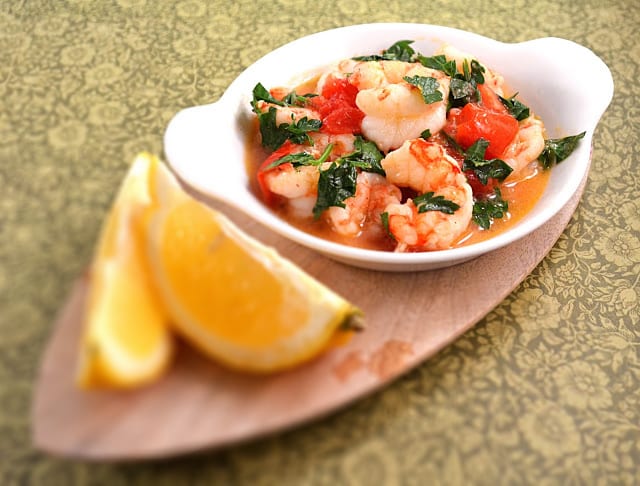 The shrimp are cooked in a wine and garlic infused broth. Steamed white rice is the perfect vehicle for soaking up lots of the perky sauce. Bread is also a great choice for dipping.
By Jill Nammar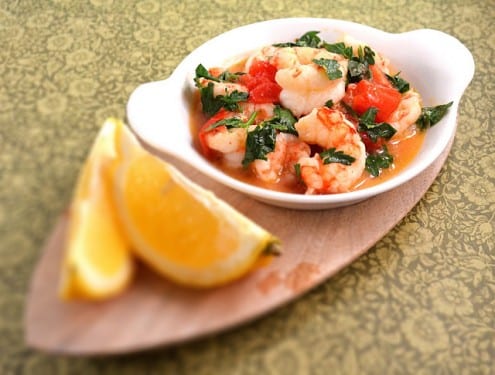 On the first, warm spring day we rode the bus to Harvard Square. I loved seeing all the bookworn students milling about in the open air cafes and restaurants. They were smiling, in need of a day outside, away from their studies.
After shopping at a wonderful chocolate store and having lunch at one of the bustling outdoor cafes, we came home for dinner. Whipping up this shrimp dish was very easy and fast. We went to bed that night happy and content. The sunshine, shopping and good food cured our cabin fever blues too.
Lemony and Garlicky Shrimp with Cherry Tomatoes and Fresh Herbs
The shrimp are cooked in a wine and garlic infused broth. Steamed white rice is the perfect vehicle for soaking up lots of the perky sauce. Bread is also a great choice for dipping.
Ingredients
16 oz of fresh or frozen shrimp. I used Trader Joe's Wild Argentinian Red Shrimp, defrosted in the fridge overnight. (see notes).
1 pound carton of cherry or grape tomatoes, halved or quartered depending on their size
4 garlic cloves, minced with a garlic press or a microplane zester
½ teaspoon of dried oregano or basil,rub it between your fingers to release the flavor.
½ cup of white wine. Do not use cooking wine. Use a wine you would drink on its own.
olive oil for cooking, I used extra virgin, unfiltered.
sea salt and fresh cracked pepper to taste
fresh basil or flat leaf parsley, drizzle of olive oil, lemon wedges, steamed rice and crusty bread for serving
Instructions
Cook the rice according to the package directions.
Meanwhile, in a large nonstick skillet, saute the shrimp in some olive oil with salt and pepper, over medium high heat, until they're just starting to cook. Add the tomatoes, a pinch more salt and pepper, the minced garlic, wine and oregano. Bring to a boil and then immediately turn down the heat. Cook for a few minutes longer or until the tomatoes start to soften and release their juices and the shrimp are cooked through, this goes very quickly. The tomatoes form a light sauce with the wine and garlic. Finish with fresh herbs and a drizzle of best quality olive oil. Serve each diner a bowl of shrimp with lots of sauce, a lemon wedge and freshly steamed rice. Crusty bread is a good with this dish too.
Jill Nammar
Jill has been cooking and serving meals for most of her life. As she was growing up, he parents owned a restaurant and an ice cream parlor where she became immersed in food. The kitchen is truly her comfort zone. Jill's recipes are influenced by France, the Mediterranean and Morocco, and often the bright flavors of Southeast Asian cuisine, too. She cooks to inspire others to whip up flavorful food in their own kitchens. Each recipe has a notes section with helpful tips, techniques and secret ingredients to follow. Taste and see how easy it is to create delicious meals.