These chicken Escalopes make for a healthy and delicious meal when paired with a simple salad.
By Alida Ryder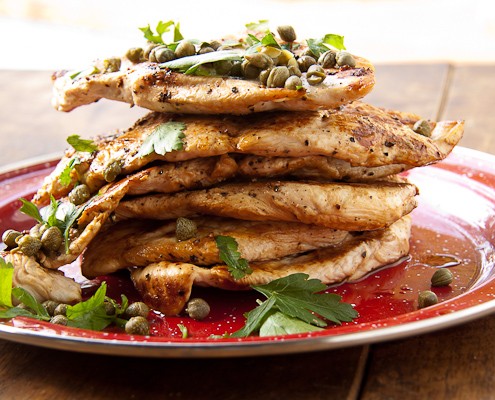 There is nothing worse than standing in a hot kitchen on a beautiful Summer's day when you would rather be outside spending time with your family or lazing in the pool. That's why I always make sure I have a steady supply of easy, "done-in-less-than-20-minute" recipes up my sleeves for days that I can't bare to spend time in front of a stove.
These chicken Escalopes make for an amazing and delicious meal when paired with a simple salad (I recommend one made witharugula (rocket), Salty Feta cheese and cubes of Watermelon) and it's healthy too! The chicken is grilled which means you need minimal oil for cooking and the added bonus is that it takes merely 2 minutes per side for the chicken be fully cooked but still juicy and succulent. The addition of salty capers works perfectly with the acid from the lemons and served with a scattering of fresh parsley, you've got the perfect summer meal.

Lemony Chicken Escalopes with Capers
Delicious, juicy chicken escalopes served with capers and fresh parsley.
Ingredients
4–8 Chicken breasts
fresh lemon juice (about 2 lemons worth)
black pepper
salt to taste
3-4tbsn capers
Instructions
Place the chicken breasts between two sheets of cling wrap and flatten them out. (I use a rolling pin)
Grill the chicken for 2 minutes a side, season each side with lemon juice, salt and pepper.
Remove the chicken and just check whether it's cooked by cutting into one. They need to be JUST cooked, completely white but still very moist and juicy.
Serve at room temperature topped with the capers.
Alida Ryder
Alida Ryder is a South African food writer and blogger. She has a passion for simple and delicious food, as well as fun and healthy family cooking. She shares her tips and recipes on her Simply Delicious blog and of course here at Honest Cooking.