Lemon Poppy Seed Cake with Almond Flour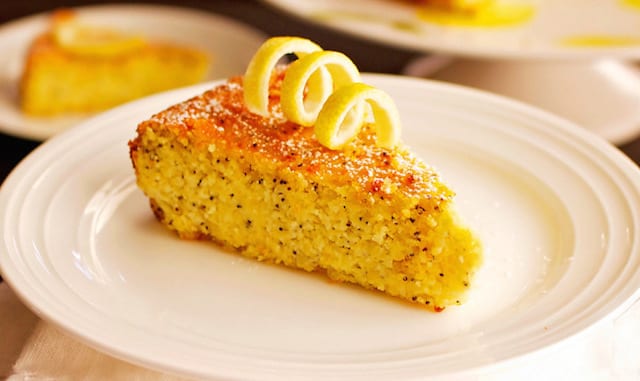 Easy to put together in minutes, this soft lemon poppy seed cake is made with nutty almond flour and farmers or ricotta cheese.
By Valeria Weaver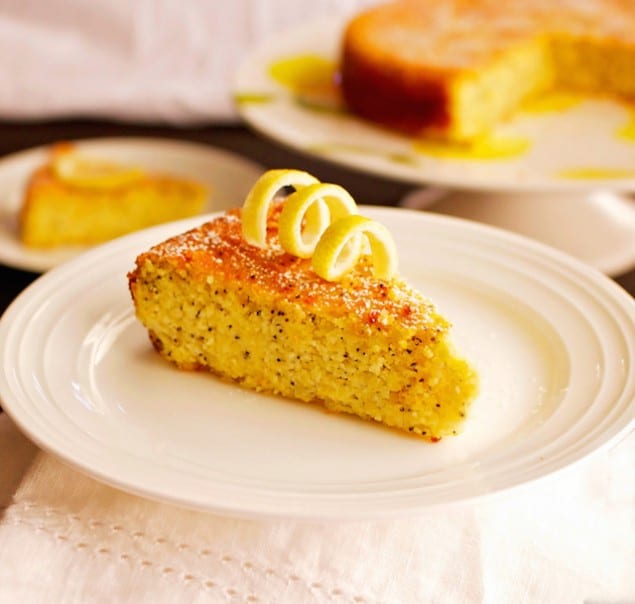 Check out this lemon poppy seed beauty – doesn't it look like there's been some effort put into making it?
To be honest, it took me less than 10 minutes to put this together. It's based on the same idea as this coffee cake here, where I use farmers cheese as one of the main ingredients – to add to the flavor and texture, to cut down on the amount of flour used, and get my toddlers to eat more protein. Farmers cheese (tvorog), which is similar to ricotta, is often used in Russia in dessert recipes, from cheese cake type pastries to dough based desserts like this one.
Along with raspberries, lemon is my favorite flavoring to use along with farmers cheese, and poppy seeds just seem to go hand in hand. It can be made with any flour, including gluten free flours, and I thought almond flour seems perfect with lemons and poppy seeds. This cake came out moist, flavorful and easy to slice (even before it completely cools down).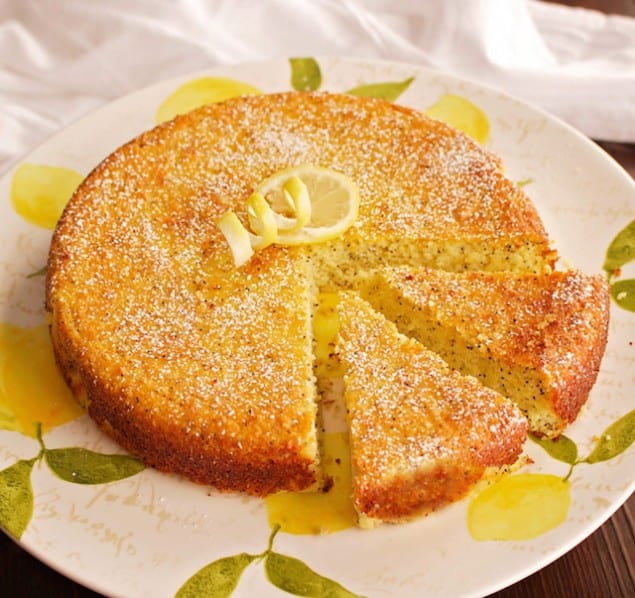 Lemon Poppy Seed Cake with Almond Flour
Easy to put together in minutes, this soft lemon poppy seed cake is made with nutty almond flour and farmers or ricotta cheese.
Recipe Type:
Baking, Dessert
Ingredients
4 tablespoons (55g) butter
½ cup (100g) sugar
2 eggs
1.5 cup (300g) farmers cheese, or ricotta cheese
1 teaspoon vanilla extract
Juice of one lemon
Zest of one lemon
1.5 cup almond flour
1 tablespoon poppy seeds
1.5 teaspoon baking powder
Instructions
Preheat oven to 350ºF (180ºC). Line the bottom of 8 inch (20cm) round cake pan with parchment paper (just to be on the safe side!).
In a blender or food processor, mix butter, sugar, eggs, farmers or ricotta cheese, vanilla, lemon juice and lemon zest until smooth.
Fold in almond flour, poppy seeds and baking powder until evenly incorporated. Transfer to cake pan and smooth out the top.
Bake for 40 minutes, or until the top browns nicely.
Cool before slicing.
Valeria Weaver
A mom cooking slow food in the fast world. I'm bringing back traditional recipes, and making new traditions.