Made with rich almond flour and pistachios, this simply stunning cake is brightened with vibrant citrus and a lemon glaze.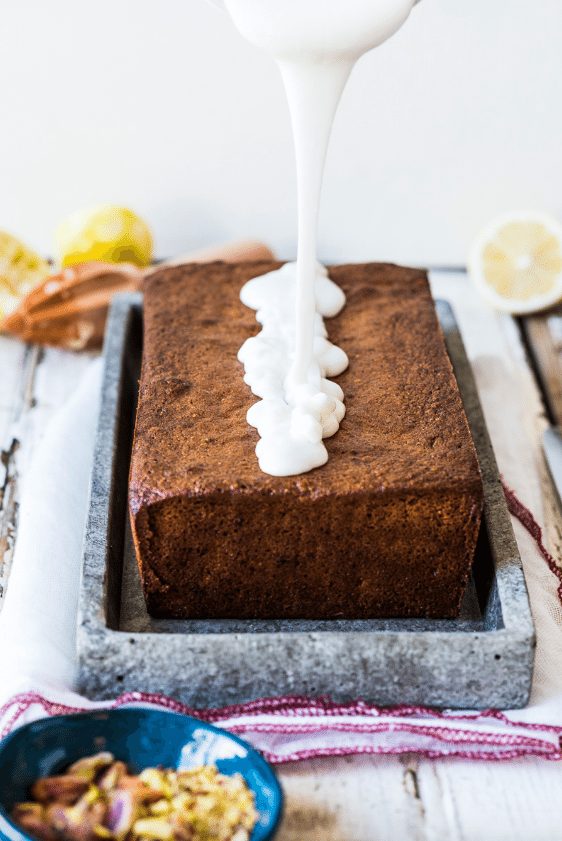 This utterly delicious Lemon Pistachio Cake is an updated lemon variation of my Orange Pistachio Cake. The reason for the update is twofold. The images for the 2014 recipe are a bit embarrassing and I was given some beautiful pistachios by a friend who imports them to South Africa from Iran.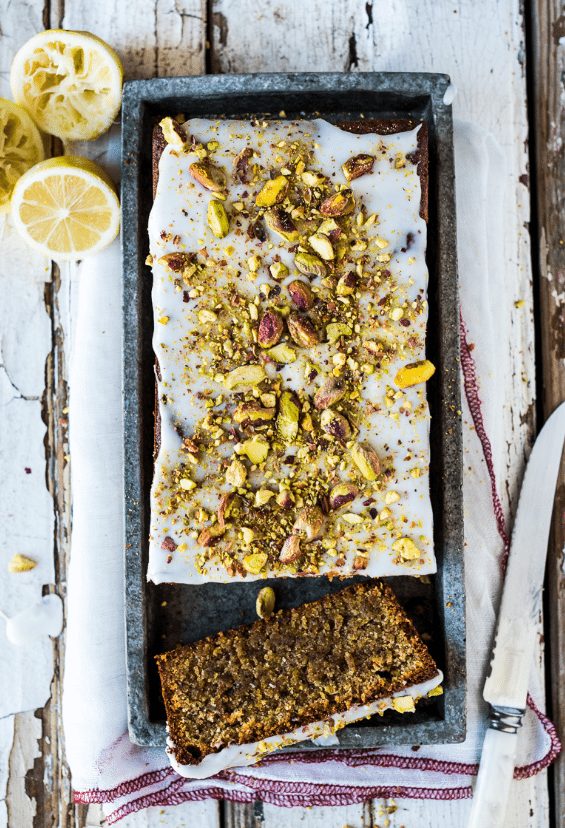 I loved hearing a bit more about pistachios, the king of nuts. The English name pistachio is derived from "Pisteh", which is a Persian name and until a few decades ago, Iran was called Persia. And the adjective Persian is still widely used for anything that is related to Iran, its history, civilization, culture, art, language, food and people. Iran has been a producing pistachios since the 5th century BC and have been exporting their pistachios for over 100 years. Iran has secured a foothold in the world market and recently managed to once again regain the position as top producer. Pistachios are cholesterol free, heart-healthy and rich in protein.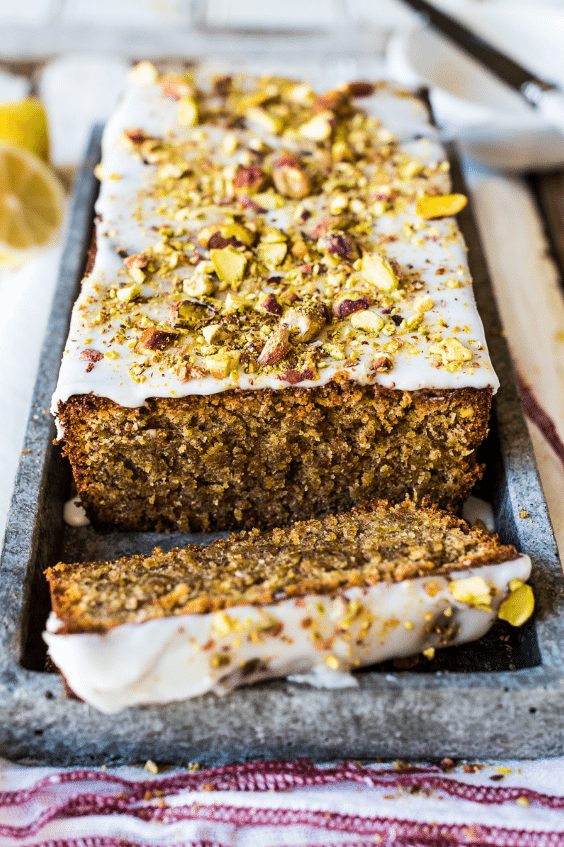 I made this cake with almond flour as apposed to ground almonds. I have to say I prefer ground almonds to
almond flour. I found the flour too fine and I think the skins are processed as well for the flour so the cake was slightly darker than what I would have liked. Plus I prefer the added texture you get from ground almonds. I find shelling pistachios to be one of the most relaxing things to do so shelled some roasted and salted pistachios (250g unshelled yields about 130g shelled), therefor you will see no salt is added in the recipe. If you are using unsalted pistachios, add half a teaspoon of salt to the batter. The cake is so moreish and the sharp lemon drizzle works really well with the nutty earthiness of the cake. Enjoy!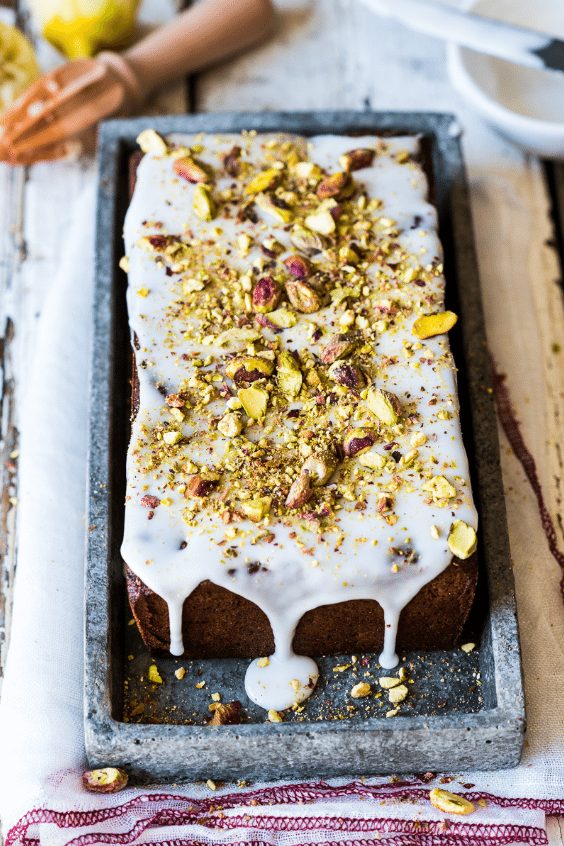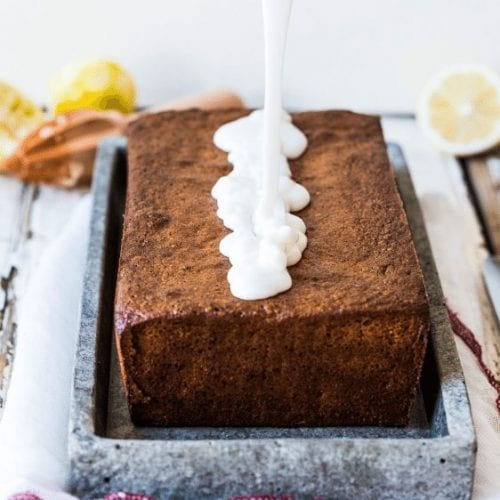 Lemon Pistachio Cake
Hein van Tonder
Made with rich almond flour and pistachios, this simply stunning cake is brightened with vibrant citrus and a lemon glaze.
Ingredients
150

g

butter

softened

165

g

caster sugar

1½

tbsp

finely grated lemon zest

2

tsp

vanilla extract

4

large eggs at room temperature

200

g

ground almonds

130

g

ground pistachios

about 250g in their shells
Lemon drizzle :
100

g

icing sugar

1

tbsp

lemon juice
Decoration:
chopped pistachios for sprinkling

optional
Instructions
Preheat the oven to 160 degrees C

Grease and line a 23 x 13 x 8cm loaf pan with baking paper and set side

Beat the butter, sugar, zest and vanilla for 10 - 12 minutes until pale and creamy, scraping

down the sides of the bowl a few times

Add the eggs one at a time, beating well after each addition

Beat the mixture for a further 3 - 4 minutes

Fold through the ground almonds and ground pistachios to combine

Spoon the batter into the prepared pan and smooth the top

Bake for 1 hour - 1 hour 10 minutes, until a skewer inserted into the centre comes out with

a few moist crumbs clinging to it and the cake has pulled away from the sides of the tin

Allow the cake to cool completely in the tin at room temperature

Make the drizzle by adding the lemon juice to the icing sugar. Mix and add more icing sugar

or lemon juice if needed to get the required consistency

Once completely cooled, remove the cake from the tin and pour the lemon drizzle over the

cake

Sprinkle with pistachios (if used) and serve
Notes
Adapted from Jennifer Rodda - Milk and Honey
Hein van Tonder
Hein is a Gourmet Hunter and Food Writer and Photographer in the beautiful city of Cape Town, South Africa. He has always loved food and photography is a relative new hobby. He uses his blog heinstirred.com to combine his love for photography with his other love, eating. He has fully embraced the food media world with his styling, photography and words being seen on various digital and traditional platforms.