The lemon and the dill give this rice recipe a nice summery taste. Try it out!
By Chitra Agrawal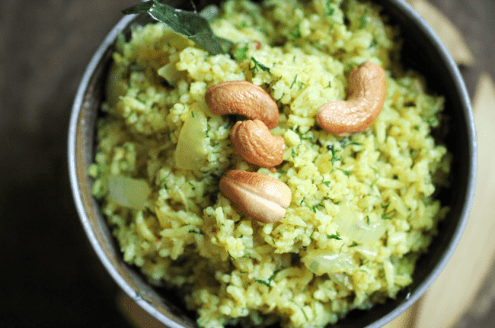 To give you a taste, this is a recipe my mom taught me when my parents came to visit a few weeks back. She prepared a lemon rice with fresh fenugreek leaves and cashews that is so flavorful, it disappeared almost as soon as it was put down on the table.

Lemon Dill Rice with Cashews
The lemon and the dill give this rice recipe a nice summery taste.
Ingredients
2 cups basmati rice
⅔ teaspoon turmeric powder
1 bunch of dill, chopped
½ cup cashew, chopped in half (you can put less, but I like a lot)
½ onion, chopped
2 tablespoons vegetable oil + 1 teaspoon oil
pinch of hing asafetida
1 teaspoon black mustard seeds
½ teaspoon urad dal
½ teaspoon chana dal
1 dried red chili, broken in half
5 curry leaves
1 tablespoon vangi baath powder (can sub in sambar or curry powder)
juice of half a lemon
salt to taste
Instructions
Mix turmeric with rice and water and cook (If you have day-old rice this is best so the rice does not get mushy).
In a small pan under low heat, add in 1 teaspoon of oil and the cashews. Fry them for a few minutes, until they start to brown a bit and you can smell them roasting. Put the cashews aside in a bowl.
In a non-stick pan, under medium, heat oil. Put in the asafetida, black mustard seeds, urad dal and chana dal and shake up the pot. When the mustard seeds start to pop and the dals start to brown, add in the dried red chili. Turn the heat to low and add in the curry leaves (the oil will spurt so watch out). Coat the red chili and curry leaves with oil.
Add in the onion and dill and cook for about 20 minutes. You want the onion to be fried a bit and the dill to be cooked down. Add in the vangi baath powder at this point and mix well. Cook for about 2 minutes.
Next add in the yellow rice and salt to taste and mix well. Mix in the cashews (and save a few for garnish). Squeeze the lemon juice on top and mix. Garnish with the rest of the cashews. Serve hot or room temp at a picnic.
Chitra Agrawal
Chitra writes the food blog, The ABCD's of Cooking, which chronicles her adventures cooking American Born Confused Desi recipes. When she is not recipe blogging, Chitra can be found hosting her online cooking show and a supper club featuring Indian-inspired, vegetarian cuisine. She also teaches cooking classes and sells Indian street foods (sometimes yummy Indian tacos!) at events and artisanal markets in Brooklyn. Her cooking has appeared in the New York Times Dining Journal and she is a contributor to The Huffington Post, Gojee, The Daily Meal and Brooklyn Based.