A sweet, yeasted bread is filled with cream cheese and a tart lemon curd filling. A bright bread perfect with black coffee.
By Ann Kaufman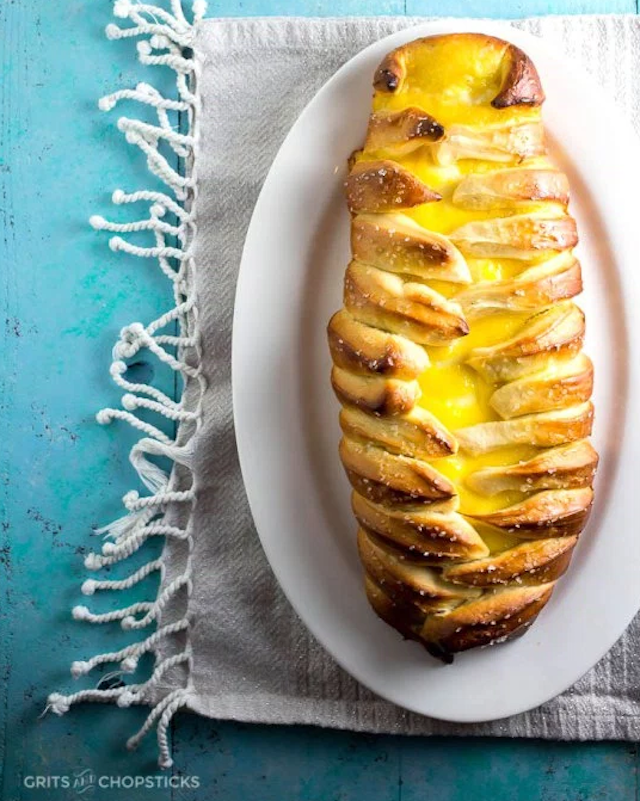 This bread is everything that makes 2016 resolutions shrivel up and die. It's got tart, wiggly lemon curd slathered on top of a layer of sweetened cream cheese filling. It's a yeasty, sugary bread that's perfect for breakfast and dessert and everything in between.
I opted for this braided lemon bread on the King Arthur Flour website, which just felt a smidge easier and less intimidating than most bread rolls.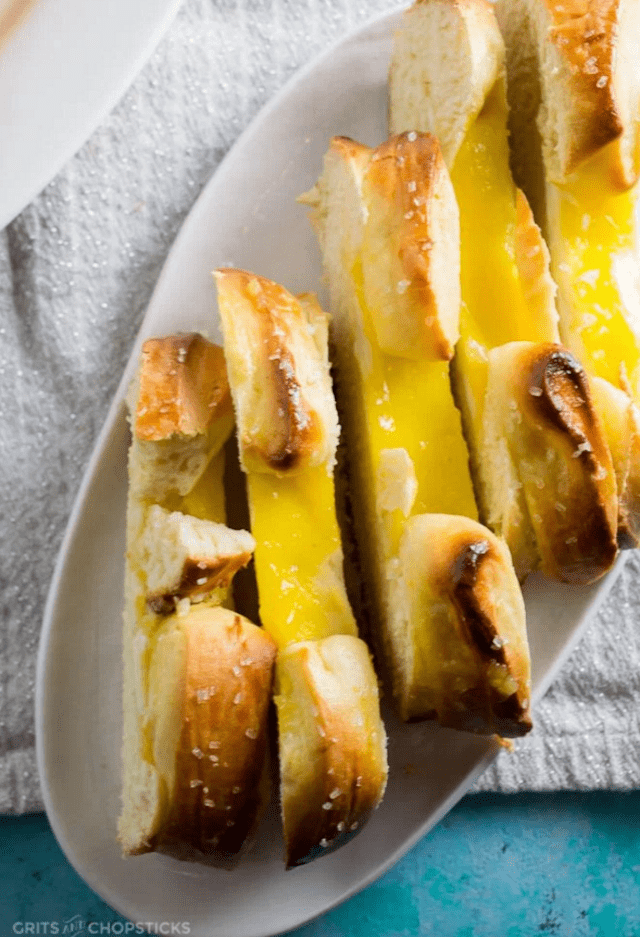 I didn't do much to change the King Arthur recipe for my lemon curd twist bread other than two things: 1) I made my own lemon curd from scratch instead of using store-bought lemon curd; and 2) my "braid" was much more inept and weak than the bread pictured on their website and I overloaded my bread with filling, causing it to split open in spots. When I make this recipe again, I'll be sure to use less filling and pinch together the ends of my braids much more.
See Also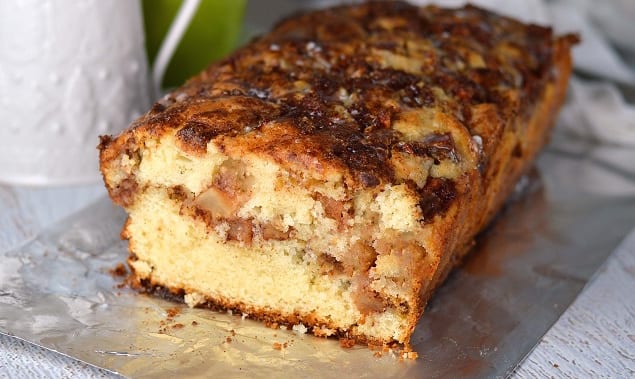 This bread turns out to be the stuff dreams are made of. No, I really mean it. The bread was spongy and light, and the lemon curd and cream cheese filling is a perfect, tart and creamy filling that feels just right with a hot cup of coffee.
Print
Lemon Curd Bread
A sweet, yeasted bread is filled with cream cheese and a tart lemon curd filling. A bright bread perfect with black coffee. This recipe, adapted from the King Arthur Flour website, is a great breakfast bread and can be made in advance
Author:

Ann Kauffman

Prep Time:

2 hours

Cook Time:

30 minutes

Total Time:

2 hours 30 minutes

Yield:

2

loaves

1

x
Category:

Baking, Bread, Sweets
DOUGH
¾ cup

warm water

2 teaspoons

sugar

1 tablespoon

instant yeast

½ cup

all purpose flour

¾ cup

plain or vanilla yogurt

½ cup

1 stick unsalted butter, softened

2

large eggs (beaten)

½ cup

sugar

2 teaspoons

salt

2 teaspoons

vanilla

5 cups

all-purpose flour

1

egg (lightly beaten with 1 tablespoon water (for the egg wash on the bread))
CREAM CHEESE FILLING
2/3 cup

cream cheese (softened)

¼ cup

sugar

¼ cup

sour cream

2 teaspoons

fresh lemon juice

¼ cup

all-purpose flour
LEMON CURD
3

lemons

1½ cups

sugar

¼

pound unsalted butter (room temperature)

4

large eggs

½ cup

lemon juice (

3

to

4

lemons)

1/8 teaspoon

kosher salt
optional: sparkling white sugar for sprinkling on bread
Instructions
In a small bowl, combine the warm water, 2 teaspoons sugar, instant yeast and ½ cup flour, stirring well to combine. Loosely cover with plastic wrap and set aside for 10-15 minutes (to let the yeast "proof" — it'll bubble up and look foamy.
In the bowl of your stand mixer combine the yeast mixture, yogurt, butter, eggs, sugar, salt, and vanilla. Add 4½ cups of flour and mix with the paddle attachment until the dough is a rough, shaggy mass. Switch to the dough hook and knead on speed 2 until a soft, smooth dough forms, about 5 to 6 minutes, adding more flour if needed to achieve the correct consistency. (Note: you can do this by hand if you don't have a stand mixer.)
Place the kneaded dough in a lightly greased bowl, cover with plastic wrap, and allow to rise for 60 to 90 minutes, until puffy and nearly doubled.
While the dough is rising, prepare the cream cheese filling. Combine the cream cheese, ¼ cup sugar, ¼ cup sour cream, 2 teaspoons fresh lemon juice and ¼ cup flour in a small bowl, mixing until smooth and lump-free. Set aside.
Make the lemon curd: using a vegetable peeler, remove the zest of the 3 lemons, being careful to avoid the white pith. Put the zest in a food processor fitted with the steel blade. Add the 1½ cups sugar and pulse until the zest is very finely minced into the sugar. Cream the ¼ pound of butter and beat in the sugar and lemon mixture. Add 4 eggs, 1 at a time, and then add the ½ cup fresh lemon juice and salt. Mix until combined. Pour the mixture into a 2 quart saucepan and cook over low heat until thickened (about 10 minutes), stirring constantly. The lemon curd will thicken at about 170 degrees F, or just below simmer. Remove from the heat and cool.
When the dough has risen sufficiently (to double in size), gently deflate it by punching it down just a bit and divide it in half. Cover half with plastic wrap and set it aside as you roll out the first piece into a 10″ x 15″ rectangle. Rolling on parchment paper makes moving the bread to the baking sheet much, much easier. Lightly press two lines down the dough lengthwise, to divide it into 3 equal sections. Spread half the cream cheese filling down the center section, and top with a ¼ to ½ cup of the lemon curd, leaving 1″ free on all sides of the filling.
To form the "twist", cut 1″ crosswise strips down the length of the outside sections, making sure you have the same number of strips down each side. Beginning on the left, lift the top dough strip and gently bring it across the filling diagonally. Repeat on the other side with the top dough strip, so that the two strips crisscross each other. Continue down the entire bread, alternating strips to form the loaf. Be sure to press the "twist" pieces together at the ends to keep a tight "seal" (note: King Arthur's recipe basically shows you how to do this to make a "braid" which is much prettier but harder to accomplish).
Repeat the rolling, filling, and "twist" steps for the second piece of dough, using the remaining cream cheese filling and lemon curd. Set both loaves aside, lightly covered, to rise for 45 to 50 minutes, or until quite puffy
Preheat the oven to 375°F. Brush the loaves with egg wash and sprinkle with coarse sparkling sugar, if desired. Bake for 25 to 30 minutes, or until the loaves are golden brown. Remove from the oven and cool for 15 to 20 minutes before serving.
Ann Kaufman
Ann Kaufman is an emotional food enthusiast who writes about food at Grits & Chopsticks. When she's not writing about food, she's caring for her two young children, lawyering and thinking about her next meal.