Lemon Cupcakes with Passion Fruit Coulis
Light, delicate cupcakes that pack a real flavor punch. A passion fruit coulis inside the cake and on top of the frosting make them vibrant enough to welcome spring.
By Annie Standing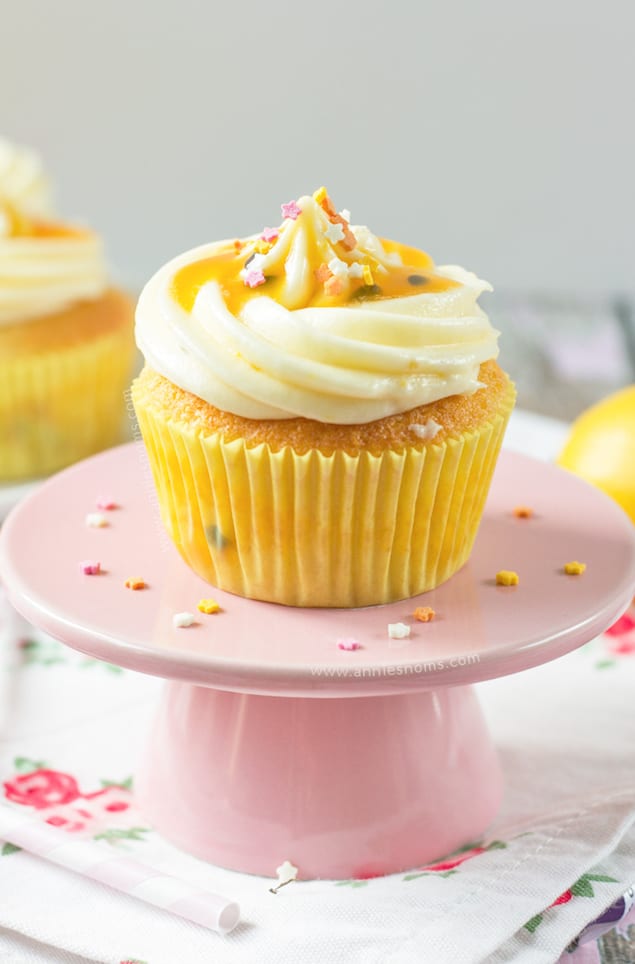 There's the zest of a whole lemon in these cupcakes and they're based on my eternal favourite Vanilla Cupcakes. I put around 1tbsp of batter into each cupcake case, then put 1/2tbsp of Passion Fruit Coulis on top, before topping that with more cake batter.
I used Passion Fruit Coulis because I find you don't get much out of a Passion Fruit. I've baked with them in the past and you end up needing so many of the things to get the right flavour!
Since the Coulis is thinner than a curd would be, these cupcakes don't have a pocket of Passion Fruit, the coulis mixes with the batter and also creates a kind of "self saucing" element.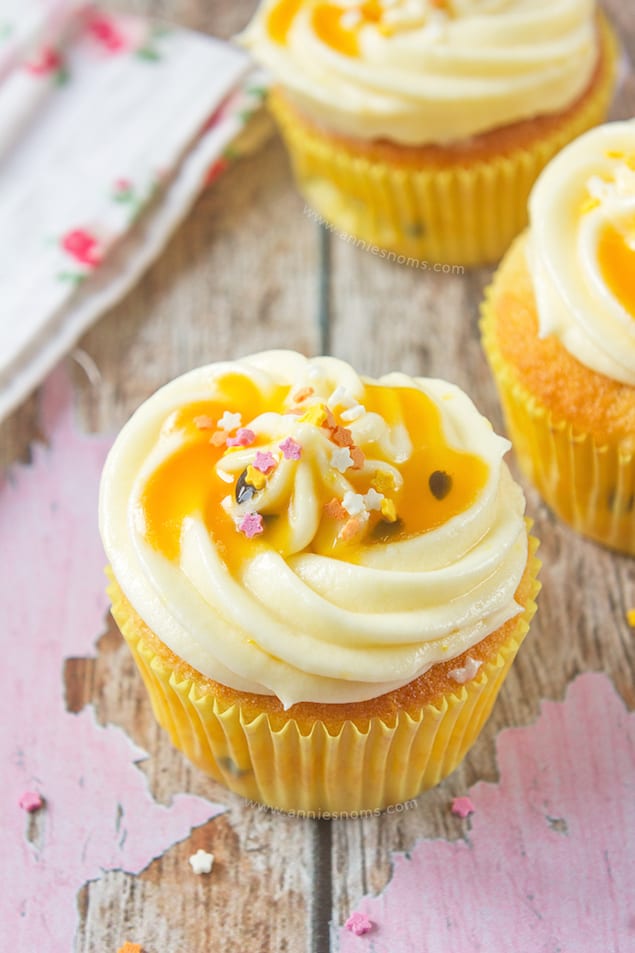 These cupcakes bake up so perfectly. They are light, tender and soft with a really great hit of lemon. Then I went and made the most divine, lemony-passion fruit filled frosting. Just insane.
Another lemon is zested into room temperature butter, before being mixed with icing sugar and 2tbsp of passion fruit coulis to create a silky smooth, tart, but sweet, refreshing frosting.
Marrying the frosting and cupcake together, drizzling a little extra coulis on top and sprinkling some cute little stars on top just made these cupcakes the most perfect, delicious things you'll eat this side of Easter.

Lemon Cupcakes with Passion Fruit Coulis
Delicate cupcakes that pack a real flavor punch. A passion fruit coulis inside and on top of the frosting make them vibrant enough to welcome spring.
Recipe Type:
Baking, Dessert
Ingredients
For the cupcakes:
1 stick (113g) margarine/butter*
1 cup (200g) caster sugar
Zest of 1 medium sized lemon
2 large eggs
½tsp vanilla extract
1 and ½ cups (210g) plain flour
2tsp baking powder
½ cup (120ml) milk
6tbsp Passion Fruit Coulis
For the frosting:
2 sticks (226g) unsalted butter, at room temperature
2 and ½-3 cups icing sugar. sifted (I needed 3 cups as my kitchen was seriously hot and my butter was almost melted! Start with 2 and ½ cups and see what kind of consistency you have before adding any extra)
Zest of 1 small lemon
2tbsp Passion Fruit Coulis, plus extra for garnish
Sprinkles, optional
Instructions
Preheat the oven to 180C/350F and line a 12 hole cupcake tin.
Place the margarine, sugar and lemon zest into a large bowl, or the bowl of your stand mixer and beat on med-high speed until light and fluffy, about 2 minutes.
Add in the eggs and vanilla, scraping the sides of the bowl as necessary, mix until well incorporated, about 1 minute on med-high speed.
Add in flour, baking powder and milk and mix on med-high until you have a smooth, well combined batter.
Place 1tbsp of batter into each cupcake liner, then put ½tbsp of passion fruit coulis on top of the batter in the liners.
Then, place another 1tbsp of cake batter over the coulis, to make sure it's covered.
Place in the oven for 18-22 minutes, until rise, golden and an inserted skewer into the centre comes out clean. (Of course, you may end up with a little coulis on your skewer, but it's easy to distinguish between that and raw batter, the coulis will be wet, shiny and yellow).
Once baked, remove from tin immediately and transfer to a wire rack to cool completely. (Yes, they're hot, but this stops the liners peeling away from the cupcakes).
Once chilled, make the frosting: place butter, 2 and ½ cups of icing sugar and lemon zest into a large bowl/the bowl of your stand mixer and beat until light and fluffy, about 2 minutes on med-high speed.
Add in 2tbsp passion fruit coulis and mix until well combined. If frosting is still a little runny, add in up to an extra ½ cup icing sugar.
Once you have the correct consistency, place frosting into a piping bag, with a large open star nozzle and pipe a swirl onto each cupcake. Alternatively, you can spoon frosting onto cupcakes and smooth over.
Drizzle a little extra coulis onto each cupcakes and top with sprinkles, if desired.
Cupcakes will keep in an air tight container, in the fridge, for 3 days. Take out from fridge 30 minutes before serving.
Notes
I don't normally advocate the use of margarine over butter, but in cupcakes I really think margarine results in a better flavour and texture. Use unsalted butter if you prefer and add a pinch of salt if you do.