This lemon cream cake, fit for a fancy party or just a weekend treat, is as delicious as it is pretty.
Text And Photo By Sara Schewe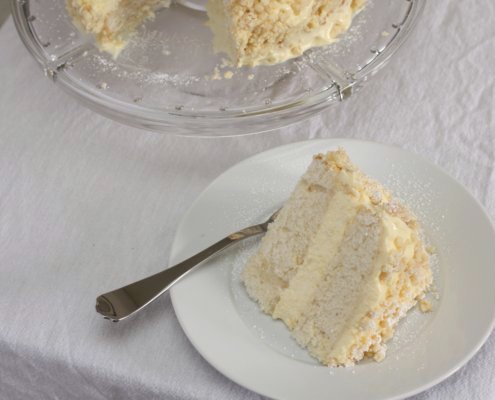 I don't get to make cakes as often as I might like. As a teenager, I would have great fun creating celebration cakes for, well, any occasion at hand: my parents' anniversary, my brother's birthday, or for no reason at all other than to have a good time.
Cupcakes, on the other hand, I make on a fairly regular basis. They're convenient, and I have more control over the batch size – I've made a 3 cupcake batch before to satisfy my craving. They also travel really well if you have one of those handy little cupcake carriers, which of course, I do.
But sometimes… sometimes you just want a cake fit for a party.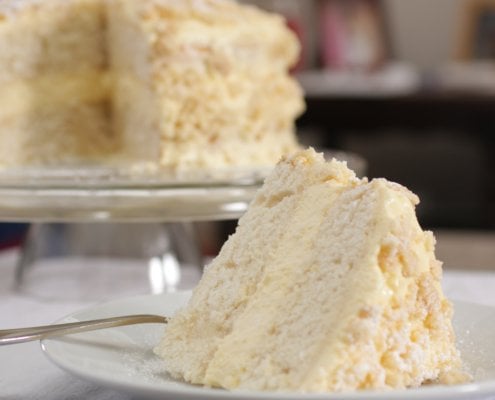 I've loved lemon cream cake since my mom introduced me to it at a girls' lunch we had a couple years back. She downright adores this cake, and we often order it when the two of us have lunch at an Italian restaurant (sadly, my dad is not a fan of either Italian cuisine or lemon anything). Since I would be seeing my mom soon, it seemed like the time to figure out a way to recreate this cake. I dug out my go-to recipe for lemon curd from Sherry Yard. She adds a small amount of lime juice to give the curd a greater depth of flavor, an addition I really enjoy.
For the cake recipe, I used Dorie Greenspan's party cake recipe, and I experimented with the filling/topping. All in all, I was pleased with my results, though I would double the amount of crumble topping next time for a bit more coverage on the sides of the cake. (And because, well, I'm not ashamed to admit the crumble topping is one of my favorite parts of the dessert. I'm still kicking myself for not just doubling the amount the first time around.)
But really, with this cake, the lemon cream filling is the star. I adore lemon desserts, as evidenced by the many lemon recipes I've posted on my own blog. Unfortunately, I can only handle pure lemon curd in small doses, but when tempered with cream cheese and whipped cream – WOW. It has just the right amount of creaminess, the taste is spot-on, and I could enjoy it on its own for dessert.
You know, my mom's birthday is coming up in a few months…I just might have to make this cake again.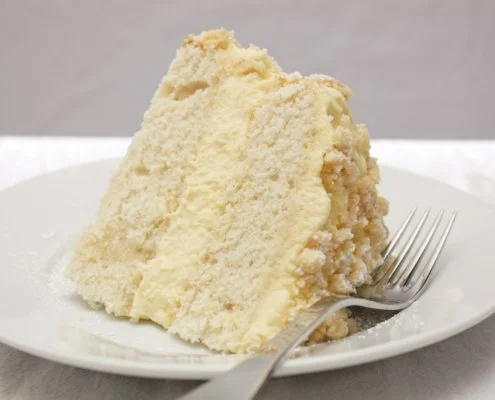 Lemon Cream Cake
Lemon Curd
adapted from Sherry Yard's Secrets of Baking
2 tablespoons lemon zest
1 cup (225 grams) sugar
1 cup (237 mL) lemon juice
2 tablespoons lime juice
3 whole eggs (large), at room temp
4 egg yolks (large), at room temp (reserve whites for cake)
4 tablespoons (55 grams) cold butter, diced
1. Fill a medium saucepan 3/4 of the way full with cold water and heat over medium heat. Make an ice bath (ice and cold water) with a medium-sized bowl, set aside.
2. Zest the lemons and combine the zest and sugar in the food processor and blitz for about a minute to make lemon sugar.
3. Juice the lemons and limes, set aside.
4. In a large heatproof glass bowl, combine the lemon sugar, eggs, and egg yolks, and whisk for about 30 seconds. Place bowl over simmering water until sugar melts (rub a little egg mixture between your thumb and finger – the sugar has dissolved when it no longer feels gritty). Pour in lemon/lime juice. Whisk until curd is the consistency of sour cream and reaches 160 F. Remove from heat and start whisking in the butter, one piece at a time, until incorporated. Pour the curd through a sieve to remove any zest or lumps. Place bowl in ice bath and place sheet of plastic wrap directly on the surface of the curd to cool quickly and prevent a skin from forming on the curd.
5. The curd can be refrigerated up to a week ahead of time.
Cake
adapted from Dorie Greenspan's Baking: From My Home to Yours
2 cups + 1 ½ teaspoons (223 grams) all purpose flour
¼ cup + 1 ½ teaspoons (22 grams) cornstarch
1 tablespoon aluminum-free baking powder
½ teaspoon salt
1 ¼ cups (295 mL) buttermilk
4 large egg whites (reserve yolks for lemon curd)
2 teaspoons vanilla extract
1 ½ cups (337 grams) granulated sugar
2 teaspoons grated lemon zest
1/2 cup (115 grams) unsalted butter, at room temperature
1. Sift flour, cornstarch, baking powder, and salt in medium bowl.
2. Whisk egg whites, buttermilk, and vanilla in large measuring cup.
3. With a stand mixer fitted with paddle attachment, mix sugar and lemon zest on low to release the zest's oils. Add butter and cream on medium speed until light and fluffy, about 4-5 minutes.
4. Reduce speed to low. Add flour and milk in 3 batches, beginning and ending with the flour. Increase speed to medium high for a minute to incorporate more air.
See Also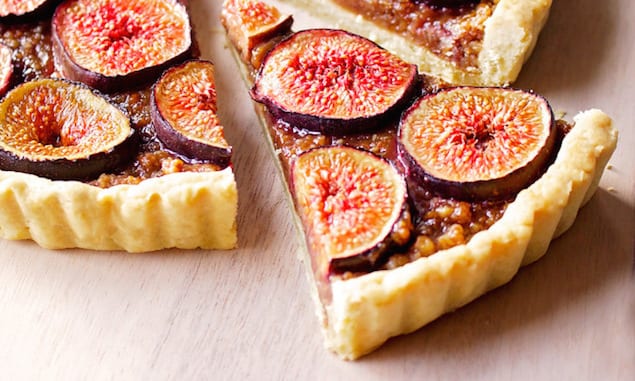 5. Divide batter between two 9-inch round baking pans lined with parchment. Bake 30-35 minutes at 350*F or until an inserted cake tester comes out clean. Cool for 5 minutes, then remove from pans, remove parchment, and cool completely on wire racks (right-side up).
Lemon Simple Syrup
1/2 cup (115 grams) sugar
3/4 cup (177 mL) water
2 tablespoons lemon juice
1. Bring sugar and water to a boil, stirring until sugar has dissolved. Remove from heat and stir in lemon juice. Cool.
Filling
1 batch lemon curd
8 ounces (227 grams) cream cheese, at room temperature
¼ cup (55 grams) sugar
1 cup (227 mL) whipping cream
1. Beat cream cheese and sugar until well blended. Mix in lemon curd on low speed.
2. Whip cream to stiff peaks. Fold cream into lemon mixture by hand. Refrigerate.
Vanilla Crumb Topping
1/2 cup (60 grams) all purpose flour
3/4 cup (90 grams) confectioners' sugar
1/3 cup (65 grams) cold butter, cut into 20 pieces
1 teaspoon vanilla extract
1. In a medium bowl, mix flour, sugar, butter, and vanilla with fingers until clumps form. Separate clumps into small crumbs.
To assemble
Place first layer, bottom-side up, on cake platter. Brush with simple syrup. Spoon on all but ½ cup lemon filling, then top with second cake layer, dome side up. Brush with simple syrup. Spread thin layer of lemon filling on top and sides of cake. Press crumb topping into frosting to adhere. Refrigerate.
Dust with confectioners' sugar before cutting and serving.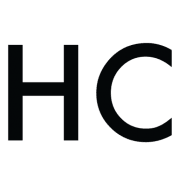 Sara Schewe
Sara Schewe blogs about her cooking life at My Madison Bistro, focusing on simple, earthy, soul-satisfying food. She firmly believes the secret to happiness is to first satisfy both body and soul through cooking and baking.