A delicious early fall soup prepared from only a handful of good ingredients.
By Sara Clevering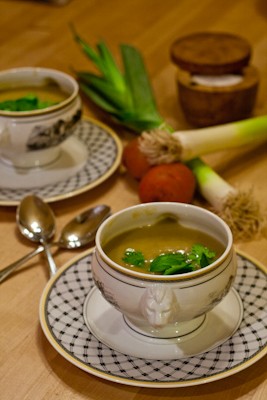 For those of us in the Northern Hemisphere, it's undeniable. The weather is turning, the bright scarlets of tomatoes and blushing peaches are winding down and will soon yield to rust-colored leaves and orange pumpkins. That first time I feel the cool in the air is always a bit of a shock and a real reminder of the impending shift in seasons.
I can't say I don't mourn the end of summer, but the colder months have their own charms for those of us who like to keep the skillets going and the oven warm. A piping hot stew or a steaming soup is all the more comforting and nourishing it seems, when there's a nip in the air. Here's just such a homey comforting dish: classic leek and potato soup that can take you through fall and into winter.  Don't let its soothing creamy texture fool you–there's a heat that builds at the finish, thanks to a generous pinch of cayenne pepper.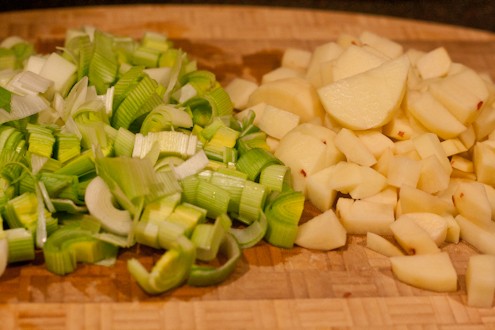 See Also
Because this is such a simple soup, with only a few ingredients, you'll want to use the best stock you have — make your own, or try to use a good-quality store-bought alternative.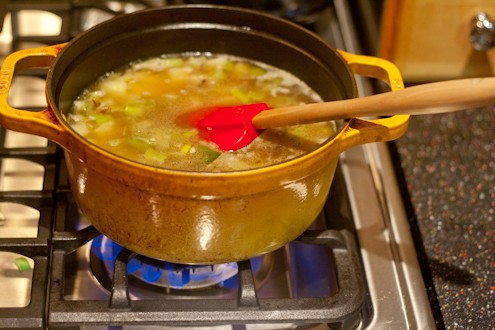 A delicious early fall soup prepared from only a handful of good ingredients.
Ingredients
3-4 medium potatoes
3-4 leeks (light green and white parts only).
2-3T butter
4 cups stock
salt and pepper
½t cayenne (or to taste)
pinch of nutmeg
fresh parsley for garnish
Instructions
Trim the leeks of their dark green parts, then slice down the center lengthwise, almost as if you are cutting each leek in half, but leaving it connected at the root end. Fan the cut ends out and rinse under running water--this will wash off any dirt that has worked its way between the layers. Chop the leeks into ½ inch (0.75cm) pieces.
Peel and chop the potatoes into ½ inch (0.75cm) pieces.
Melt the butter in a deep soup pot. Add the leeks and saute until they are soft over medium heat. Add the potatoes, stock, salt, and pepper. Bring to a boil over high heat, then reduce the heat to a simmer. Allow to cook until soft, about 15-20 minutes. (The smaller you cut your leek and potatoes, the more quickly they will reach this state).
Remove from heat and puree in batches in a blender or using an immersion blender or food mill. (If you don't have any of these tools, it is still delicious to serve as a chunky soup in a flavorful broth).
Add the cayenne and nutmeg. Taste to adjust the seasonings to your liking.
Garnish with parsley.
Sara Clevering
Sara sees cooking and baking as a delicious way to connect with the past and travel the world from her kitchen. She is commited to preparing homemade, unprocessed meals for her family and is always looking for tricks to fit this into a busy schedule. Sara is currently in the Boston area after several years living in London, Spain, and the Czech Republic, and travelling extensively in Eastern and Western Europe, always making sure to experience local culture through food. She also blogs with her sisters at www.threecleversisters.com