With marmalade, brown sugar, molasses, a riot of spices, plenty of eggs, and of course candied ginger, these cookies are full of flavor and well worthy of the holiday season.
By Sara Clevering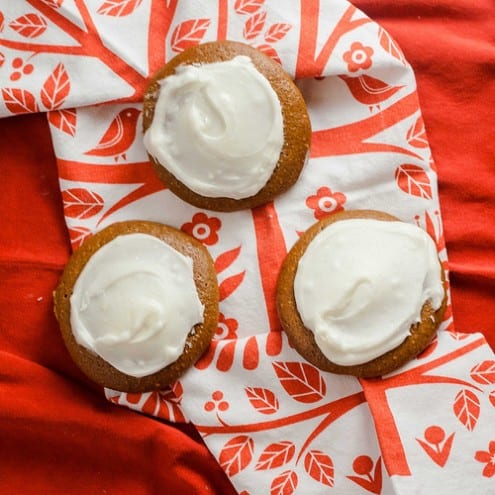 I've loved this slightly chewy, soft gingerbread cookie (in contrast to the crisp, snappy variety) since enjoying is as often as I could in the Czech Republic.  Besides beautifully decorated showpieces, every grocery store stocked multiple varieties single serving cakes filled with your selection of jam and glazed in a thin veneer of chocolate.  Years later, I even imposed upon  my friend Jennifer to bring me back some from her annual trip to Austria, along with marzipan and plum paste.  (That's sort of a lot, isn't it?)
These cookies are so easy to make–it's whirred up in the food processor and frozen for at least four hours to stiffen it up a little.    I left mine in the freezer a full twenty four hours, and you can see how soft and viscous it is even after that–so don't skip that step or you may turn an easy cookie making venture into a frustrating one.
Scooping out with a cookie scoop is definitely helpful (see that part about being sticky and viscous above), but the good news is even as imperfect as my scoops started looking, they all baked up into lovely rounds.  Even my younger son enjoyed helping–that's his cute little hand.
The frosting is as simple as can be–sugar held together by milk and a bit of butter.  It's nothing but pure saccharine, which actually is the perfect icing for such complex and rich cookies.  Everyone I shared these cookies with gave them rave reviews, and I hope you enjoy them as much as we all did!
Lebkuchen (Austrian Gingerbread Cookies)
Ingredients
Lebkuchen (Central European Gingerbread Cookies)
Print
Adapted from
here
Cookies
1½ cups blanched whole almonds
2 cups all-purpose flour, sifted
1¾ teaspoons baking powder
2 teaspoons cinnamon
1½ teaspoons ground ginger
1 teaspoon ground cloves
1 teaspoon ground allspice
1 teaspoon fine salt
Pinch of freshly grated nutmeg
1½ cups light brown sugar
½ cup sweet orange marmalade
¼ cup finely chopped candied ginger (1 ounce)
¼ cup unsulfured molasses
5 large eggs
Icing
3 cups plus 2 tablespoons confectioners' sugar
¼ cup whole milk
3 tablespoons unsalted butter, softened
Instructions
Preheat the oven to 350°. Spread the almonds on a rimmed baking sheet and toast for about 10 minutes, or toast, stirring frequently in a hot dry skillet for about 5 minutes, until fragrant and lightly golden. Remove to a plate to stop the cooking, and let cool completely.
In a medium bowl, stir together the flour, baking powder, cinnamon, ground ginger, cloves, allspice, salt and nutmeg.
In a food processor, pulse the cooled almonds until coarsely chopped. Add the brown sugar and pulse until incorporated. Add the marmalade, candied ginger and molasses and pulse until the mixture is well blended and the nuts are finely chopped. Add the eggs all at once and pulse until just incorporated. Add the dry ingredients and pulse until incorporated and the batter is uniform in color.
Scrape the soft batter into a bowl, cover and freeze until very firm, at least 4 hours.
Preheat the oven to 350° and line 2 large baking sheets with parchment paper.
Using a 2-tablespoon ice cream scoop, scoop 8 level mounds onto each baking sheet, about 3 inches apart. Freeze the remaining batter between batches.
Bake the cookies in the upper and lower thirds of the oven for about 20 minutes, until risen and slightly firm; shift the pans from top to bottom and front to back halfway through. Transfer the sheets to racks and let the cookies and pans cool completely. Repeat with the remaining batter.
In a bowl, whisk the confectioners' sugar with the milk and butter. The butter will eventually incorporate. Spread the cookies with icing (it's easiest to pick each cookie up and frost it rather than frost them on a plate) and let dry completely before serving or wrapping.
Notes
The cookies can be stored between sheets of wax paper in an airtight container for up to 5 days.
Notes
Notes The cookies can be stored between sheets of wax paper in an airtight container for up to 5 days.
Sara Clevering
Sara sees cooking and baking as a delicious way to connect with the past and travel the world from her kitchen. She is commited to preparing homemade, unprocessed meals for her family and is always looking for tricks to fit this into a busy schedule. Sara is currently in the Boston area after several years living in London, Spain, and the Czech Republic, and travelling extensively in Eastern and Western Europe, always making sure to experience local culture through food. She also blogs with her sisters at www.threecleversisters.com