A simple, unfrosted almond cake with a filling of mascarpone cream with a topping of strawberries. It's rustic appearance is quite charming for spring and summer.
By Emily Nelson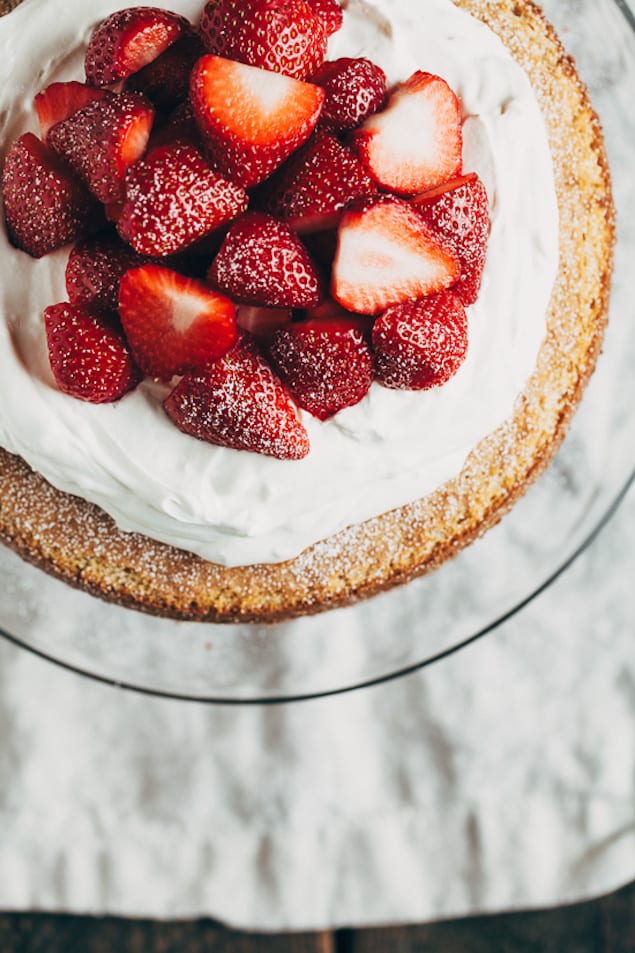 A couple years ago Ryan asked me to bake him a simple no frills almond cake for his birthday. A request for a simple unfrosted undecorated cake was a bit disappointing to me, but since it was his birthday I obliged.
And wouldn't you know, the cake in all of its simplicity was outstanding and it far surpassed any expectations I had for a "plain" cake. I knew it was a cake that I would be making again. So here it is, although this time I did dress it up with some fresh strawberries and mascarpone cream. (Although it's not quite strawberry season here in Michigan, I couldn't resist the recent sale I came across on organic strawberries.) Even with the strawberries and cream, it's still quite beautifully simple and rustic.
See Also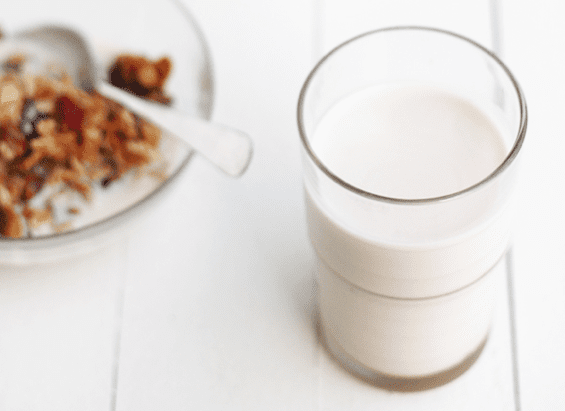 Print
Layered Strawberry Almond Cake with Mascarpone Cream
---
Description
A simple, unfrosted almond cake with a filling of mascarpone cream with a topping of strawberries. It's rustic appearance is quite charming for spring and summer. inspired by Sara Forte's The Sprouted Kitchen Cookbook, almond cake adapted by Alice Water's The Art of Simple Food
---
Almond Cake
1 cup

spelt flour

1½ teaspoons

baking powder

¼ teaspoon

fine grain sea salt

7 ounces

almond paste

¾ cup

evaporated can juice sugar

1 cup

unsalted butter, softened (

2

sticks)

1 teaspoon

vanilla extract

6

eggs, at room temperature
Mascarpone Cream
1½ cups

heavy cream

¾ cup

mascarpone cheese

2 tablespoons

evaporated cane juice sugar

2 teaspoons

vanilla extract
Assembly
1 pint

fresh strawberries, sliced
powdering sugar for dusting (optional)
---
Instructions
Almond Cake
Preheat the oven to 325 F.
Butter two 9-inch cake pans. Use a cake pan to trace two 9-inch diameter circles out of parchment paper. Carefully cut the circles slightly smaller than outlined and place in the cake pans. Lightly butter the parchment papers.
Sift flour, baking powder, and salt together into a medium mixing bowl.
In a stand mixer, mix together the almond paste and sugar on medium speed until almond paste is in very small pieces. Transfer to another bowl and set aside.
Using the stand mixer again, beat the butter until creamy and lightened. Add the almond paste mixture and the vanilla. Cream together until light and fluffy, about 3 minutes. Add eggs one at a time, beating after each addition and scraping down sides of the bowl when necessary. Add flour mixture half at a time, mixing until just combined.
Pour batter into prepared pans and bake for 40-45 minutes, until a toothpick inserted in the center comes out clean. Allow cakes to cool for 10 minutes and then turn cakes out of the pans onto wire cooling racks and remove the parchment paper. Allow cakes to cool completely before assembling.
Mascarpone Cream
In a stand mixer with a whisk attachment (or use a handheld mixer), whip the cream and sugar until fluffy and soft peaks begin to form. Add the mascarpone and vanilla beat for an additional minute, until thickened with soft peaks.
Assembly
Spread half of the mascarpone cream onto one of the cakes, leaving a 1 inch border around the edge. Arrange with half of the strawberries. Top with the second cake and layer remaining cream and strawberries. Dust with powdered sugar, if desired. This is best served the same day it's made.
Category:

Baking, Cake, Dessert
Emily Nelson
Emily is a self-taught cook and photographer with a passion for creating beautiful and wholesome food for the family. Her focus is mostly on whole grains, fresh and seasonal produce, and naturally raised meats. When she's not in the kitchen, she loves playing music and spending time with her husband and two children.