Elevate the look and taste of your milk by adding herbs like lavender. Here's a recipe for fresh almond milk that'll have you sticking your pinky out.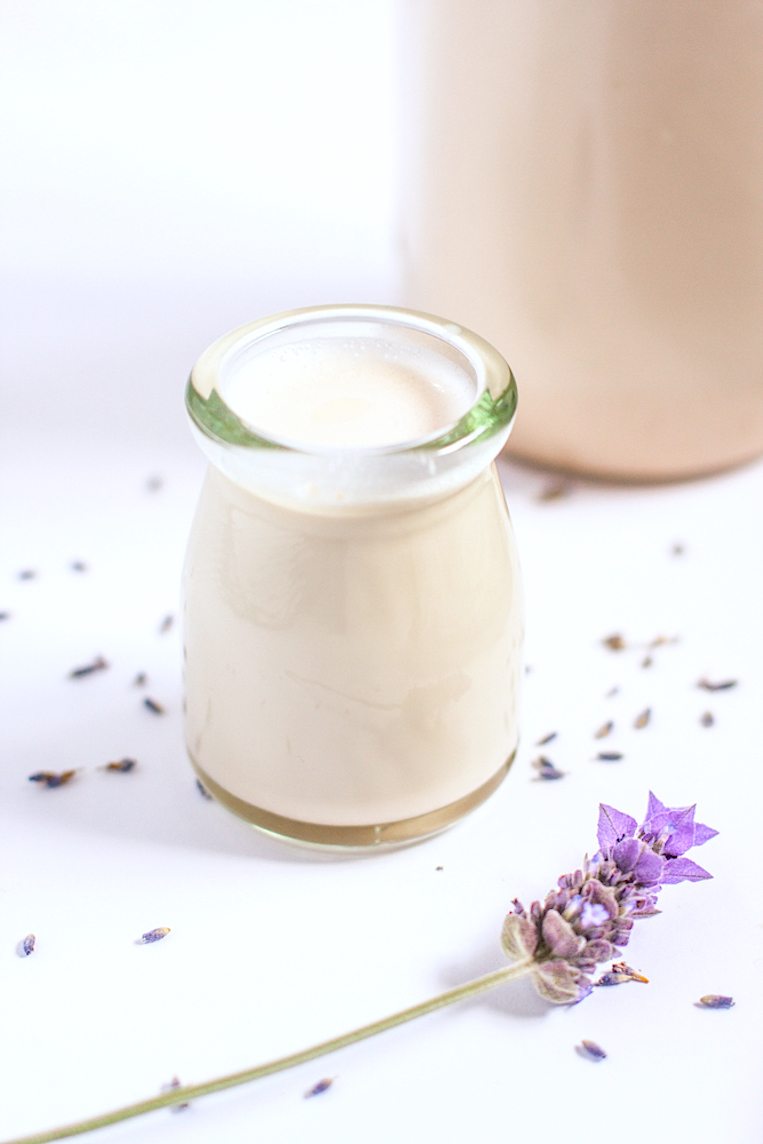 I recently started adding some dried lavender to my homemade almond milk and I really like it! Besides the yummy flavour, lavender is a well known calming flower that has been used for anxiety, insomnia, depression, and tummy troubles. If you're an anxo-type like me, lavender may be the perfect addition to your homemade milk. I use this lavender milk on my granola, or when I have hot milk before bed to help send me off to sleep.
This milk has a beautiful, but subtle lavender flavour and definitely makes my milk seem fancier.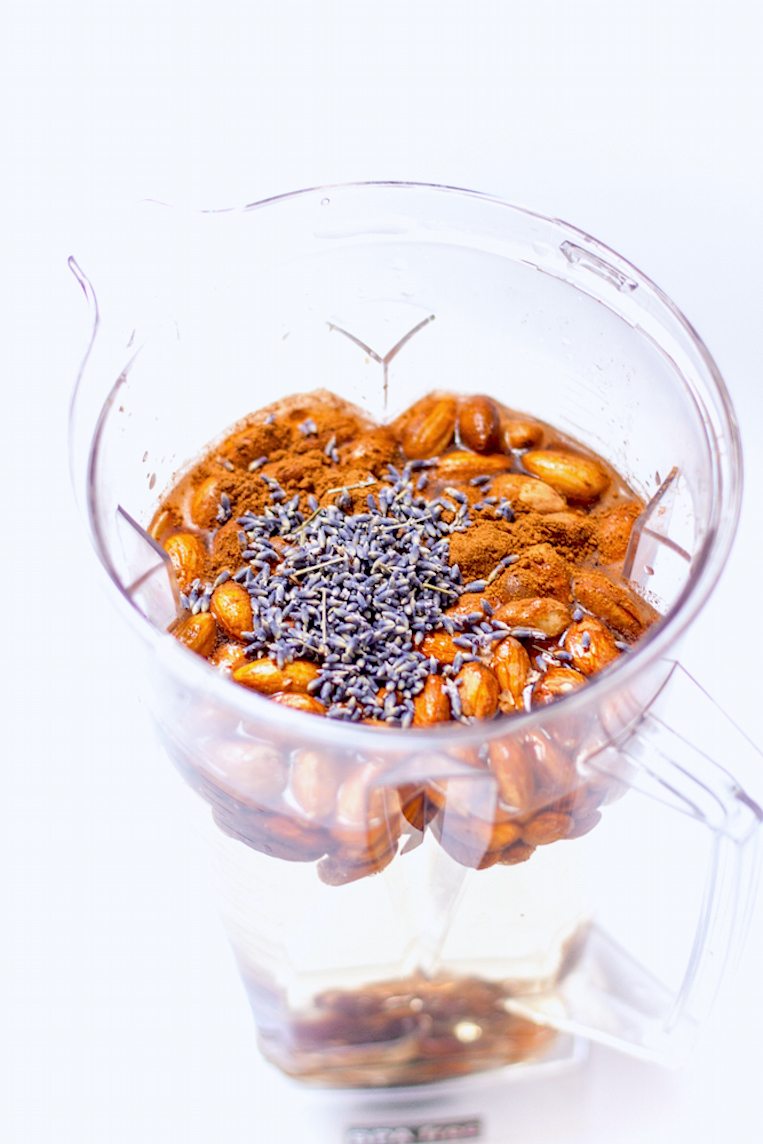 I used dried lavender which you can find at your local health food store in the tea section. You could also dry your own by tying up a bunch of lavender and hanging it upside down for a week or so until it dries completely. These look really beautiful around the house too, and will make everything smell amazing! Any extra dried lavender could be used for a lovely lavender bath, tea, scones, or even in your homemade skin products like facial scrubs. So it's definitely worth having some dried lavender in your pantry.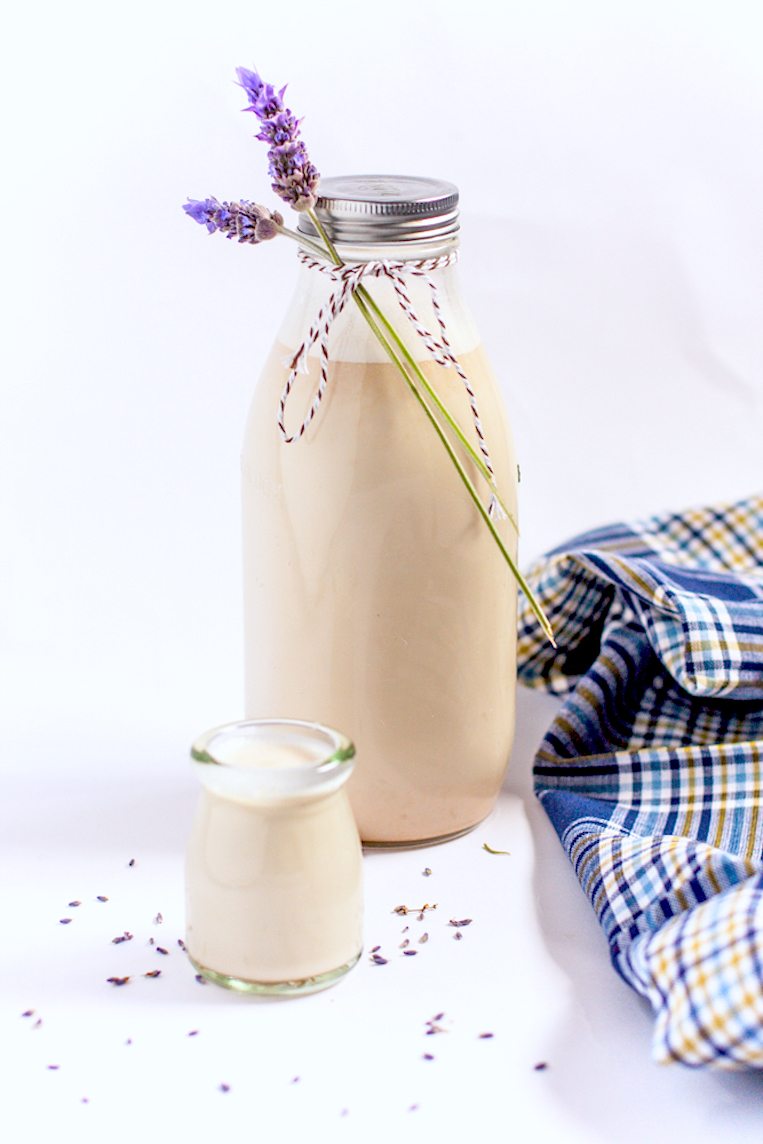 See Also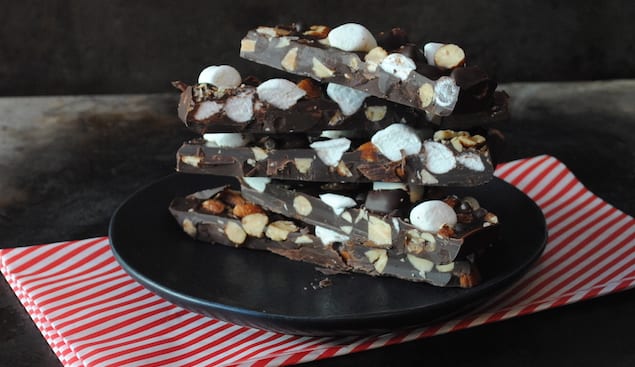 What other things do you add to your nut milks? I sometimes add lucuma, cacao, or maca.
Enjoy!
Print
1.5

L filtered water

1.5 tsp

dried lavender

2

dates

1/2 tsp

cinnamon

1 tsp

vanilla essence
pinch sea salt

1.5 cups

soaked almonds
Instructions
Soak your almonds over night in filtered water.
Place soaked almonds and the rest of the ingredients into your high speed blender and blend for 45 seconds.
Pour the contents of the blender into a large bowl through a nut milk bag.
Squeeze milk out of nut milk bag until there is no milk left.
Transfer to sterilized glass bottle and keep in fridge for 4 days.
Arie Elle
I have 4 loves in life, healthy, nourishing food, photography, singing and my high school sweet heart. Merging the 4 is a match made in heaven! I love to photograph my healthy food cre- ations in a natural and engaging way that will inspire people to embrace healthy living. It's my wish for Nourish & Inspire Me to ignite motivation in people to take notice of what they put in their bodies. Changing the cooking and purchasing habits of people to make more aware and health-conscious decisions is what i hope to encourage and instil in my readers. It's my mission to change the perception of most processed foods that are considered "normal" and to enlighten people to what REAL food is and how easy it is to cook with. It's that education and awareness that can give you freedom. Freedom to live free of disease and freedom to eat and enjoy REAL food! I have a background in Natural Therapies, and treated my own thyroid issues with Alternative medicine which lead me down the path of healthy eating and cooking. I specialise in simple cooking. I don't stick to one particular diet, but rather i like to find what works for me as a unique being. I love to create raw desserts, salads, sauces, dressings, soup, smoothies, juices, granola, cakes, bread, homemade nut milks, pasta, homemade gluten-free pizza, dips and more!