Celebrate the flowering of summer's lavender with these stunning lavender buttercream macarons.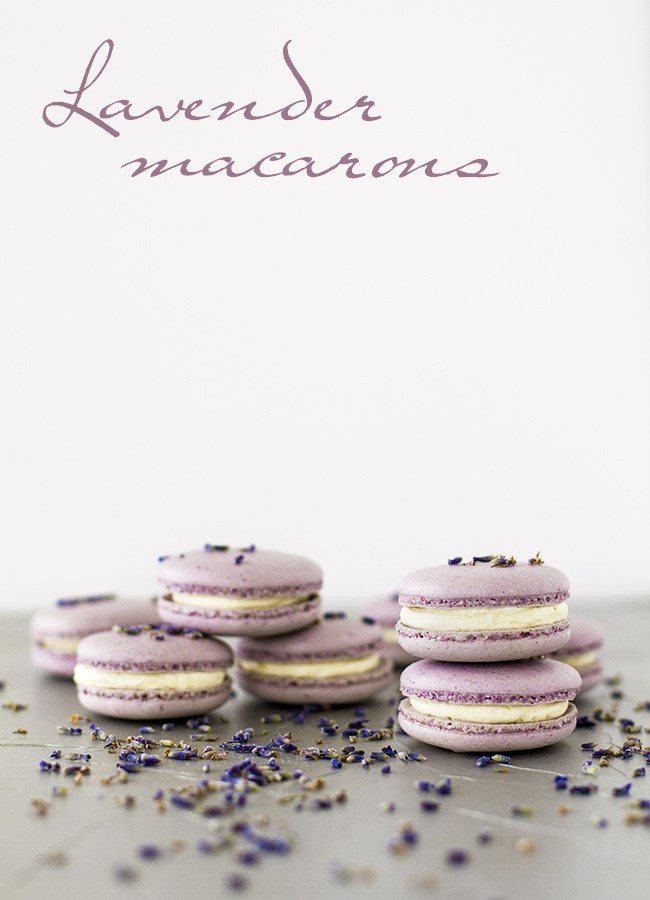 While summer brings mountains of fresh fruit and bright flavours, it is also the season for lavender to flower. Freshly dried flower buds give these macarons a rich, heady perfume which is perfectly offset by the creamy vanilla filling.
If this is your first time making macarons or you are looking for trouble-shooting tips or vegan options, check out this post for a full step-by-step tutorial with FAQ.
See Also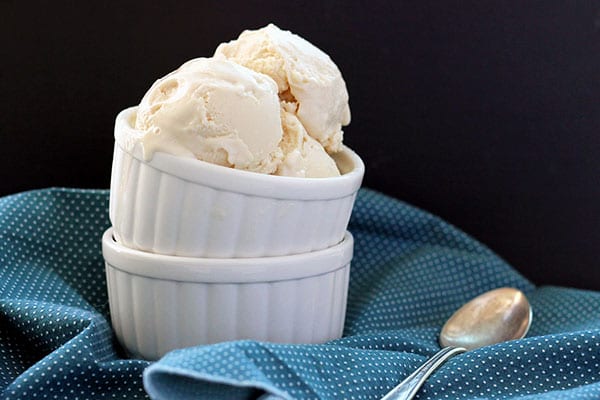 Click here for the buttercream filling recipe.
Print
Lavender Buttercream Macarons
Celebrate the flowering of summer's lavender with these stunning lavender buttercream macarons.
Author:

Rachael Hooper

Prep Time:

1 hour

Cook Time:

45 minutes

Total Time:

1 hour 45 minutes

Yield:

30

macarons

1

x
Category:

Baking, Macarons

Cuisine:

French
The shells
140 g

ground almonds

140 g

powdered (confectioner's sugar)

1 Tbsp

dried lavender flowers

100 g

egg white (from approx.

3

eggs, room temperature, divided 50/50)

100 g

granulated (white sugar)

40 g

water
purple powder or gel food colouring (optional)
The filling
Click the link above for the recipe.
Instructions
The shells
Prepare 2 parchment lined baking sheets. They need to be big enough to hold 30 x 4cm / 1 1/2" diameter shells each.
Mix the ground almonds. powdered sugar and lavender flowers together in a bowl, then grind in a food processor until you have an extra fine texture. You may need to do this in batches, depending on the size of your food processor.
Sift into a large bowl (I use a mesh strainer and push the mixture through with a spatula), putting any bigger pieces of almond back into the food processor to re-grind.
Add 50g egg whites and mix thoroughly into the almond mixture. At this point, you can add food colouring, if using. Set aside.
In another bowl, or the bowl of a stand mixer fitted with a balloon whisk attachment, scrupulously clean and free of any oil or egg yolk, beat the other 50g egg whites to stiff peaks.
Meanwhile, put the granulated sugar and water into a small heavy-based saucepan and heat on medium-low to 118°C / 244°F, without stirring.
While whisking constantly on low speed (to avoid splashing hot syrup), slowly add the cooked sugar mixture to the beaten egg whites, pouring it down the inside edge of the bowl. You'll get a bit of it hardening on the side of the bowl, but that's okay – just leave it there.
Whisk at high speed until the mixture is cool, about 3 minutes. The mixture should increase in volume and become firm and shiny, and you should get a beak when you lift the whisk.
Scrape the meringue onto the almond mixture and incorporate with a rubber or silicone spatula until you have a homogeneous batter that runs from the spatula in a thick ribbon.
Transfer the mixture into a piping bag fitted with a 7 – 9mm / #10 – #12 plain round tip (this is best done in two batches, so you don't overfill the bag). Pipe 60 equally sized rounds, about 4cm / 1 1/2", in staggered rows onto the prepared sheets. Hold the piping bag upright with the tip just above the sheet and pipe without pulling upwards or swirling in circles, so the batter comes out in a round blob around the tip, and give a little sideways flick at the end to break the stream.
Tap the baking sheet firmly on the bench several times to release air bubbles and obtain a smooth surface. If you have any tips sticking up, press them gently down with a damp fingertip. Sprinkle with a few more lavender buds, if desired. Leave the tray to rest at room temperature for at least 20 minutes until a slight skin forms. It should be dull, and if you touch it, it should be only just tacky.
Meanwhile, preheat oven to 150°C / 300°F / Gas Mark 2.
Bake the macarons in the centre of the oven for 20 minutes, one sheet at a time, turning the sheet half-way.
Remove from oven and remove the parchment from the tray with the shells still on it and place on a cooling rack for at least 30 minutes, until completely cool, then remove macaron shells carefully from the parchment.
If not filling straight away, store in an air-tight container at room temperature.
The filling
Click the link above for the recipe
Rachael Hooper
I live in Geneva, Switzerland, where I moved with my family from Australia in 2001. I have a husband whom I adore, two adult sons and a delightful daughter-in-law, I'm an EFL teacher, I love to travel and I spend as much time as possible in the kitchen. Cooking, for me, is all about sharing delicious, healthy and sometimes wickedly indulgent food - either literally, at the table, or metaphorically, via the internet. I have a burning passion for Italian food, I also dabble in Middle Eastern, French and Asian cooking, as well as trying my hand at cakes, desserts and breads. In fact, baking has become a bit of an obsession! I'm always ready for a challenge and I have developed a "never-say-die" attitude in the kitchen.