A trip to New York City is glamorous and delicious, especially when it ends with a delicious recipe for candied pecans.
By Michelle M. Winner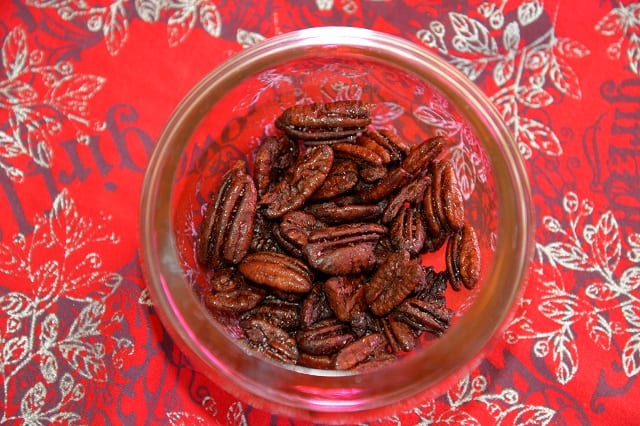 I recently spent a glorious couple of days at The Langham Place on Fifth Ave in  NYC. My  sleek  modern, suite with the drop-dead view of the Empire State building was  perfectly located  for sights, shops and fabulous restaurants. But one of the best finds is Langhan Place's Measure Lounge.  Continental  breakfast at the Langhan Place's Measure Lounge  features premium cheeses, fresh squeezed O.J., flaky croissants and pastry, fresh fruit, prosciutto, cured meats, artisan yogurt from a creamery in Brooklyn, porridge and fresh fruit. Equally superb at lunch with a fab view for people watching on Fifth Ave.or try  the evening service and cocktails during the nightly live  jazz,  also a winner.  One of the favorite snacks brought to the cocktail table for you is the popular  Candied Pecans.  My NYC  friend Louise tells me, " The recipe, perfected by Chef David Vandenabeele was inspired by Chef David's time at The Langham, London, where  candied pecans are a very popular bar snack." Try it and see or  get thee to the Langham  Place NYC and try them there.
( image credit: Kurt Winner)

Langham Place on Fifth NYC's Chef David Tweaks Favorite Candied Pecans
Candied Pecans, served at The Langham Place Fifth Ave., a sleek hotel in the Langham brand invites a nibble with a smart cocktail or glass of wine at Measure Lounge while you listen so some of NYC's best jazz musicians.
Recipe Type:
Cocktail Snack
Ingredients
Pecan halves, walnut halves or a combination of both – approximately 1 lb.
Castor sugar – 2 cups
Water – 3 ½ cups
Cinnamon sticks - 2
Instructions
Place the cinnamon, water and sugar in a pan and bring to the boil. Add the nuts and boil. Drain the liquor ( discard liquid, drain nuts) and then deep fry in batches until crisp, around 30 seconds. Allow to cool before serving.
( Author's Note: Chef did not specify how long to boil, we did 5 min. You may dust with sea salt if you wish) .
Michelle M. Winner
Michelle was born with a fork in her hand. As a culinary travel writer and confirmed foodophile she delights in the world-wide discovery of new flavor profiles, spices, salts and herbs. Based in one of the world's foodie meccas; Portland, Oregon, not far from "Pinot Noir Heaven" Michelle shares culinary travel and chef's recipes. Her photography has appeared in Saveur Magazine and she has contributed culinary travel articles to Forbes online, WSJ online, Business Insider, Condé Nast Digital Media, Islands magazine and many others. A confirmed globetrotter, she still keeps her bags packed and fork in hand (well . . . except through airport security.)