A small cafe and garden with an ambiance of a laid back living room. Complete with a delicious brunch menu and fresh ingredients, this is a must-try in Pondicherry, you will feel right at home.
By Pallavi Gupta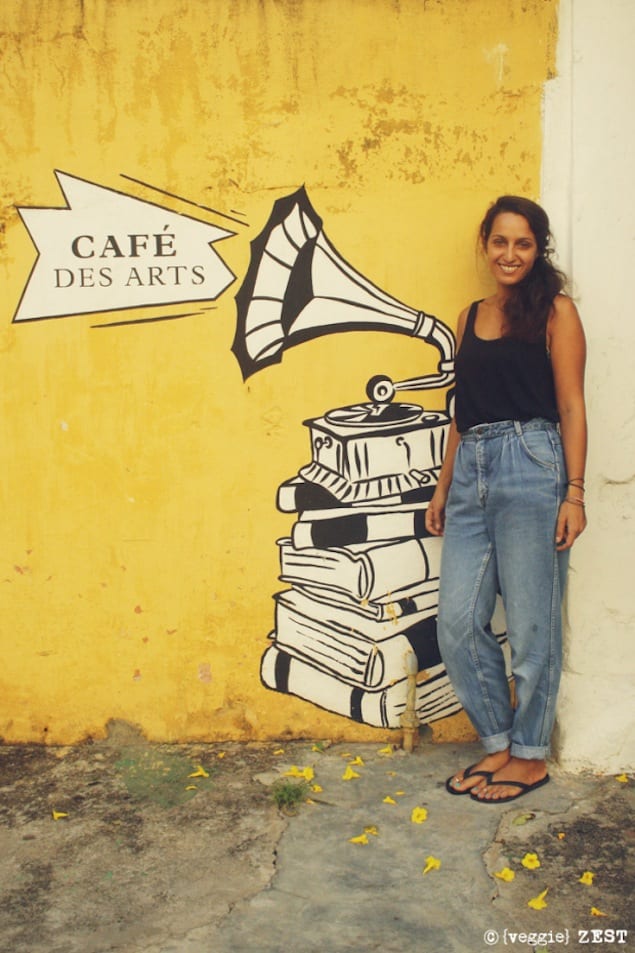 Tucked away on Rue Suffren in the French town – Cafe Des Arts is a place to relax. An old, historical Franco Tamil house converted into a chilled out cafe, the place has a whimsical vibe. The owner, Eva Laberibe – Naridas (featured on the image above) says all dishes served at the cafe are prepared with fresh ingredients and she makes sure that the taste of the dishes are consistent every time you order something. I have eaten there a few time and can surely vouch for that. She has a great team of all women home cooks who work their magic in a tiny kitchen under her supervision.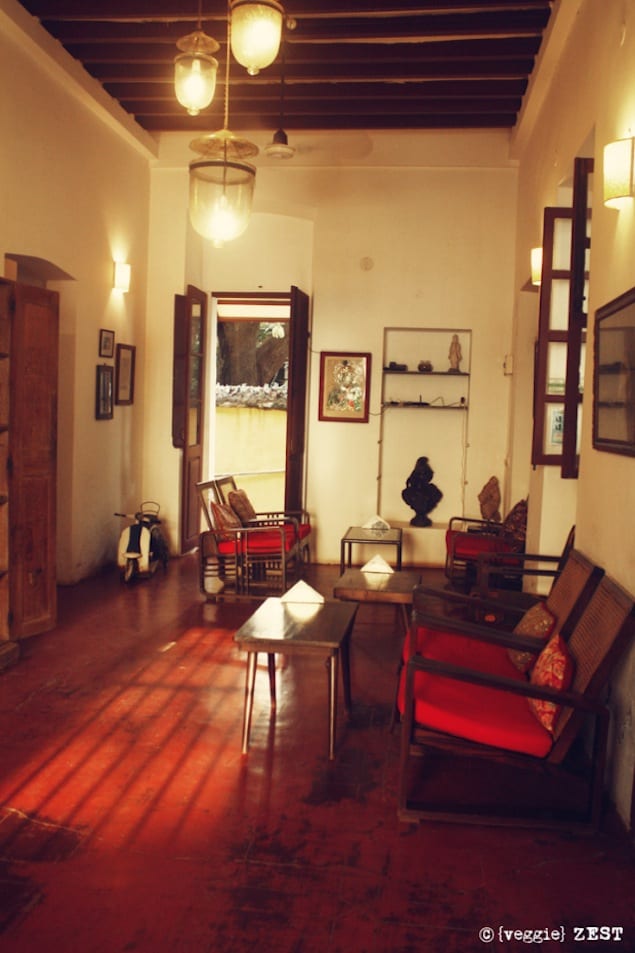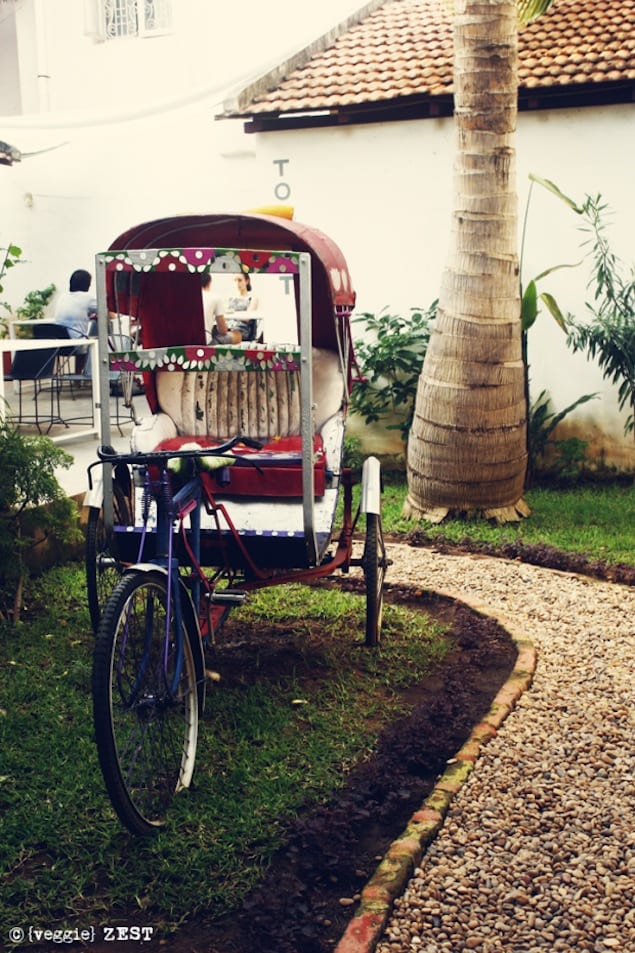 My favorite time to go there is for brunch on a weekend. I really like their crepes for a late breakfast – my favorite is the tomato, cheese & egg crepe along with a glass of herbal tea or cold coffee if the weather is too warm. They also have a good variety of sweet crepes like lemon & sugar, honey, homemade jam, nutella and my favorite nutella & Banana and more.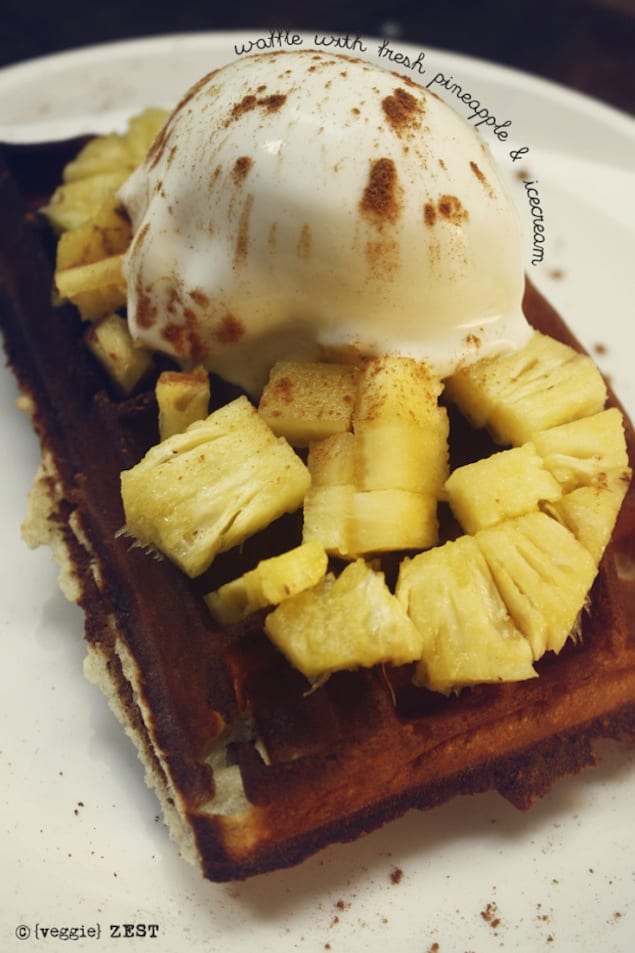 I also tried the tabbouleh salad which was really delicious. Packed with a LOT of fresh flavors, the salad is served in a generous portion along with some pieces of French baguette – its a complete meal by itself. I definitely recommend this salad! Some more vegetarian dishes from their Fresh Salad section are Greek salad, tomato & feta cheese with fresh basil and olive oil and a classic salad of seasonal vegetable with mustard vinaigrette.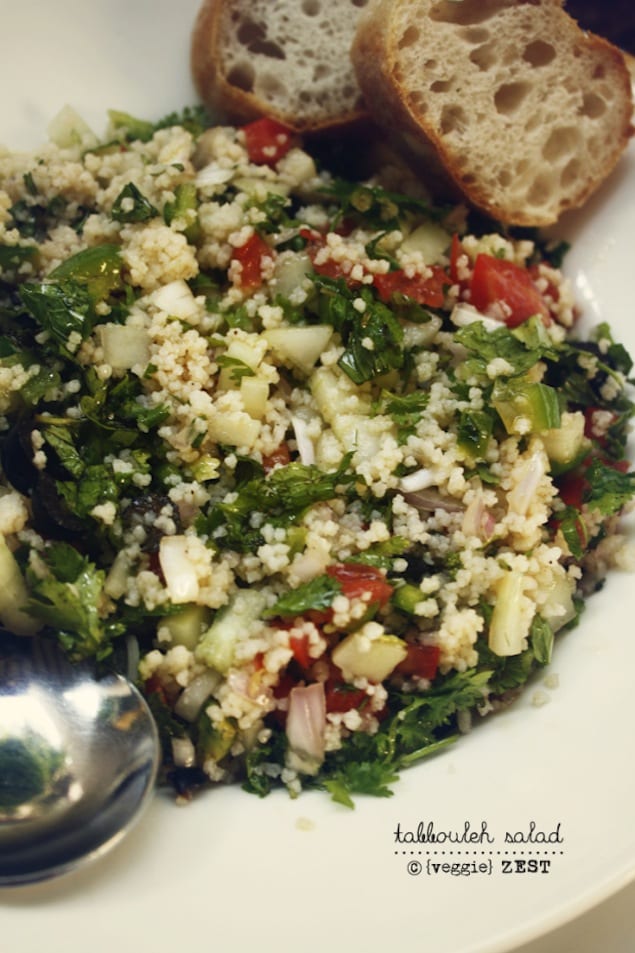 If you are looking for more hearty options then their menu has a selection of bruschettas, toasted sandwiches and baguette sandwiches. I have tried their ratatouille & cheese baguette sandwich which is pretty nice. Their take on bruschetta is different from the classic Italian recipe – they make theirs with tomato sauce and is served over a toasted baguette with olives and cheese. You should try it to find out whether you like their version or not – as far as I am concerned I prefer the classic Italian recipe with fresh tomatoes, fresh basil with garlic olive oil and balsamic vinegar.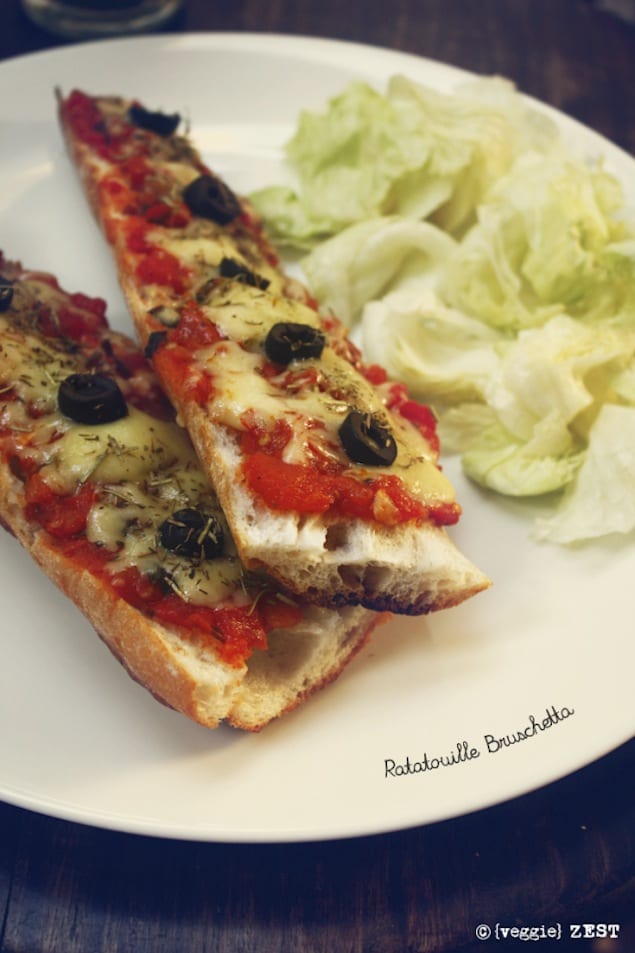 Eva gave me a nice waffle sundae like dish to try which was a waffle topped with fresh pineapples & vanilla ice cream sprinkled with some cinnamon. It is not on the regular menu and is a part of their summer specials. They introduce a bunch of seasonal dishes along with their regular menu which I think is exciting and supports their philosophy of serving fresh food.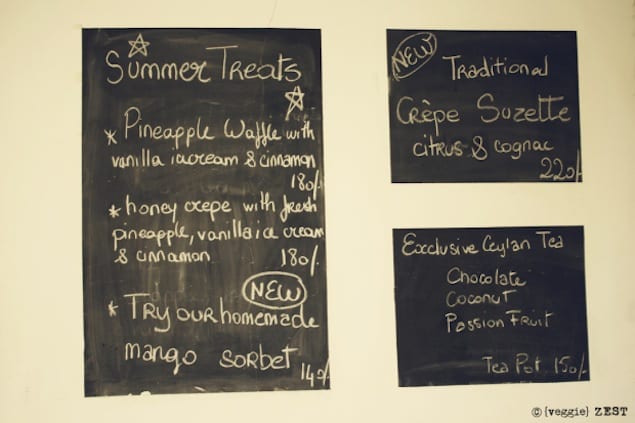 The whole ambiance of the place is like a laid back living room style eating or imagine enjoying some snacks and coffee in a garden. Don't expect a formal restaurant type service with a giant menu because that's not what this place is. It is a relaxed, simple and friendly place where you come to chill or hang out with your friends over a cup of coffee. The place does close down at 7PM – which I think is a good thing because since its an open cafe with a garden, it faces a mosquito problem as soon as it starts getting dark. Its definitely place to hang out during the day time or late afternoon.
A meal for two people that includes drinks (coffee + fresh fruit juice), a salad and a sandwich followed by a dessert will cost under INR 1000.00 (roughly between $15 to $20). They have free WiFi and also have a collection of books that you can pick from and read while you are at the cafe.
You can find more information on the location of the cafe here
Pallavi Gupta
Pallavi is a vegetarian globetrotter, who currently lives in the southern part of India. Past ten years of her life includes living in six cities in three different countries. It has added to her vast exposure of cuisines from different parts of the world which is now reflected in her cooking. She shares her knowledge of vegetarian and vegan recipe from around the world via her blog Veggie Zest. When not cooking or photographing, she does graphic design.