Charles G. Thompson reports from the 2nd Annual Grilled Cheese Invitational in Los Angeles.
Text And Photo By Charles G. Thompson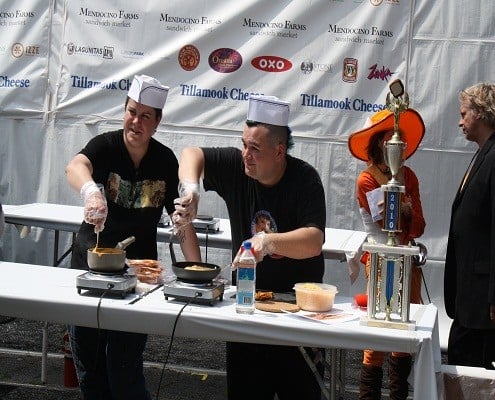 The best part of the new (food) world order is the fun everyone is having.  Take for instance the 2nd Annual 8th Annual Grilled Cheese Invitational  (yes, the name is correct) that took place in Los Angeles this past weekend.  The GCI motto is Bread – Butter – Cheese – Victory!  Founder Tim Walker started the event in 2003 as a friendly competition between friends to determine who was the Grilled Cheese Champion.  It is now the largest grilled cheese competition in the U.S.  This year there were over 200 professional and amateur cooks competing side-by-side to be crowned Grilled Cheese Champion.  Exclusively sponsored by Tillamook Cheese the event which was held at the Los Angeles Center Studios drew crowds of competitors, chefs, food trucks and the general public hungry to get their grilled cheese on.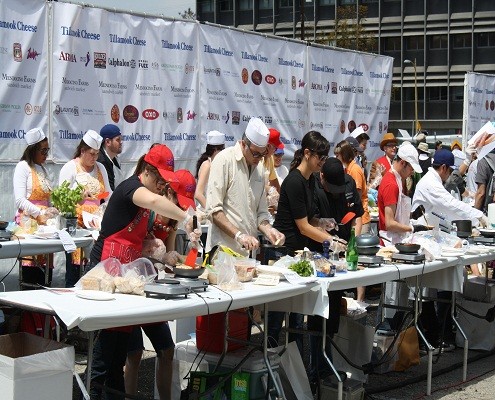 The competition included these four grilling categories:
Love, American Style – White bread, butter, orange cheese (American or cheddar); nothing else.
The Missionary Position – Any type of bread, butter and cheese; no additional ingredients.
The Kama Sutra – A sandwich of the savory nature, with any type of bread, butter and cheese plus additional ingredients, and the interior ingredients must be at least 60% cheese.
The Honey Pot – Any kind of bread, any kind of butter, any kind of cheese, and the interior ingredients of the sandwich must be at least 60% cheese, plus additional ingredients, with an overall flavor that is sweet that would best be served as dessert.
There were four competition heats of fifty minutes each.  Each competitor could enter once in each category, or in individual categories only.  Each category was awarded two winners: professional and amateur.  Love, American Style, a new category this year is specifically dedicated to the classic American grilled cheese sandwich.  "As with all great things in life, the Grilled Cheese starts with love," said GCI founder Tim Walker.  "This category serves as a competitor's chance to offer their take on the classic original."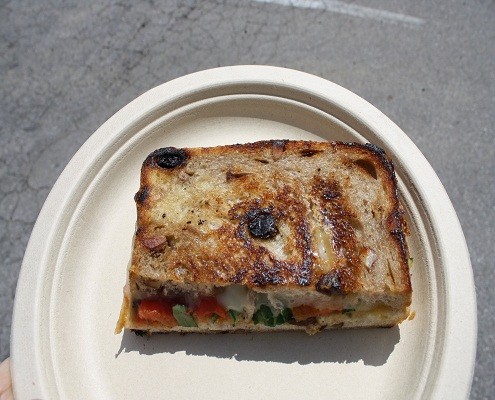 Crowd pleasing sandwiches included The Grilled Cheese Truck's "Winner Winner Chicken Dinner," slices of cheddar cheese melted on top of homemade waffles stacked with more cheese and fried chicken, served with a side of gravy and maple syrup.  A riff on the classic American dish Chicken and Waffles.  Attendees had endless cheesy eating choices from local food trucks, to Los Angeles-area restaurants and businesses.  At the GCI Thunderdome local chefs held cooking demonstrations and competed against each other while Hot Knives, Evan George and Alex Brown, past winners of five GCI trophies emceed.  Chefs Walter Manzke and Eric Greenspan dueled it out with Greenspan's sandwich "The Champ" winning.  Mo-Chica Chef Ricardo Zarate, recently named the Best New Chef in America by Food & Wine Magazine, paired off with the Hot Knives duo and handily won with his Peruvian influenced creation.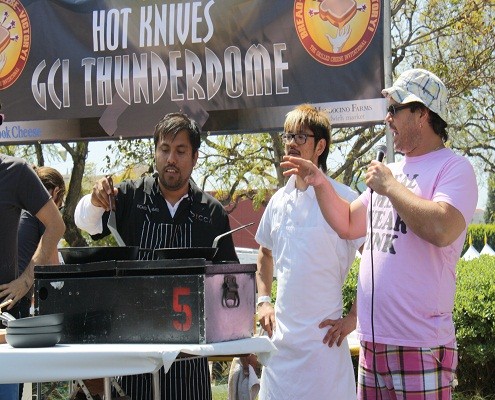 To quaff thirst brought on by too much cheese there was a Beer and Wine Garden.  Those attendees who were smart enough to register ahead of time became members of the Judging Society and held official judging privileges.  To complete the fun there was a cheese poetry competition, a cheesy costume competition, a cheese calling competition, and finally the March Fourth Marching Band.  Cheesy fun was had by all.
The 2011 Official Grilled Cheese Champion (Highest Scored "Sammich") went to The Return of Mivens for "Cake and Mivens."  For a full list of winners go to the GCI website: http://grilledcheeseinvitational.com/
Charles G. Thompson
Charles G. Thompson is a freelance writer. After a 20 year stint in the restaurant and retail food industries he is now recounting his food oriented tales and experiences on his food blog, 100 Miles. He first learned to cook while working for a French family in France using Julia Child's "Mastering the Art of French Cooking" as his teacher. He has contributed to such sites as One for the Table, and is published in "Foodista Best of Food Blogs Cookbook: 100 Great Recipes, Photographs, and Voices".