Brown Tomatoes and Mozzarella marinated in port wine for a simple yet pleasing hor d'oeuvres fit for all occasions.
By Priya Mahadevan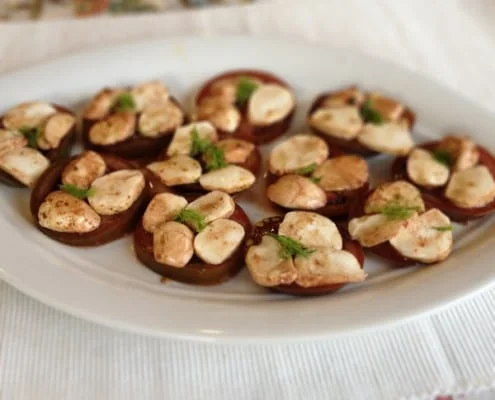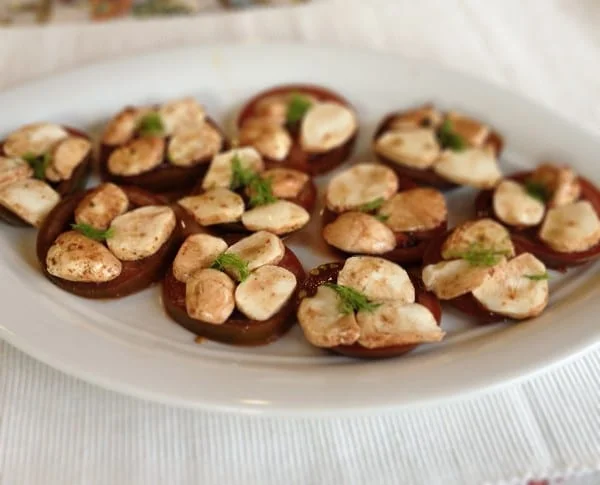 Kumatos is a brand name but the most common one that comes up if you are googling brown tomatoes. The first time I saw them I was intrigued. Thought it was a cross between a plum and a tomato – My friend used Kumatos in a salad the first time I tasted them and I loved the crisp sweetness of it raw and enjoyed them a lot more than the regular raw tomato.
Of Spanish origin, Kumatos are a cross of red & green tomatoes. They are from the Mediterranean region of Spain but are now being grown in many parts of Europe and Canada since people have come to taste them and realize how incredibly sweet they are. So it was a pleasure to make something with them for the first time after which I have gone on to experiment with other dishes which I will post soon, hopefully.
This hors D'oeuvre is a simple & sophisticated dish and would be an amazing addition to either fine dining or a casual party. I used port wine along with other ingredients to be listed below to marinate the mozzarella. I know many people in my circle who are not crazy about raw tomatoes, but even they loved this preparation.
Kumatos Mozzarella Hors D'oeuvres Recipe
Brown Tomatoes and Mozzarella marinated in port wine for a simple yet pleasing hors d'oeuvre fit for all occasions
Ingredients
6 Kumatos
About 6 ounces of Small fresh mozzarella
For the Marinade
2 tbsp port wine
1 tbps balsamic vinaigrette
½ tsp herb de Provence
1 tsp freshly squeezed lime juice
1tsp of agave nectar
½ tsp of freshly ground pepper
Fennel greens for garnish
Instructions
Slice the tomatoes into ¼ inch thick slices (this can be done before serving)
Similarly cut the Mozzarella balls into wedges
Mix all the ingredients for the marinade together in a flat plate with sides - Soak the mozzarella in it and refrigerate for until an hour to half an hour before serving.
Arrange the cut tomatoes in a serving plate - Top with cheese as shown in the picture. Drizzle any extra marinade over the tomatoes as well. Place you fennel on each serving decoratively and hear the Mmm mmms or Wows :)