Kouign Amann is fun to try and pronounce, and it's is definitely fun to make. This delicious pastry is a round Breton cake made of yeast dough with butter and sugar layers folded in, similar in fashion to puff pastry.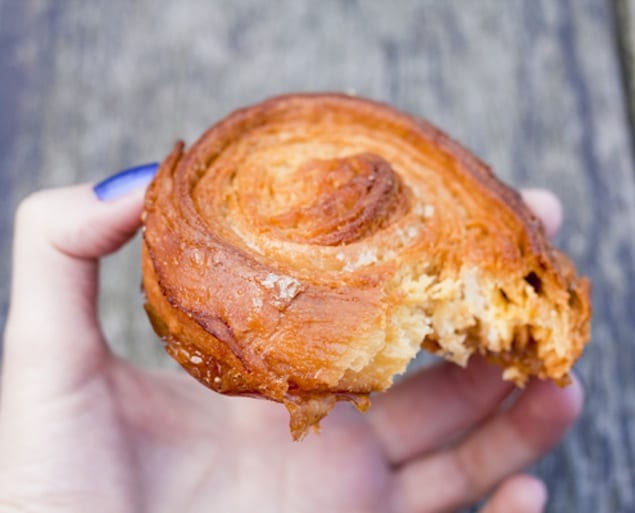 The name of this pastry derives from the Breton word for cake (kouign) and butter (amann). The sugar caramelizes while baking and what you end up with is sweet, sticky, flaky and buttery goodness, similar to a croissant. A delicious recipe from France, with only a handful of ingredients.
HOW TO SUCCEED WITH YOUR KOUIGN AMANN
No wonder butter-loving people of Brittany invented a cake like this. The key to success with kouign amann is not pushing anything too fast.
This is why the actual hands-on time is only about 30 minutes, but the pastries still take all afternoon to make. All the downtime is just to give the dough time to rise and to give the butter time to chill in the fridge between turns.
Keeping the butter chilled is crucial for creating all the lovely, flakey layers of pastry. Use the best butter you can find (preferably salted).
You can shape kouign amann into rolls, or place the dough into muffin tins, or make one large round cake. Whatever you end up doing, will make you feel like you are a professional Parisian pastry chef.
Now, on to the recipe!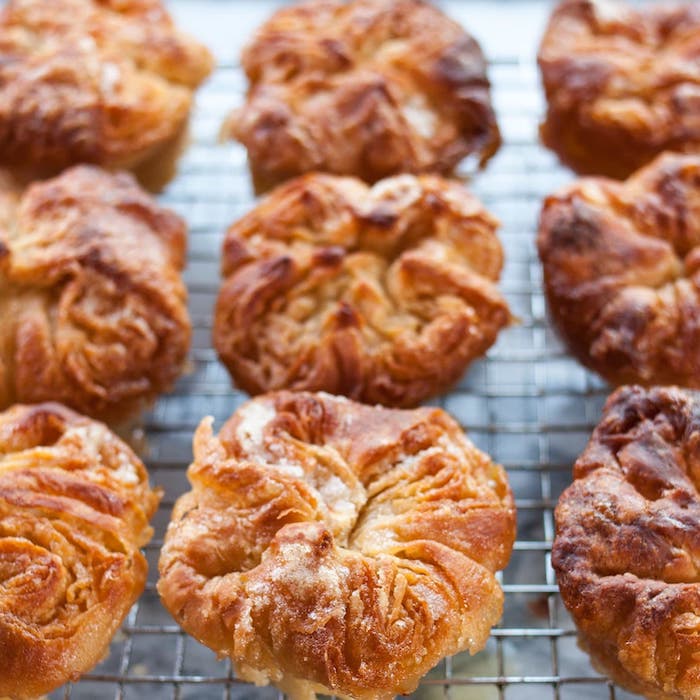 Kouign Amann
Ingredients
¾ cup (175 ml) lukewarm water
1 tbsp (12 g) active dry or instant yeast
2 cups (260 g) cups all-purpose flour, divided
1 teaspoon salt
1 stick (110 g) cold salted butter, plus extra to grease the pans and pour over dough before baking
1 cup (200 g) sugar
Instructions
Combine yeast and water and let stand for 10 minutes. Add flour and salt. Knead until soft dough forms, cover with plastic wrap and let stand for 1 hour in warm place. Using a rolling pin, roll out the dough on lightly floured surface (into a rectangle shape). Cut cold butter into cubes and scatter over the middle of the rectangle dough. Sprinkle with ¼ cup (50 g) of sugar and fold each end towards the middle. Sprinkle with another ¼ cup of sugar and fold again. Refrigerate for 1 hour.
Sprinkle work surface with sugar, place the dough onto it, sprinkle with another ¼ cup of sugar and roll out into a rectangle. Fold all four sides again and refrigerate for 1 hour.
Preheat oven to 425 F (220 C).
You can, at this point, roll out the dough into a circle and bake in a pie pan, or make bun-shaped individual portions and bake in small round tins or muffin tins. Sprinkle with the remaining ¼ cup of sugar and pour a tablespoon of melted butter over the dough.
Bake for 40-45 minutes. Let cool on a wire rack on a counter, and feel like a real pastry chef.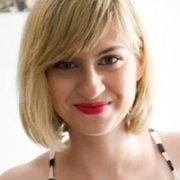 Tamara Novakoviç
Tamara Novakovic is a passionate self-taught cook, food blogger, freelance food writer and photographer behind bite-my-cake.blogspot.com. Her life journey has led her through Faculty of Humanities in Zagreb, Croatia to discovering passion for making cakes. She is currently a weekly food columnist for Croatian newspaper V magazine and food magazine Repete.