Korean-Style Pulled Chicken Sliders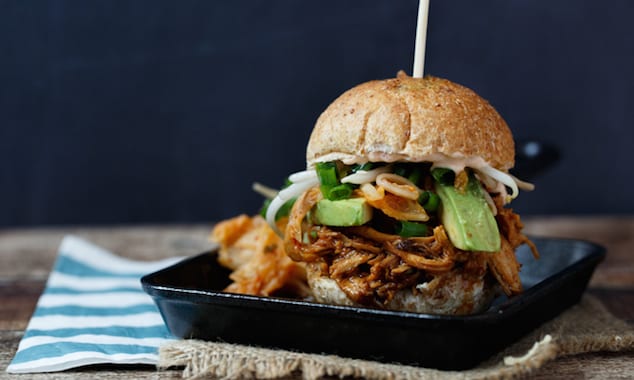 Easy has never tasted so good. These Slow Cooker Korean Chicken Sliders are perfect for game day, parties, and easy entertaining. Gluten free option too!
By Chris Cockren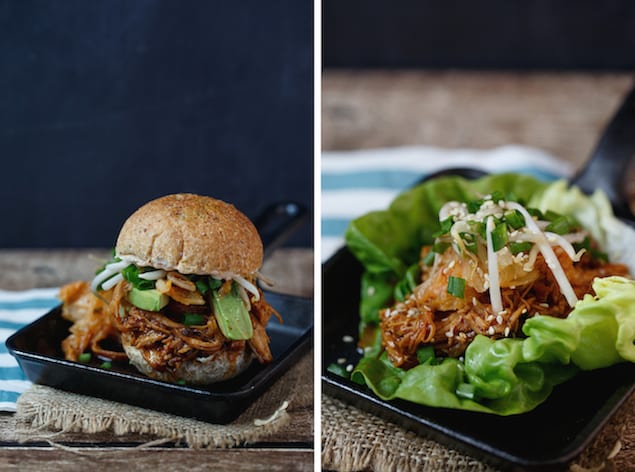 This is going to become a party food staple at our house. And since all the hard work is done by the slow cooker, it's optimal for easy entertaining. Need a healthier or gluten free option? Just use bibb lettuce instead of rolls and make sure to grab gluten-free soy sauce. Boom. Now you have gluten-free slow cooker Korean chicken sliders.
And hey dudes that aren't big on hanging around the kitchen… this is perfect food for your next game day party. Become a hero among your friends.

Korean-Style Pulled Chicken Sliders
Easy has never tasted so good. These Slow Cooker Korean Chicken Sliders are perfect for game day, parties, and easy entertaining. Gluten free option too!
Ingredients
2 pounds boneless, skinless chicken breasts and/or thighs
¼ cup gochujang
¼ cup soy sauce
1 small red onion, grated
4 cloves garlic, grated
1" piece of ginger, peeled and grated
3 tablespoons mirin
3 tablespoons brown sugar
1 teaspoon sesame oil
¼ teaspoon pepper
1 teaspoon arrowroot powder or cornstarch
¼ cup water
Slider buns and/or Bibb lettuce
Kimchi
Avocado, thinly sliced
Lightly pickled bean sprouts (recipe below)
Gochujang Aioli (recipe below)
1 bunch scallions, chopped
Sesame seeds
for the Lightly Pickled Bean Sprouts
1 cup bean sprouts
3 tablespoons rice vinegar
½ cup warm water
½ scant tablespoon sugar
½ teaspoon Kosher salt
for the Gochujang Aioli
⅓ cup sour cream
¼ cup mayonnaise
1½ tablespoons gochujang
1 clove garlic, grated with microzester
¼ teaspoon salt
Pinch of garlic powder
Pinch of onion powder
Instructions
Spray the inside of your slow cooker bowl with nonstick cooking spray. Stir together gochujang, soy sauce, onion, garlic, ginger, mirin, brown sugar, sesame oil, and pepper in slow cooker bowl until fully combined. Add chicken and stir to evenly coat.
Cover slow cooker and cook on low for about 4 hours, until the chicken is fully cooked. Remove chicken to a large bowl. Using 2 forks, shred chicken. Meanwhile, fully combine arrowroot powder/cornstarch with water in a small bowl. Pour into the sauce in slow cooker, stirring to incorporate. Add chicken back into slow cooker and stir into sauce. Cook for 10-15 more minutes.
Place a bit of chicken on each bun or lettuce wrap, topping with kimchi, avocado, lightly pickled bean sprouts, gochujang aioli, scallions, and sesame seeds. Devour immediately.
for the Lightly Pickled Bean Sprouts
Combine vinegar, warm water, sugar, and salt in a small bowl until dissolved. Pour over bean sprouts and let sit at room temperature for 30 minutes.
for the Gochujang Aioli
Combine all ingredients in a small bowl until fully incorporated. Can be made ahead and refrigerated.
Chris Cockren
Chris is a New York based food blogger that loves bringing friends and family together through food. On his blog, Shared Appetite, Chris chronicles his culinary adventures of eating his way in and around NYC, as well as cooking and entertaining at home.