This dish is a little bit spicy, satisfyingly salty from soy sauce, and full of fresh flavor from lots of chopped scallions, a hint of lime, and toasted sesame seeds.
By Laura Davidson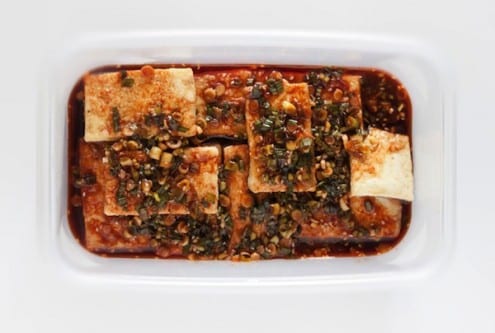 This dish is best served cold. As you can probably tell, the ingredient list for this dish is surprisingly straight-forward and simple. The successfulness of the dish really boils down to the marinating time and ratio of ingredients together. Be sure to use authentic, finely ground Korean red pepper powder—available in almost every Asian supermarket.
Laura Davidson serves up a batch of traditional Korean braised tofu.
Ingredients
Marinade (yields roughly 2 cups)
½ cup soy sauce
¾ cup water
1 tablespoon (Korean) fine red pepper powder (**available in Asian supermarkets**)
1 tablespoon dark brown sugar
1 tablespoon canola/vegetable oil
1 teaspoon toasted sesame oil
1 cup scallions, finely sliced
½ teaspoon lime juice
⅛ cup toasted sesame seeds
Pan-Fried Tofu
2 blocks of firm tofu, sliced into thin rectangles
canola/vegetable oil
Instructions
Marinade
Combine all ingredients in small bowl. Allow to sit out for 10-15 minutes—or while you prepare the tofu (see below).
Tofu
Remove tofu from package. Slice into rectangles—roughly ½-inch in thickness. Lay out a thick layer of paper towels or kitchen towel on your counter and place the tofu slices on top to absorb any excess water (for this recipe, you don't need to press the tofu).
Heat large non-stick skillet over medium heat with a thin layer of canola or vegetable oil. Once hot, add tofu, spreading out in the pan so they are not touching each other. The tofu should sizzle when it hits the pan. You can do this using multiple skillets, if available, to make the process go faster, or pan-fry them in batches.
Sear tofu on each side for roughly 3-4 minutes, until light brown on both sides. Remove and place on paper-towel lined plate to absorb any excess oil. Repeat until all tofu is seared. Allow to cool to room temperature.
Spread out the tofu on a baking dish or any other container with a large surface area (and relatively high sides)--you can do this in two layers, if necessary. Pour over the marinade, cover, and refrigerate for roughly ~6-8 hours. Turn the tofu once or twice during this time, so that each piece gets marinated properly.
Best served chilled by itself, or with some sushi rice.
Laura Davidson
After deciding to take a leap of faith, Laura enrolled in culinary school to pursue her passion for all things food. On her blog, Blogging Over Thyme, she shares her experience as a culinary student, her favorite recipes, stories, and photography!