You don't need too many ingredients to prepare this delicious, wonderfully moist coconut sweet.
By Anamika Sharma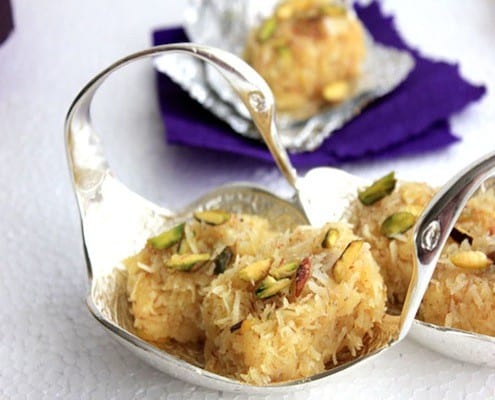 August 2nd was Raksha Bandhan in India. Raksha Bandhan is a Hindu festival celebrating the bond between a brother and a sister. This festival symbolizes the sister's love and prayers for her brother's well-being, and the brother's lifelong vow to protect her. A thread is tied on the wrist of the brother by the sister and in turn the brother promises to take care of her forever (just a reiteration of what the brother is suppose to do any which ways), followed by gifts from the brother to her dear sister, though I miss all the rakhi fun, one of the not so positive things of staying away from your home town!!!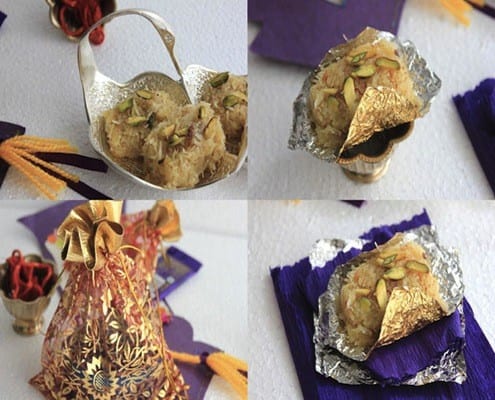 I love coconut and coconut based sweets, this time on Raksha Bandhan I prepared these delicious easy Kopra Pak coconut burfi's. An easy Indian Sweet option but tastes great. You don't need too many ingredients to prepare this delicious, wonderfully moist coconut sweet. This Kopra Pak is to be refrigerated after it is set and cooled.
Try this traditional and delicious Indian Sweet at home and enjoy having it with your loved ones.

Kopra Pak ( Coconut Burfi or Fudge )
A traditional Indian Sweet which is too famous in most of the Indian Homes. Burfi or Fudge is among one of the commonly preferred sweets in India.
Ingredients
Fresh grated coconut – 2 cups
Powdered Sugar – 1 ½ cups
Milk – 1 teaspoon
Lemon Juice – 1 teaspoon
Ghee – 2 teaspoons
Safforn Strands (Kesar) – ¼ teaspoon
A pinch of turmeric
Cardamom Powder – ¼ teaspoon
Pistachios sliced – for garnishing
Water – 1 ¼ cups
Instructions
Warm milk and add in the saffron stands, pinch of turmeric and keep aside.
Blanch the pistachios and slice them, keep them for garnishing.
Prepare the sugar syrup in a heavy bottom pan, by boiling water and sugar. Keep stirring in between; add the lemon juice to it when the mixture starts boiling.
After adding in the lemon juice if you see the dust over the sugar syrup mixture then, remove it from spoon or strain the syrup if required.
Keep boiling the sugar syrup mixture till it reaches the two thread consistency.
Add the grated coconut, two teaspoon ghee (you can reduce it to one teaspoon if you wish to have less ghee in the sweet) and the saffron paste.
Stir continuously and remove from the heat immediately.
Grease a flat metal plate and spread the mixture on the plate. With the help of a spatula spread it evenly.
Garnish it with cardamom powder and the sliced pistachios.
Allow it to set for about 8 hours in the refrigrator covered with a plastic wrap and let it cool.
Cut into desired shape and serve.
Notes
Adjust sweetness as per your taste. This burfi has to be refrigerated or else it becomes very soft. You can use dessicated coconut also to make this burfi, however I used fresh coconut. If using dessicated coconut then you need to increase the quantity of the coconut accordingly.
Anamika Sharma
Anamika Sharma is a passionate foodie, a food blogger with a background in aviation and telecom industry for good 15 years. Her mission is to spread the love for Indian cooking to all those who wrongly think it's too difficult. She loves to cook for her family, specially her kids. Besides cooking she also enjoys photography and traveling. MAD – making a difference is a word she chose to describe her Indian cooking site. Cooking always meant to her to be maddening and now she is mad about cooking.