A beautiful balance of soy sauce and fiery chilis combine with chicken for great flavor and an even better aroma. Bring on this mix of Indo-Chinese flavors for a comfort food dish.
By Rinku Bhattacharya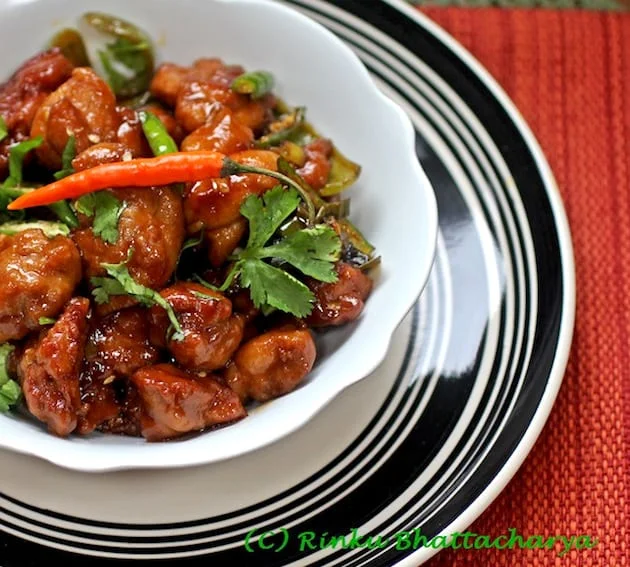 We all have iconic nostalgic dishes stashed somewhere in our operating universe, for one is the fish fry made by mother, but, like most people so are many dishes that mom never messed around with, and high on my list is also the chili chicken. The chili chicken I speak of is an Indo-Chinese classic with a beautiful aroma.
We qualify this genre of cuisine as Indo-Chinese, however, growing up we knew no other kind of Chinese food, so dishes like the chili chicken, hakka noodles, cauliflower Manchurian and dishes such as that all formed an amazing assortment of dishes that really had very Chinese sounding names and was an amazing collection of dishes that was ultimate food nirvana and still a thing that I must indulge in every time I go to India.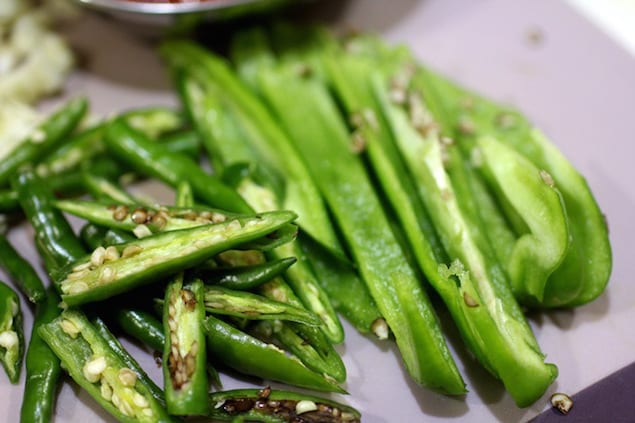 Now, I have to confess, as with all fusion dishes there is really no set formula, the key is to balance the umami taste of the soy sauce with fiery hot chilies.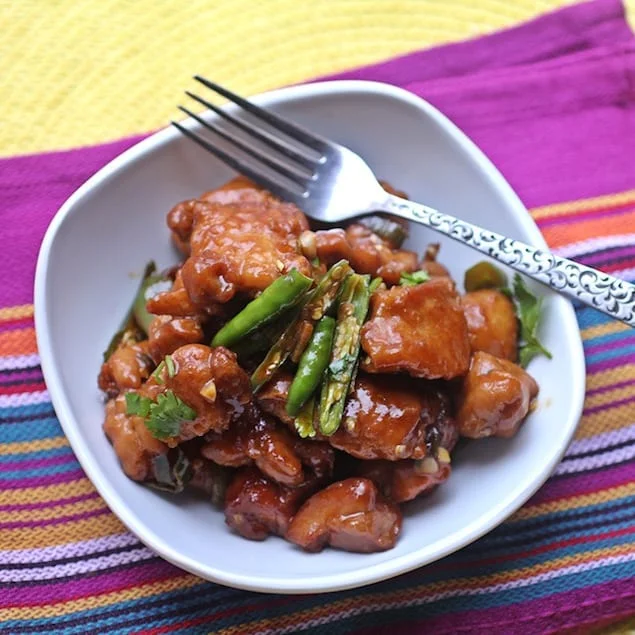 Kolkata-Style Spicy Chili Chicken
A balance of soy sauce and fiery chilis combine with chicken for great flavor and aroma. Bring on this mix of Indo-Chinese flavors for a comfort food dish.
Author:
Rinku Bhattacharya
Cuisine:
Indo- Chinese Fuision
Ingredients
For the Chicken
11/2 pounds of boneless skinless chicken thighs
1 tablespoon ginger-garlic paste
1 teaspoon red cayenne pepper
1 teaspoon salt
¾ cup cornstarch
¼ cup water(maybe a little more if needed)
¼ cup oil for frying
For the sauce
1 tablespoon oil
4 cloves of garlic, sliced
⅓ cup soy sauce
2 tablespoon vinegar
½ cup water
1 teaspoon cornstarch
1 tablespoons chili sauce (such as sriracha)
25 chilies, sliced lengthwise
Extra chilies to garnish
cilantro to garnish
Instructions
Cut the chicken into smaller pieces and wash and dry throughly.
Rub the chicken with the ginger-garlic paste and the red cayenne pepper and salt.
Rub the chicken with the cornstarch and water. The objective here is to have a thin and uniform coating.
Heat the oil, the best tool for this is a wide bottomed non-stick wok. Place all the chicken in a single layer, you may need two batches for this purpose. Cook for about 4 minutes on each side. Remove with a slotted spoon and place on paper towels.
To prepare the sauce, heat the tablespoon of oil and add in the sliced garlic and cook for about a minute until pale golden. Add in the soy sauce, vinegar, water and the cornstarch and bring to simmer. It should be reasonably thick. Add in the chicken and the sliced chillies and toss for about 2 minutes.
Garnish with additional chilies and cilantro and serve hot.
Rinku Bhattacharya
Rinku Bhattacharya, is a teacher of Indian Cooking and the author of the blog, Spice Chronicles. A busy working mother Rinku is committed to offering a practical approach of flavorful, everyday cooking often with an Indian Accent. An author of three cookbooks, Instant Indian, Classic Foods for Every Region of India made easy in the Instant Pot, Spices and Seasons, Simple, Sustainable. Indian Flavors and The Bengali Five Spice Chronicles. Rinku's passion for food starts with cooking and trying new recipes and extends to pairing and drinking wine with food and trying usual combinations by fusing various culinary influences. Rinku and her family are very committed to a sustainable lifestyle, and she uses mostly local produce for her recipes. She is joined in this effort by her husband who is an avid gardener and her children, Deepta and Aadi.