This simple bread does not take all day and has a nice thick, dark crust, and wonderful sour crumb.
By Katherine Sacks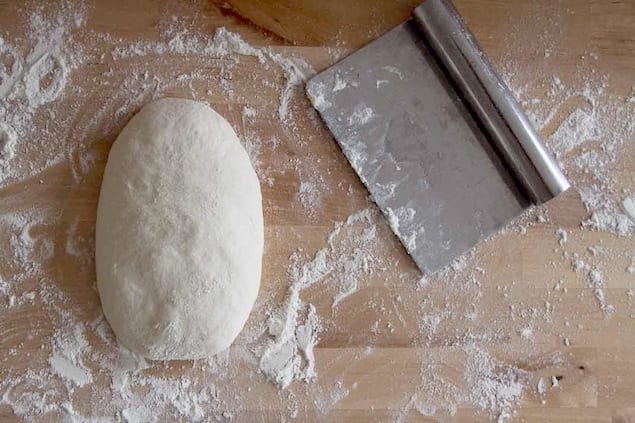 Bread, a simple combination of flour and water that sustains life. And lately it's been sustaining me. But not any bread—this deliciously tangy sourdough. Baking bread can take all day and sometimes you just can't devote all day to bread. I was happy with my Tartine-style loaves but I needed a less time intensive method. The recipe is basically just a baked poolish. Although the dough was quite wet when it went into the oven, it came out with a nice thick, dark crust, and wonderful sour crumb. I can put together the ingredients the night before and wake up to bake bread before I leave the house in the morning. If I time it right, I can even have a nibble of still slightly warm bread for breakfast.
No-Knead Sourdough
This no-knead bread is easy to throw together the night before and quickly bake for in the morning for a warm slice of bread. Adapted from Stone Soup
Ingredients
325 grams bread flour
200 grams sourdough starter
200 grams water
1 teaspoon fine salt
Instructions
In a large bowl, combine the flour, starter, water, and salt. Cover the bowl with plastic wrap and let rest for 12 hours. This recipe works well if you prepare the dough in the evening and rest it overnight, planning to bake the following morning.
After the resting period, turn out the dough on a heavily floured work surface. Lightly flour dough and gently fold a few times, dusting with flour as the dough will be quite sticky. Avoid adding too much flour, but add enough to make the dough pliable. Gently form a round loaf, or divide the dough in half and form two loaves.
Place the loaf on a well floured section of the work surface, dust lightly with flour, and cover with the bowl.
Place a large oven proof dish with a lid in the oven. Preheat the oven on the highest setting for at least 30 minutes.
When the oven has preheated, carefully remove the pan from the oven and remove the lid. Sprinkle bottom of pan lightly with flour and carefully place the loaf into the pan. Cover the pan and return to the oven. Bake for 30 minutes, then remove the lid and reduce heat to 200°C. Continue to bake for 15 to 20 minutes, until the loaf is a dark brown color.
Remove loaf from oven and cool on a wire rack for at least 30 minutes.
Katherine Sacks
Katherine Sacks is a Berlin-based freelance writer and recipe developer specializing in travel, food, lifestyle, and health topics. A graduate of Drexel University's culinary arts department and Northwestern University's Medill School of Journalism, Katherine combines seven years of restaurant experience with her reporting and editing background. Her work has appeared in Chicago magazine, the Chicago-Sun Times, and FoodandWine.com, among other publications. She also contributes to culinary trade publication StarChefs.com, Forbes Travel Guide, and Snooth Eats, and blogs at LaVitaCucinare.com.