A fun way to turn Swedish Knäckebröd into festive crackers.
By Johanna Kindvall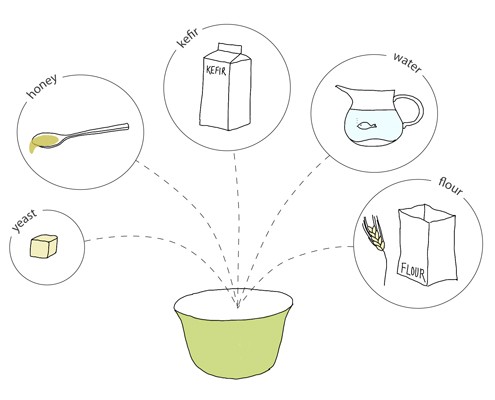 After being tired of not finding great Knäckebröd(Scandinavian Crisp Bread) in the stores around my neighborhood in East Village, I started to make my own. Traditionally they are made as round wafers with a hole in the middle so you can store them hanging on a stick in the roof. They are often made with rye flour and rolled out with a special rolling pin with knobs. However I usually don't use this tool and I like my home made knäckebröd as small crackers flavored with either or a combination of some: caraway seeds, fennel seeds, sesame or rosemary. My recipe is based on Alice Brax knäckebröd recipe.
See Also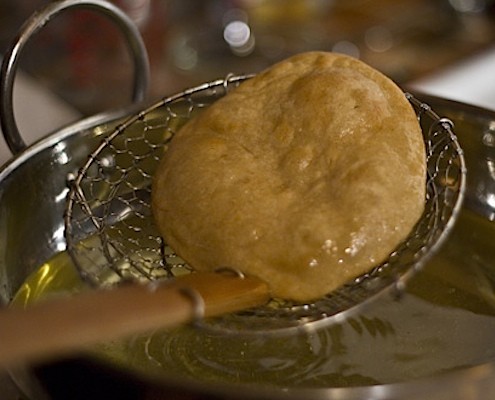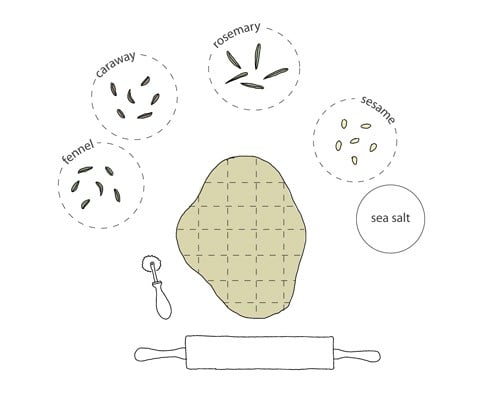 Print
Knäckebröd Crackers
A way to turn Knäckebröd into festive crackers
Author:

Johanna Kindvall

Prep Time:

2 hours

Cook Time:

1 hour

Total Time:

3 hours
first

25 grams

fresh yeast

1 tablespoon

honey

200

ml (almost 1 cup) yogurt

400

ml (1 2/3 cup) water

600

ml (2 ½ cup) rye flour
about

600

ml (

2 ½ cup

) regular flour
and later

100

–

200

ml (

½

–

1

cup) regular flour for rolling the breads
caraway seeds, toasted and crushed
fennel seeds, toasted and crushed
sesame seeds, toasted
dried Rosemary, crushed
flaky sea salt
some olive oil to grease the baking tin
Instructions
Warm the yogurt with the water to 37°C (100°F). Dissolve the yeast in some of the warm yogurt mixture. Add the rest of the liquid and blend in honey and rye flour. The dough will be quite sticky.
Cover the bowl and keep at room temperature in a draft-free area overnight or for at least 6 hours.
When the dough is ready, work in the regular flour. Continue to work the dough on the counter top until the dough is smooth. Preheat the oven to 225°C (435°F).
Divide the dough into 15-20 equal parts.
With your fingers sprinkle either caraway, fennel, sesame, rosemary together with flaky sea salt over each part and roll them into balls.
Use a rolling pin and some regular flour to roll out every ball of dough very thinly. Using a cookie cutter or a sharp knife, cut into approximately 5 cm (2 inch) shapes.
Place as many as you can fit on a baking tin greased with olive oil. Bake the crackers immediately for about 8-10 minutes in the middle of the oven. Depending on your oven you may have to turn them over to get a nice all around color. Repeat until all your dough is rolled out.
When finished let the crackers cool on an oven rack or a clean table. Keep the crackers in sealed containers.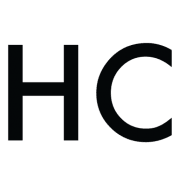 Johanna Kindvall
Johanna Kindvall is freelance designer who works with illustrations, graphics and architecture. She loves to cook, eat and draw; a combination she have been sharing on her cooking blog, Kokblog since 2005. Her recipes are more about what you can do, less about how you make them. Johanna is a Swede based in New York City. During the summer she works from her little cottage in the very south of Sweden just an hour from the Danish capital of Copenhagen.