Sweet custard cream offsets the tanginess of the kiwi fruit in these unexpected pastries.
By Han Ker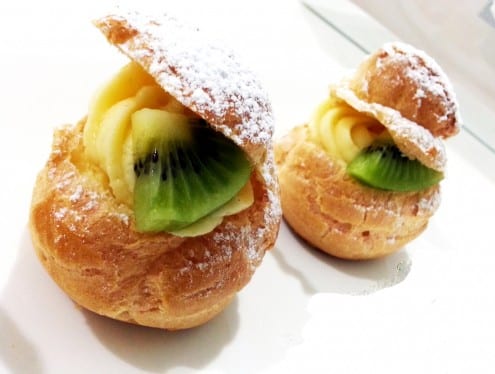 Kiwi Cream Puffs
Sweet custard cream offsets the tanginess of the kiwi fruit in these unexpected pastries.
Ingredients
Choux Pastry
½ cup flour
⅔ cup water
1 tsp vanilla extract
¼ cup butter
⅛ tsp salt
2 eggs, beaten
Cream Filling & Topping
1 cup custard cream with vanilla seed
1 Zespri green kiwi
Optional icing sugar
Instructions
Preheat oven to 180C. Sift flour and salt into a bowl. Place water and butter in a saucepan and heat until melted. Next, raise heat until the mixture boils and them remove from heat. Add the flour and beat quickly until you have cohesive mixture (be sure not to overbeat or the mixture will become oily). Leave the mixture to cool slightly.
Slowly add the beaten eggs a little bit at a time until the mixture is thick and shiny (you probably won't need all of the egg). Place in a pastry bag.
Dampen two parchment lined baking sheets with cold water. Pipe ping-pong ball sized onto the paper put some almond as toppings and bake immediately until choux is lightly browned (about 15-25 minutes). Set aside to cool.
Spoon custard cream into a pastry bag.
Punch a hole in the choux or cut into half and fill choux with cream using pastry bag. Garnish with green kiwi cut and dust with icing sugar; serve and enjoy!