New Master Chef Sylvain Harribey gives us a taste of his success and his FranBurger. A succulent brie topped burger, nestled on a long baguette.
By Michelle M. Winner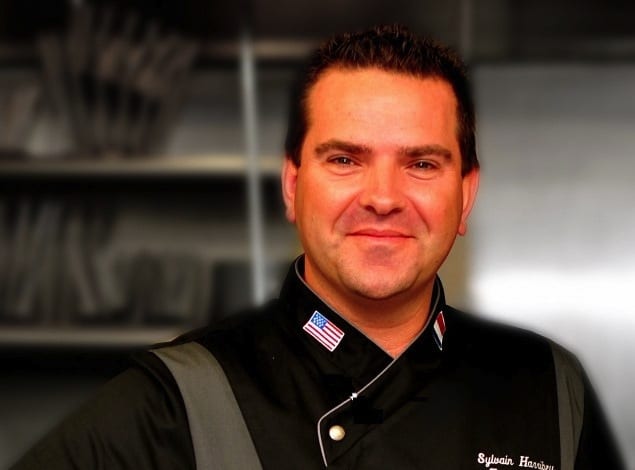 We are at Gaby Restaurant , a decidedly French  restaurant and bar in Manhattan sipping a Louis Jadot Chablis.   I  ask  new Master Chef Sylvain Harribey, the Executive Chef at  Sofitel NYC, for what is likely the hundredth time he has been asked in his career, " How did you start cooking?"
I pop the last of  my lobster salad my mouth while he answers.  In addition to running the kitchen, chef oversees banquets, events, the bar restaurant Gaby, room service and the employee cafeteria feeding 200 a day. Gaby the signature restaurant is in the Sofitel NYC located in mid-town a half block from 5th.
Chef Harribey is kind and patient with his answer even though he has come directly from the airport this morning  on the red-eye from Las Vegas. In Vegas  he received the prestigious designation and title of  Master Chef only hours ago and likely partied into the night. But  officially he isn't talking much about the celebration. He  answers my question saying, "Every day I was on my little scooter at the market for my momma."  So he learned  to shop well at market but how did he learn to cook ?
Fast forward some years and a young Sylvain Harribey was cooking with his mom for family parties and gatherings in Bordeaux where he grew up. It was at her side he knew he had the passion. He tells me simply "I cook from my heart." Schooling at Talence Hospitality School in Bordeaux and  Lenôtre in Paris, was followed by apprenticeships to moving up the ladder in the French kitchens from commis de cuisine to chef de parties to sous chef.  He has worked for Sofitel Bordeaux Aquitania, Philadelphia's Chez Colette and since 2009 here at Sofitel  New York City.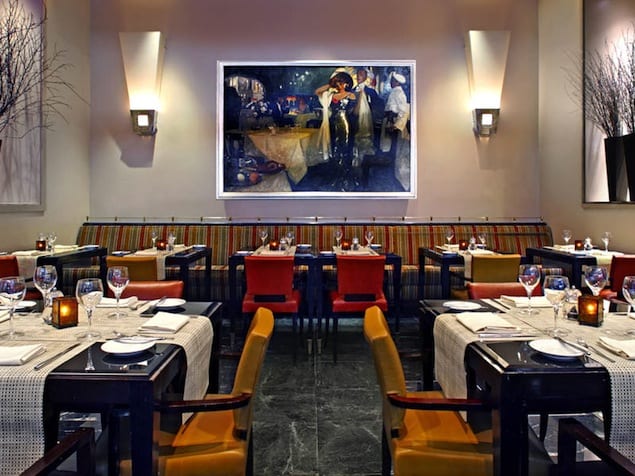 Chef excuses himself and runs back into the kitchen. A few minutes later, just enough time for us to devour a bite of succulent spring lamb, chef appears triumphantly through the doors. He smiles and  places a large plate in the center of the table. A large rectangular baguette is stuffed with a rectangular burger, topped with brie, caramelized onions and aoli. There is a little French flag on the toothpick holding it all together.  As he sets it down he says to us,  "I wanted to combine French and American culture so I came up with the  FranBurger."   We are all so giddy on the wine pairings and the simply ingenious offering set before us, we all start laughing in delight.  "So how did you come up with this chef ?" I ask him. " I wanted to do something fun. A burger, I thought, they are good but I wanted to do something unique." he tells us.
Even though we have finished a multi-course meal paired with wines, each of us takes a slice and crunches down on the baguette. And as all great burgers go, this one has the sinful mouth feel of just enough moisture and fat within a perfectly grilled patty. Of course after you hit the onions and the brie you are hooked. "We are going to serve this for lunch at Gaby" chef says.
Among his accomplishments, Chef Harribey won the fourth season of the Food Network's hit show Chopped, is a long-time member of the French Académie Culinaire, has a AAA  Four-Diamond Award, and participated in the Gridiron Chef Award competition in Dallas.
As dessert is  served we sip our champagne and dip into a Tart Tartan, Panna Cotta with peach, White Chocolate Pista Coroquant  and Lemon, Raspberry and Coffee macaroons we tell him how happy and satiated we are but we feel he has given his all in  preparing the feast for us  with no rest. We insist he go home to sleep.
And he says unabashedly and without pretense as he leaves our table, "When I dream, I dream about food. Then I will get right up and create it on the spot."  Bien sur!
Michelle M. Winner
Michelle was born with a fork in her hand. As a culinary travel writer and confirmed foodophile she delights in the world-wide discovery of new flavor profiles, spices, salts and herbs. Based in one of the world's foodie meccas; Portland, Oregon, not far from "Pinot Noir Heaven" Michelle shares culinary travel and chef's recipes. Her photography has appeared in Saveur Magazine and she has contributed culinary travel articles to Forbes online, WSJ online, Business Insider, Condé Nast Digital Media, Islands magazine and many others. A confirmed globetrotter, she still keeps her bags packed and fork in hand (well . . . except through airport security.)