Even Jessie Chien's lifelong dislike of bananas can't keep her away from banana bread- this banana bread, in particular.
By Jessie Chien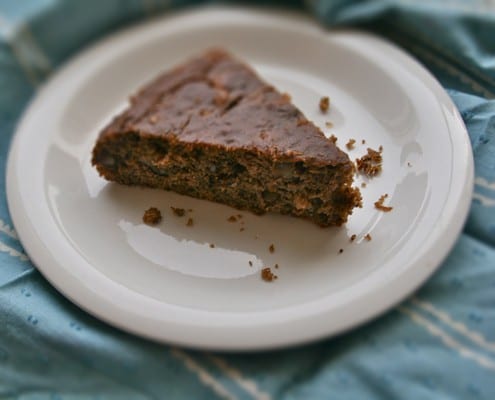 I've never liked bananas- it's something about the texture of the fruit and the sound that people make when they eat bananas that turn me off. Don't even get me started on how I think a banana overpowers a smoothie. But for some unexplainable reason, I love banana bread. Banana as natural sweetener, in a nutty, dense, and moist bread is a perfectly satisfying, low-guilt dessert (and then sometimes, breakfast). Living in southern China, tropical fruits are abundant, and none are more ubiquitous than the tropical banana at every stand, grocer and market than the banana.
As a result, despite my dislike of the fruit, I always manage to find a small bunch of bananas that have infiltrated our fruit basket. Correction- I always find a small bunch of half-rotting bananas at the bottom of our fruit basket.
Any home cook knows there is one remedy to a banana-gone-brown: Banana bread.
Banana bread was the first baked good I produced when I set off on my solo cooking adventures in the fifth grade. I proudly used a recipe procured from a summer camp cooking class held in the Home Ec classroom of a local middle school. I must have made banana bread fifteen times in that one year, alone. But after recently losing the decaying notecard containing the recipe scribbled in my pre-teen flowery handwriting, I have been trying various recipes to find a suitable replacement.
See Also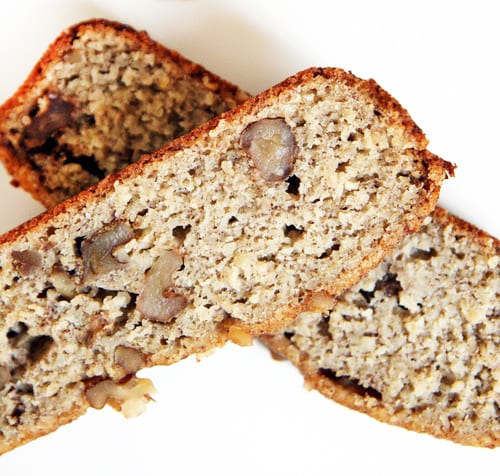 I've found that recipe, courtesy of Nigella Lawson's cookbook How to be a Domestic Goddess. After some time, a slew of additions from my kitchen cabinets have found their way into the batter. In goes chocolate powder. A dash of allspice. Look, there's an orange, so now I'm adding orange zest. You can't have a banana bread in my house without walnuts, and hey, we have golden raisins that look a little shriveled so they are going to get plumped up with some bourbon and will make the cut, as well.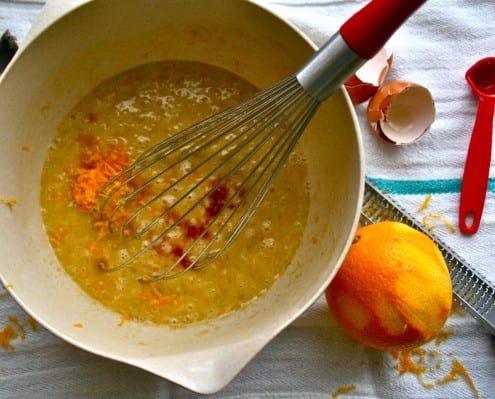 This is banana bread either produced by a glutton or someone with culinary Tourette's. Don't be turned off by the long list of ingredients; if you do any baking you will likely have all the ingredients already stocked in your cabinets. If you don't like walnuts or raisins, omit those from the recipe. If you are out of vanilla or allspice, the recipe will be fine without those. If you are a chocolate chip fiend, those are a mighty fine addition. After all, it's called Kitchen Cabinet Banana Bread for a reason.

Spiced Chocolate Banana Bread with Walnuts and Bourbon-soaked Raisins
Ingredients
¾ cup (110g) AP flour
¼ cup (40g) whole wheat flour
2 Tbsp. (10g) unsweetened cocoa powder
2 tsp. baking powder
½ tsp. baking soda
½ tsp. salt
¼ tsp. allspice
¼ cup (100g) sugar
½ cup (120g) unsalted butter, melted
2 eggs, room temperature
4 small ripe bananas
½ tsp. vanilla extract
1 heaping tsp. orange zest
1 cup chopped walnuts
1 cup golden raisins
4 Tbsp. bourbon (alternatively, rum or Grand Marnier)
Instructions
First, place one cup of raisins into a small saucepan with 4 Tbsp. alcohol. When it comes to a boil, turn off heat. Cover with a lid, and let the raisins soak for one hour. Drain.
Preheat oven to 350 degrees F.
In a medium bowl, combine the first seven ingredients: both flours, cocoa powder, baking powder, baking soda, salt, and allspice. Mix well.
In a large bowl, whisk sugar and melted butter until fully incorporated. Add two eggs and whisk well (tip: If eggs are cold, place under warm water running from the faucet for 2 minutes, and they should be at room temperature).
In a small bowl, mash 4 small bananas with a fork. It's all right if some small chunks remain. Add the mashed bananas into the sugar-butter-egg mixture, and add vanilla extract and orange zest. Mix well.
Add dry ingredients into the large bowl, about ⅓ at a time. Make sure to stir well in between each addition.
Add in walnuts and bourbon-soaked raisins.
Butter and flour an 8-inch round pan, or a loaf pan (I am the only avid baker I know who does not own a loaf pan). Pour the batter into the pan, eliminating bubbles by dropping the pan on your counter a couple of times.
Bake for 40-50 minutes, depending on your oven. A toothpick inserted into the middle of the pan should come out clean.
Notes
The alcohol from the bourbon (or whatever alcohol your choose to use) will burn off through the course of the cooking and baking, so there should be no concern for serving the recipe to kids or those who are on-the-wagon. Feel free to skip the bourbon soaking of the raisins to cut down on time, or if you have any concerns about the alcohol.
Jessie Chien Bryson
Jessie Chien Bryson grew up spending sunny California Thanksgivings eating 20lb. free-range turkeys along with sides of Chow Mein, which is what she thinks cemented her insatiable interest of food cultures and sustainable methods as an adult. She recently spent two years in Guangzhou, China, where the locals were said to eat anything with four legs but a table and anything that flies but a plane. She's now on the other side of the world in Dar es Salaam, Tanzania, where she keeps a diary of food, travel, and expat adventures at www.jessbopeep.com