A crispy and creamy Spanish appetizer: King Prawn Croquettes (my mum's recipe!)
By Marta Nadales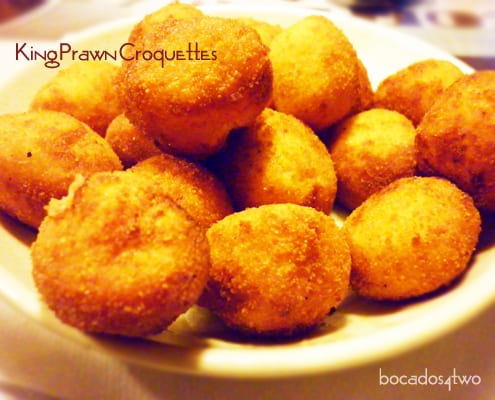 Croquettes are one of the best Spanish appetizers (or starters) you can find. They are simply delicious: crispy outside but creamy and consistent inside. What? Creamy and consistent at the same time? Yes, that is the key of a good croquette.
The most common are ham croquettes, but you can prepare them with anything you like: spinach, chicken, mushrooms, cod, prawns… Last week I tried some squid croquettes for the first time and I loved them!
But the best of all, in my opinion, are my mum's king prawn croquettes. They are smooth, creamy, crispy… so tasty! Everytime I come back home she prepares them and… yummy! I want to stay here forever…!
If you know what a bechamel sauce is and you wish to try a delicious appetizer, here you have my mum's secret recipe (sorry, mum, not so secret anymore!)

King Prawn Croquettes - Mum's recipe
A crispy and creamy Spanish appetizer: King Prawn Croquettes (my mum's recipe!)
Author:
Marta Nadales's mum
Ingredients
1 small onion
300g king prawns
3 cups olive oil
1 egg
breadcrumbs
For the bechamel sauce:
4 tbsp flour
3 cups semiskimmed milk
a pinch of salt
Instructions
Chop the onion and the king prawns.
Stir-fry in a big pan with 4 tablespoons of olive oil.
Drain the olive oil.
Prepare a bechamel sauce with the oil (in which you stir-fried the king prawns and onion) flour, milk and salt. It must be a creamy and smooth bechamel sauce.
When the bechamel is ready, add the prawns and onion. Mix well.
Extend the batter on a platter and leave to cool for a few hours.
Make round or oval-shaped balls. Coat with beaten egg and breadcrumbs.
Fry in abundance of olive oil until golden.
Notes
The king prawn + onion bechamel sauce must be cold before you make the balls. If it's warm, the balls will open when you fry them.