Homemade ketchup is better than anything you will every be able to get from the supermarket.
By Carol Egbert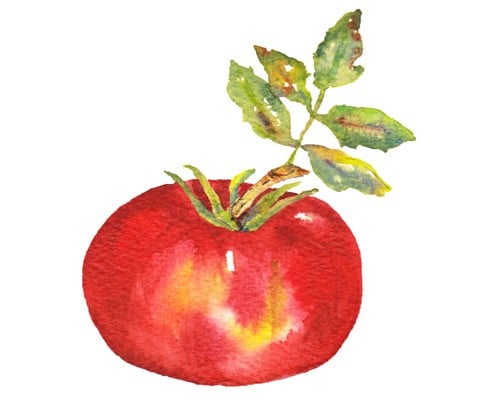 When I was a child, one of my jobs was to refill the large, red plastic tomato with ketchup. My sister and I squeezed that tomato to squirt ketchup on French fried potatoes, grilled American cheese sandwiches, hamburgers, hot dogs and scrambled eggs. When I moved to Washington, DC, I wanted to be sophisticated and cosmopolitan. I listened to classical music, read the articles as well as the cartoons in the New Yorker and banished ketchup from my kitchen.
I don't know whether it was Mastering the Art of French Cooking by Julia Child, a gift from a new friend, daily lunches of pate and camembert with a crusty baguette from the French Market or the fact that ketchup was made in the Heinz factory, a few miles from my home in Pittsburg, that turned me into a ketchup snob. Ketchup had to go. There was no ketchup in my kitchen from mid 1965 until December 2011. Yes, it's back. There is a jar of ketchup in the fridge and I'm planning to give jars of ketchup to my most sophisticated, foodie friends for Christmas this year.
It won't be Heinz ketchup, it will be ketchup from Carol's Vermont Kitchen. My willingness to re-consider ketchup came about because I wanted to give a bright red, edible gift for Christmas. Ketchup is an unusual gift and may result in a holiday smiles. I read ketchup recipes in old cookery books, learned a fair amount of ketchup history, modified a couple of recipes and eventually made a batch of lovely red, nothing like the stuff from the grocery store, ketchup. Here's how I made it:
Ketchup from a Vermont Kitchen
Homemade ketchup is better than anything from the market!
Ingredients
1 – 28 ounce can pureed tomatoes
1 medium onion, diced
2 cloves garlic
½ cup cider vinegar
¼ cup light brown sugar
1 Tablespoon dry mustard
¼ teaspoon ground allspice
¼ teaspoon cinnamon
¼ teaspoon ground nutmeg
½ teaspoon celery seed
¼ teaspoon red pepper flakes
¼ teaspoon ground black pepper
sea salt to taste
Instructions
Combine all the ingredients, except the salt and pepper, in a slow cooker.
Set the slow cooker on high, cover and cook for two hours, stirring occasionally.
Remove cover and continue cooking on high, for forty-five minutes until it 'plops' off a spoon.
Add black pepper and salt to taste and cool.
Transfer to a wide mouth quart jar and put it in the fridge.
I've served this lovely red sauce warm with meatloaf, Charles used it right from the fridge on ham and cheese sandwiches and we've stirred it into bowls of hot buttered pasta.
In the seventeenth century, English sailors returned from China with a pickled-fish sauce, called ke-tsiap. That brown sauce went through many changes, traveled to Malaya, eventually met tomatoes and ke-tsiape name morphed to kechap. Before manufacturers settled on ketchup, it was also called catchup, katsup, catsip, kotchup, kitsip, catsoup, cornchop, katsock and cutchpuck. Not only does ketchup add flavor, but some studies show that it may be a powerful tool in the fight against cancer and heart disease.
If this ketchup trivia is not enough to impress my foodie friends – I'll tell them that ketchup can be used to clean, antique, copper utensils.
Carol Egbert
Carol Egbert is a writer, painter, graphic designer and cook. Her studio is on a country lane in rural Vermont. During mud season she escapes, for a couple of months, to a flat in Sicily overlooking the Ionia Sea. Her newspaper columns, magazine articles and blog are illustrated with her watercolor paintings – Honest Cooking means beautiful food.