Kerala Style Grilled Fish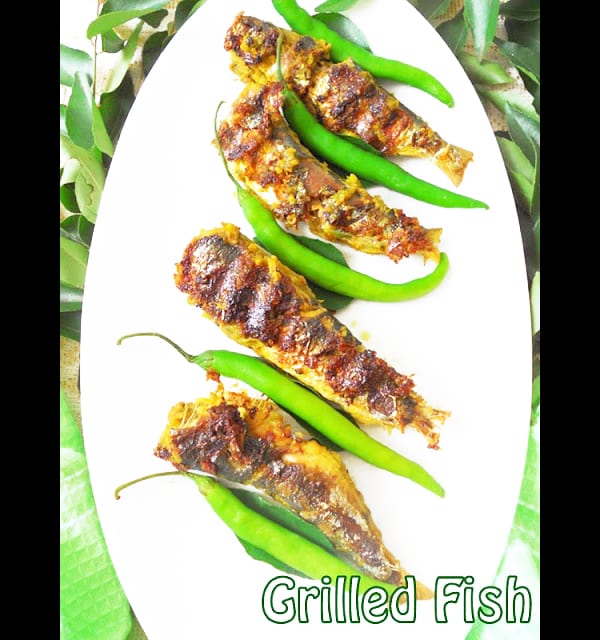 Fresh curry leaves and coconut oil plays an important role in this recipe, so be sure not to skip that.
By Nisa Homey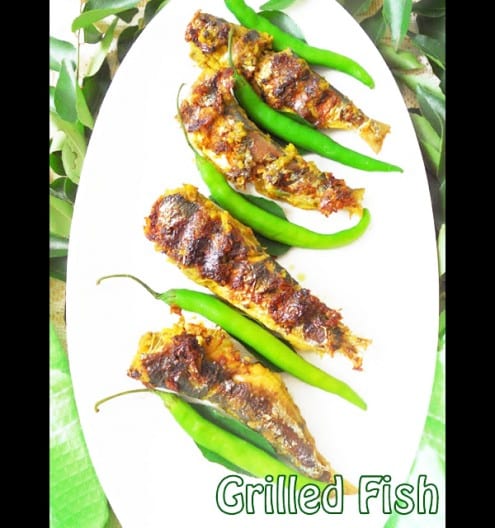 Feel free to try this with other fresh fish available in your local market; though I am not so sure of canned sardine as I have only used fresh ones and they come out soft and juicy.
Kerala Style Grilled Fish
Fresh curry leaves and coconut oil plays an important role in this recipe, so be sure not to skip that.
Ingredients
Sardine: ½ kg.
Green chillies: 7 to 8.(decrease or increase depending on your tolerance level)
Ginger: ½ inch piece.
Garlic: 5 to 6 cloves.
Pepper: 1 tsp.
Curry leaves: 2 sprigs.
Cornflour: 1 tsp.
Turmeric: ½ tsp.
Lime juice: Juice of half lime.
Coconut oil to drizzle.
Instructions
I used half kilo of cleaned sardine, make slight gashes on the fish, so that the masala will go right in and makes the fish juicy and tender. Green chilli, ginger, garlic, and curry leaves are to be grinded coarsely.
Rub the mixture into fish, adding salt, turmeric and pepper powder and juice of half lime.
Add one tsp of cornflour into the marinated fish, mix and refrigerate it for half an hour at the least.
Heat a grill pan or a non stick pan or even a small tawa, drizzle coconut oil (about a tsp or so), and place the marinated fish gently on the pan. Simmer the fire all though out the cooking.
Add some curry leaves on the side for that extra flavor.
Turn to the other side once it is grilled on one side.
Nisa Homey
Nisa Homey is a lawyer by profession, now a full time stay-at-home mom. Cooking is Nisa's passion but blogging about food just happened. Nisa loves cooking for her family and kids, and her focus is to let everyone know just how easy cooking can actually be.