Karasev is a savory and crispy snack made from rice flour, besan, pepper and garlic that is popular during Diwali.
By Anita Mokashi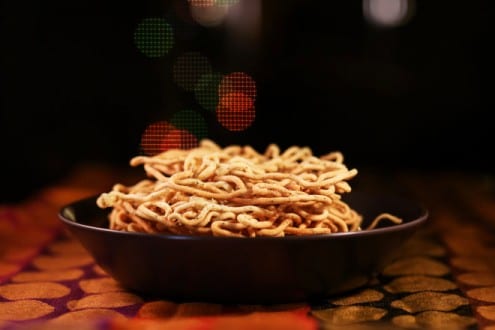 Karasev
Karasev is a savory and crispy snack made from rice flour, besan, pepper and garlic that is popular during Diwali.
Ingredients
1 cup rice flour
1 cup besan
2 tbsp butter
4 tbsp pepper
4 garlic cloves shredded
Pinch of asafetida
Salt as per taste
Oil for frying.
Instructions
Sieve both the flour ( besan and rice flour ) together for even mixing.
Add salt, asafetida, shredded garlic and add the softened butter.
Pound the black pepper in a mortar and pestle or a mixer coarsely.
Mix it well and knead it into a soft dough by adding water to this slowly.
Do not add too much water and do not make it too stiff also.
Heat oil in a deep pan. Check the oil by dropping a small piece of dough into the oil. When it comes up immediately then the oil is in the right consistency.
Take a small of dough and press it into sev maker. Drop the sev in oil.
Flip this after few minutes.
When the oil sound sizzles take it out from the oil and drain the excess oil in a kitchen towel.
Repeat this for the rest of the dough.
When it is cool, break them into small pieces and enjoy.
Anita Mokashi
Anita Mokashi is based in California, but born and brought up in Mumbai, India. Her blog Crave Cook Click is mostly about Indian cooking, but occasionally she shares recipes from other cultures and cuisines too. Anita is also the publisher of a popular photography blog.