Can Blanc Burgers+Bottles turn Kansas City from barbecue Mecca to Burger heaven?
Text And Photo By Jessica Smith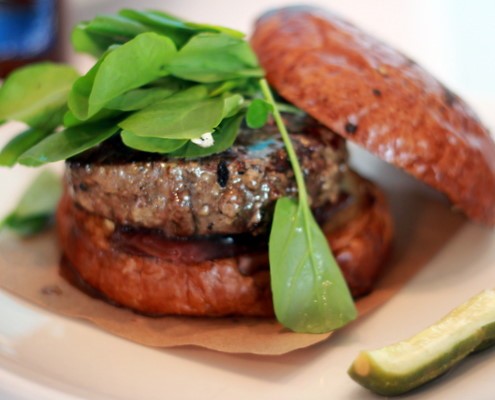 It is no secret that Kansas City is a destination for barbecue.  While visitors to America's heartland could spend weeks exploring its pulled pork, brisket, and barbecue chicken, a local restaurant group is proving that Kansas City may, too, be a destination for burgers.
Blanc Burgers + Bottles, with two locations in the Kansas City area, delivers a creative selection of burgers in casual style, but with deliciously thoughtful appeal.
The first measures of a burger's success, in my book, are the quality and flavor of the contents.  Blanc's burgers shine in this area with both classic and modern creations.  The beef burgers are juicy and tender.  Alternatives to beef are fresh and perfectly cooked.  Each burger is topped to deliver maximum flavor, often in refreshingly unexpected ways, as with the Bison Burger with pepperjack cheese and peppadew jam ($10) and the Au Poivre Burger with creamy green peppercorn sauce ($9).  The "$100 burger" (actually priced at a reasonable $15), with its foie gras butter and onion marmalade, is intriguing but not stuffy.  In all-to-rare style for burger spots, Blanc does not overlook those seeking red-meat alternatives.  The Grilled Mahi Mahi ($10), Spiced Lentil ($7), and Marinated Portabella ($10) are equally as well-garnished as their meat companions.
Equally important in a great burger, is construction.  With burgers I have had elsewhere, excesses of toppings can require a fork and knife (or an over-extended jaw) to consume.  I want a burger to hold its shape, but contain ample topping to insure that every bite includes a taste of each element.  Such balance is achieved at Blanc.  With the Pork "Burger" ($8, below) each bite delivers moist and tender slow-cooked pork, the crunch of sweet pickles, and a burst of spicy, creamy slaw.  Full of flavor, not a single one of these elements is delivered in such overwhelming quantity that it falls out of the bun before reaching the mouth.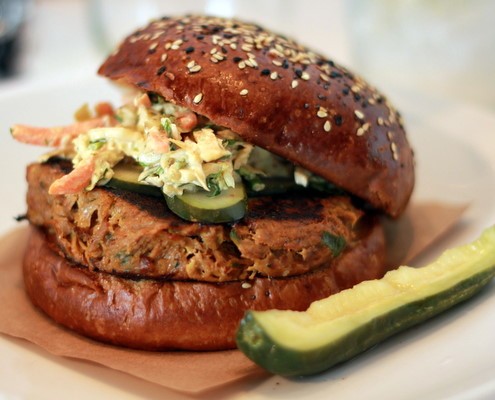 The third, and some might argue, most critical element of a great burger is the bun.  It should be of the brioche sort – lightly sweet, soft but sturdy.  A fantastic burger comes with a bun that is buttered and grilled to absorb the juices from the meat without becoming soggy.  In the case of the Blanc burger, the bun does not just transport its contents, but transforms it.  The buns are made fresh and bring out the flavors of high-quality ingredients in offerings like the American Kobe ($12, at top).
Finally, Blanc wins me over with its sides. The fries (hand cut, truffle, and sweet potato), served in portions big enough for sharing, are crispy goodness with tender centers and spicy aioli for dipping.  The onion rings give a nod to Kansas City's local brew, flavored subtly with Boulevard Pale Ale.
Bonus points should be awarded to Blanc for its consideration of the under-appreciated pickle accompaniment.  It seems, far too often, that the addition of a pickle is superfluous – demanding that it be pushed aside to suffer for its pale, one-tone, flimsiness.  In contrast, the pickles coming out of the Blanc kitchen are so crisp, so deep in sweet vinegar flavor, so palette-cleansingly refreshing, that I am tempted to forgo the fries altogether and opt for a plate of pickle spears instead.
Finally, if you are the type to like something bubbly and brewed to accompany your burger, Blanc offers an impressive selection of beer, both local and from far-flung corners of the globe.
Kansas City barbecue, look out.  You've got competition.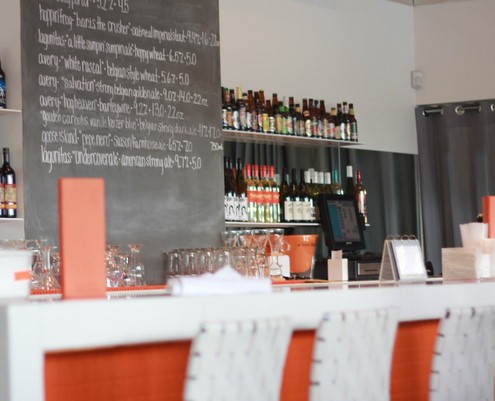 Blanc Burgers + Bottles
www.blancburgers.com
Three locations at:
10583 Mission Road
Leawood, Kansas 66206
4710 Jefferson Street
Kansas City, Missouri 64112
3157 Farnam Street
Omaha, Nebraska 68131
Jessica Smith
Jessica Smith is a native of the American Midwest, currently living in Thailand where she writes about food and travel throughout Southeast Asia. Jessica believes that the best way to understand a place is through its local cuisine.