At the young age of 33, this Danish-born chef has made a huge impact in Bolivia, where she's been heading the kitchen of the acclaimed Restaurant Gustu for the last 3,5 years, earning her the title of "Latin Americas Best Female Chef". Now she's ready to embark on new adventures with her upcoming 4-month expedition around the world.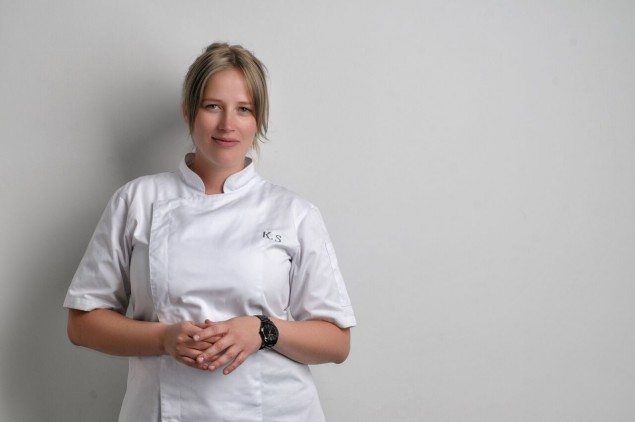 As we take a look at the gastronomical world map, we've always turned to Peru to be the champion of the Latin American cuisine, battling the traditional ways of the French and Italians and the new modernist ways of the Nordic kitchen – to name a few. But lately another contender has thrown its name into the pot, and made international food connoisseurs alike take note of the rich agriculture of the continent. Bolivia is the rising star of the south, and leading the pack is, quite unusually, a blonde girl from Denmark. Meet 33-year-old Kamilla Seidler – Executive Chef at the world-renowned Restaurant Gustu.
Gustu is the socio-conscious brainchild of gastro entrepreneur Claus Meyer, co-founder of Danish restaurant gem, and four-times voted "The World Best Restaurant", Noma. Claus Meyer was seeking to share the lessons learned with the Nordic movement and implement them in a development country, and chose Bolivia as one of the hot upcoming places to explore the local cuisine. His search for Latin American chefs led him to Michelangelo Cestari who immediately suggested Kamilla Seidler as his sparring partner for the new project, as Claus Meyer wanted to combine the Latin American cuisine with the new modernist approach of the Nordic kitchen. Kamilla had previously worked with Cestari at the world-renowned Mugaritz in Spain, as well as having experience in top notch Danish cuisine in Bo Bech's restaurants Geist and Paustian, making her the perfect candidate to add the Danish spice to the upcoming project.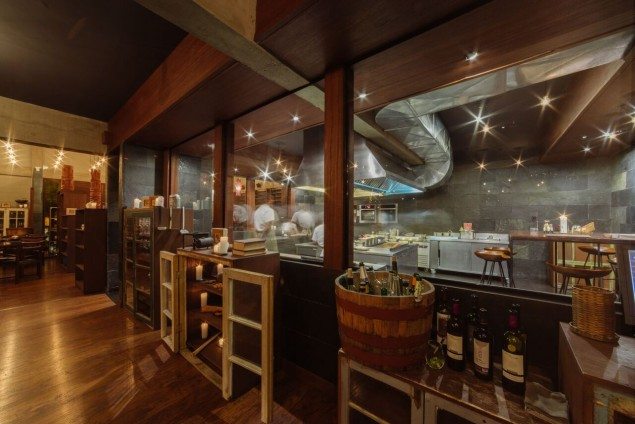 "After meeting with Claus (Meyer) we had a job interview that consisted of Michelangelo and I cooking an elaborate dinner for Claus and his family. That's how we got the job", explains Kamilla Seidler. The rest as they say is history and in 2013 the team officially opened the doors to Gustu.
Socio-conscious gastronomy
What attracted Kamilla to Gustu was much more than just the local cuisine. Gustu was founded with the Melting Pot Foundation as a way of changing the world through food and creating better life experiences for the local community by teaching how to get the best use out of the produce
"Gustu was founded with the intention of being a teaching restaurant, where we would take in apprentices. The idea was to teach a lot of people how to get the best use out of the local produce and have a healthier way of life through cooking, as there unfortunately is a lot of diabetes in the poorest areas of Bolivia. Then we also have the people with ambitions of becoming professional chefs and waiters, where they are running the day to day operations of Gustu and being trained by professionals", says Kamilla Seidler and informs that in the 3,5 years since opening around 2500 have gone through the basic technical training at Manq'a. As of 2017 the team behind Gustu have 13 hospitality schools – 11 in Bolivia and 2 in Colombia – in collaboration with ICCO Cooperation.
"In 2014 the Manq'a Food School project was born in collaboration with Ibis, Danish NGO and co-founder of Melting Pot Bolivia, as we saw the need for more positive impact and being able to reach more people. Since then, the project has grown with ICCO Cooperation. Manq'a has graduated more than 2500 students. Gustu has functioned as a training facility for hundreds of young people and given certification to 50 students", explains Kamilla Siedler.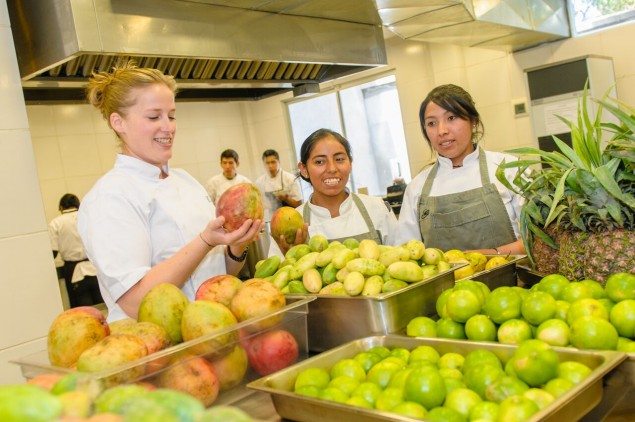 The rich agriculture of Latin America
Kamilla explains the rich and diverse agriculture of Latin American as the perfect place to teach the community about healthy cooking, and also why South American cuisine has become so popular in the later years.
"The food here is unique because of the diverse climate in which it grows. There are local produce here, which is known around the world like avocado and chili, but enjoying the produce in the actual area where you grow it makes it that much more exciting. There are so many things that are not exported from this area – like the different kinds of potatoes. Here we also have 60 different strains of quinoa seeds and we've tested 60 different styles of chili. These different flavours make up a whole new palette, and it really gives new definition to the word biodiversity", says Kamilla and also explains how the traditional cooking methods are as big a part as the ingredients.
"It is still very common to cook the food in a traditional way like open fire, stone oven and clay pots. This adds a whole new layer of authenticity to the food – both in the sense of cooking it but also to the taste. After using these methods so thoroughly in my way of cooking, I'm at the point where I'm more exited with a stone oven rather than a high tech modern oven", Kamilla adds playfully.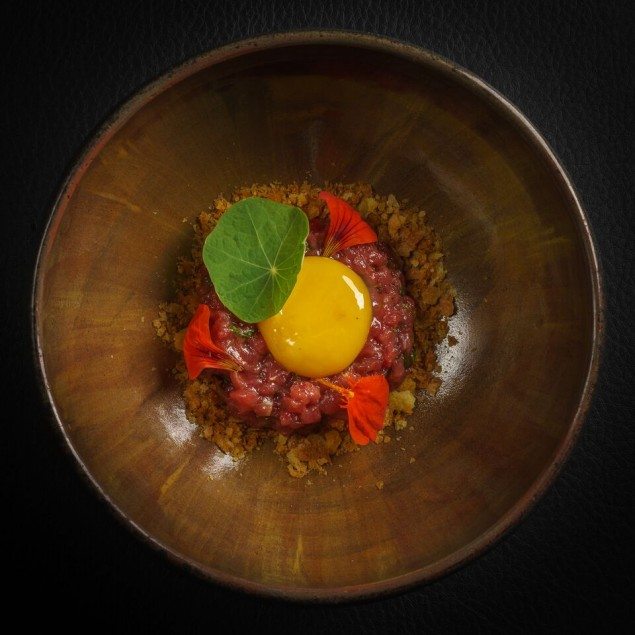 Speaking of Latin American cuisine, Kamilla acknowledges that Peru and Mexico have long been the front-runners of the continent, but believes Bolivian cuisine is on the rise.
"Bolivia has a lot of things in common with for example Peru. Both are "grandma-kitchens" where recipes are passed down through generations and you start off in an early age learning about each ingredient and how to use it properly. Bolivian agriculture also has a wide span in altitude, and there are 12 microclimates in the country. This basically means any type of produce can be grown here, which offers an extraordinary diversity. Not only in food – we also see a rising popularity in Bolivian wines".
A journey through Bolivia from the comfort of your seat
It is exactly what guests can expect from dining at Gustu: A journey through the rich landscapes of Bolivia.
"My vision was to guide our guests through Bolivia, without them having to move from their seat. I want people to experience a great meal but also to educate them a bit about what Bolivian producers have to offer. We have ingredients from all over the country and the largest Bolivian wine and spirits menu. Enjoying a meal at Gustu will give you a taste of everything. From different kinds of quinoa and corn to blue potatoes and crocodile meat".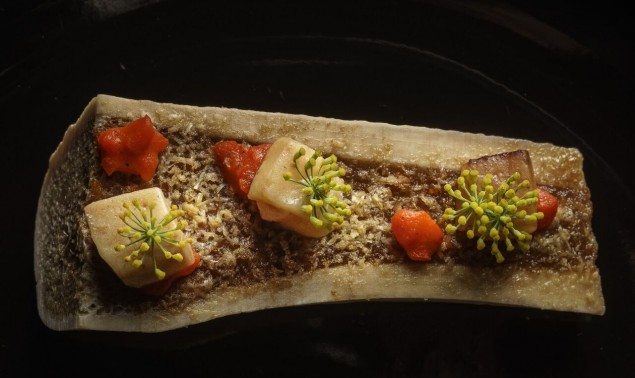 This interesting mix of ingredients also comes across in the signature dish of Gustu, available since the very beginning: heart of palm with poached egg yolk and sun-dried, dehydrated and fried alpaca. Not something you will encounter just everywhere.
The best female chef in Latin America
Kamilla's approach to cooking has definitely peaked the interest of the culinary world. As of 2017 Gustu is the 14th best restaurant in Latin America, the #1 restaurant in Bolivia, and it has also scored Kamilla the title of the best female chef of the massive region. An accolade achieved by the young age of 33.
"It can sometimes be baffling why we need an award for the best female chef when there is not a male counterpart, but unfortunately that's just how the world is. We have a constant need to highlight women in male dominated jobs as something extraordinary. Whether it is in a boardroom or in a kitchen. The award does however put more focus on the industry and maybe it can help encourage more women to know that they can become a successful chef on the same level as any man."
"I've never experienced anything other than respect from my peers. Especially in Latin America I've always felt more openness being a female chef than in Europe. It says a lot about Latin-America and it's been one of the best things about my time here".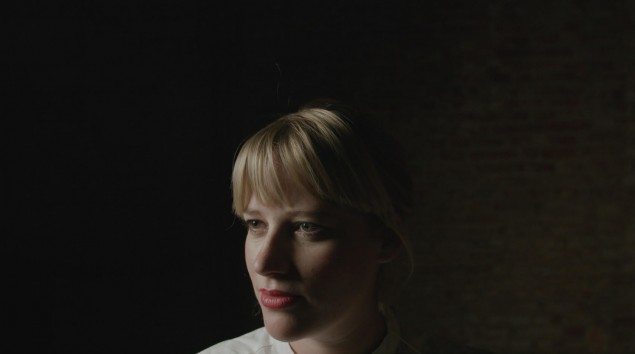 Ready for more adventures
Soon Kamilla will embark on a 4-month gastronomical adventure all across the world:
See Also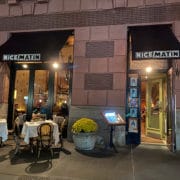 "The plan from the beginning has always been to open a teaching school and restaurant, help it get started and then head back to Copenhagen. But more and more projects came along, and as we were named among the 50 best in Latin America, we became increasingly more popular and busy. But the plan was always for a local team to take over the wheel, and now feels like the right time to take the training wheels off and hand over the kitchen region", says Kamilla and explains that she will still be part of the management team who will be helping and guiding the staff who will take care of the operations on a day to day basis and is very confident with the talent showed by Marsia Taha and Mauricio Lopez, the Operating Head Chef team.
Meanwhile Kamilla is going on a gastronomical crusade, kicking off April 3rd in the North Sea shore of Scandinavia. Throughout her travels Kamilla will visit different parts of Europe from Norway, Denmark, Finland, Austria and Spain, to Russia, Bahrain, the Philippines and even Himalaya. The goal is both to learn from the different agricultures and techniques from all around the world, but also to bring a bit of Bolivia with her along the way.
"I want to showcase Bolivian culture to the world, but also mix it with the local produce of countries we visit. I want go local and try to get as much from local producers as possible. Of course some of the places require me to do a lot of planning, but most of the time I would rather scout the local food markets and do as much freestyle as possible", says Kamilla.
Finding inspiration everywhere
When asked how she will find inspiration for her freestyle approach, Kamilla explains that for her it's about finding inspiration everywhere. It's about finding something that already exists, learn from it and make it yours.
"I've had inspiration come to me from everywhere. It can be a bad meal on a long distance flight, where I think of ways to improve it while still making it easy to cook. It can be having dinner at a friends place who found a recipe online, and adding my special twist to it. Or it could be visiting a florist who has new edible flowers, that makes me think out of the box on how to incorporate that in my cooking. It's about both ordinary and crazy experiences that make me think, "wow" and makes me want to improve it. But it's also about knowing your limitations and when not to fix it if it isn't broke".
The curious nature is a big part of Kamilla's success and she is looking forward to exploring parts of the world that are brand new to her.
"I look forward to the countries I've never visited. I'm really curious to see what's trendy in the food scene there. Of course this is in big part the traditional restaurant, but I also love exploring the local street food and food markets, as I believe this is forecasting the trends of the country. I must admit that I would prefer go to a market for inspiration and have meal on a stool amongst 1000 other people rather than exploring the fine dining kitchens. Tons of people have already done that – I want to do something new".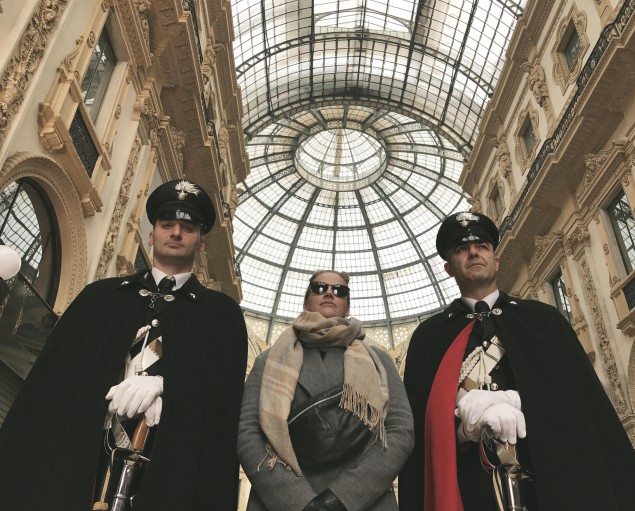 More projects with social value
By the time the expedition is over, Kamilla hopes to have her culinary backpack bursting with new experiences to help her determine what to do next. Being a spontaneous and free spirited person also means that she hasn't planned that far ahead. One thing is sure though – she wants to continue down the social responsible path that she has started walking down at Gustu.
"I want to use this time to explore what the world has to offer and see if I can find more projects with a high social value like Gustu. I have no idea what I will be doing six months from now let alone five months from now, but I do know that the work in Bolivia has showed me that you don't get true value in money. You get it from working in social conscious projects, where you help others and treat other people well. It's about being immersive with the local community rather than thinking about becoming rich. That's the path I will continue to choose".
Daniel S. Bahrami
Daniel S. Bahrami is a Barcelona based writer with a background in digital communication and journalism in Copenhagen, Denmark. He has been part of the editorial staff of the biggest Danish fashion magazine, Eurowoman, and has worked freelance for several other publications as well as experience in fashion and gastronomy PR.